Date: July 20, 2016
From: Kristine Ashton-Magnuson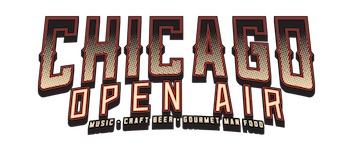 CHICAGO OPEN AIR
WRAPS ITS INAUGURAL WEEKEND WITH OVER 75,000 IN ATTENDANCE
OVER THREE DAYS AT TOYOTA PARK
JULY 15, 16 & 17 IN BRIDGEVIEW, IL
FEATURING RAMMSTEIN'S ONLY U.S. PERFORMANCE OF 2016
WITH SLIPKNOT, DISTURBED, KORN,
FIVE FINGER DEATH PUNCH, CHEVELLE, BREAKING BENJAMIN AND MORE
The first-ever Chicago Open Air brought more than 75,000 fans to Toyota Park in Bridgeview, IL on July 15, 16 and 17 for a monumental weekend of rock that featured Rammstein's only U.S. performance of 2016 on Friday night, an epic homecoming for Chicago's own Disturbed on Saturday, and a thunderous, show-closing performance from Slipknot on Sunday night. Along the way, Korn debuted their new single "Rotting In Vain," Drowning Pool was joined onstage by 82 year old viral video sensation and America's Got Talent contestant John Hetlinger for a crowd-pleasing performance of their hit "Bodies," and extreme tech-metal messiahs Meshuggah announced their North American tour at a backstage press conference hosted by SiriusXM's Jose Mangin.
In all, Chicago Open Air featured more than 40 bands on two stages, including local heroes Disturbed, Chevelle and Ministry, plus Five Finger Death Punch, Breaking Benjamin, Marilyn Manson, Of Mice & Men, BABYMETAL, Gojira, letlive. and more. In addition to three days of nonstop rock, Chicago Open Air's celebration of everything loud put a Windy City spin on Gourmet Man Food, with Pizano's Pizza and Kuma's Corner's legendary heavy metal themed burgers, and other local favorites including Bruges Brothers, Chicago Doghouse, Dinky's Donuts and more.
Monster Energy, f.y.e., and The Music Experience hosted band meet-and-greets and autograph signings throughout the weekend. The Music Experience gave fans the opportunity to get their hands on tons of musical instruments and gear, including the 30 Seconds To Shred competition judged by former MTV Headbangers Ball host Riki Rachtman, plus The Student Experience backstage tour. Headbangers Bier Hall kept fans refreshed with local and regional craft beer, and entertained with DJ sets from Jose Mangin and Riki Rachtman. The Jack Daniel's Experience debuted a new fully immersive 360 degree virtual reality experience for fans. Fans also showed their charitable side with support for Dyin 2 Live / Fxck Cancer, and Take Me Home Animal Rescue, which raised over $32,000 to support animal rescue and spay and neutering initiatives.
The festivities commenced on Thursday, July 14 with the Chicago Open Air Inaugural Kickoff Dinner presented by Chicago's Goose & Fox and hosted by Jose Mangin, and the official Chicago Open Air Pre-Party presented by 95 WIIL Rock and 100.7 QRock at Concord Music Hall with performances from Otep, Shaman's Harvest, Islander and Through Fire.
Here's a sample of what the press had to say about Chicago Open Air 2016:
"[Chicago Open Air] offers a big, fat taste of the Chicago area and far beyond…Throughout the day, while lines snaked 200-plus deep for autographs from Rammstein and others, the sprawling layout allowed for a smooth flow between two stages and vendors."

—Vickie Jurkowski, Daily Southtown, July 16, 2016

"The lineup is about as diverse as you can get."

—Steve Knopper, Chicago Tribune, July 14, 2016

"If you're a Chicago-area metalhead there was—without a doubt—only one place to be this past weekend. Chicago Open Air made its debut in Toyota Park with a stacked lineup that included Rammstein, Five Finger Death Punch, Slipknot, Marilyn Manson and tons more."

—Do312, July 18, 2016

"I cannot help feeling that I was part of something special this weekend…an event like Open Air reveals just how diverse the fandom around metal and hard rock truly is, and it promotes a sense of community that is increasingly hard to come by in this corner of the music industry. Each band had songs that made tens of thousands sing in unison, and you could tell from the smiles stretched across the crowd's faces that they too felt part of something bigger than themselves. Any event that can pull off that feat is one worthy of your time, and I sincerely hope another installment happens sometime in 2017."

—James Shotwell, Substream Magazine, July 19, 2016
The below video highlights give a peek into some of the most memorable performances of the Chicago Open Air weekend, including:
Chicago Open Air was produced by Danny Wimmer Presents, Live Nation, and Toyota Park, with the support of the Village of Bridgeview and Bridgeview Mayor Steven Landek.
Chicago Open Air was fueled by Monster Energy. Additional 2016 sponsors included: Jack Daniel's, f.y.e., Dyin 2 Live / Fxck Cancer, Take Me Home Animal Rescue, El Jimador Tequila, The Music Experience, and Roadrunner Records.
For more information on Chicago Open Air, visit: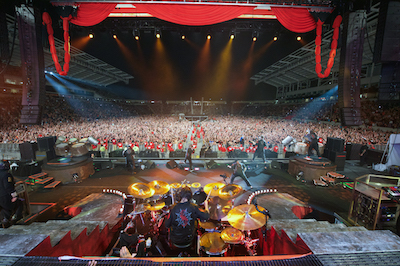 (Slipknot crowd)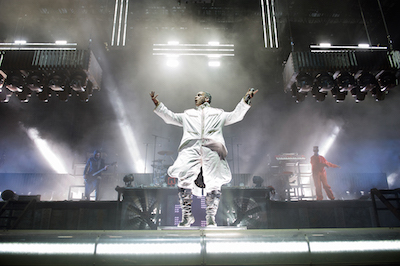 (Rammstein)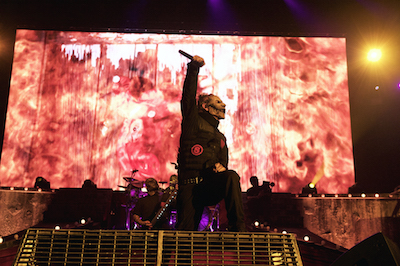 (Slipknot)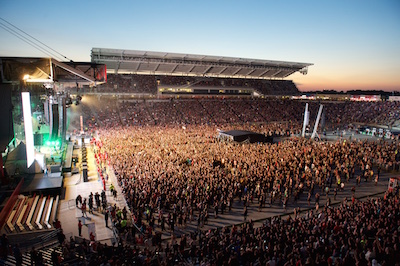 (Korn crowd)
All photos by Scott Uchida. Video by Strati Hovartos and Will Felch, and edited by Sam Shapiro.
---
About Danny Wimmer Presents
Since 1993, music industry veteran Danny Wimmer has been producing concerts and festivals, both large and small. In 2011, he formed Danny Wimmer Presents, which now produces several of the largest rock and alternative festivals in the U.S. By combining A-list talent with local cuisine and culture, DWP has become recognized within the industry for delivering the highest-quality entertainment experiences to fans, artists, sponsors, partners and host cities. DWP creates memorable and all-encompassing festival experiences, leaving both consumers and partners with lasting and meaningful impressions. With 580,000 fans attending all DWP festivals in 2015, and 10 billion media impressions, DWP will continue to add new music festivals to its already stellar portfolio, which includes Rock On The Range, Monster Energy Aftershock Festival, Monster Energy Welcome To Rockville, Monster Energy Carolina Rebellion, Louder Than Life, and Monster Energy Rock Allegiance, among others.
www.DannyWimmerPresents.com
About Live Nation Entertainment
Live Nation Entertainment (NYSE: LYV) is the world's leading live entertainment company comprised of global market leaders: Ticketmaster, Live Nation Concerts, Live Nation Media & Sponsorship and Artist Nation Management. For additional information, visit www.livenationentertainment.com.
About Toyota Park
Toyota Park is located at 7000 South Harlem Avenue in Bridgeview, IL. It's the heart of soccer for much of the Midwest and a must-see destination for world-class concerts and other sporting events. Toyota Park is conveniently located in Bridgeview near I-294 and I-55, within an easy drive from every corner of the Chicago area. Just 15 miles from Chicago's Loop, Toyota Park offers ample parking and is served by PACE buses and shuttle links with the nearby CTA Midway Orange Line station.
www.toyotapark.com
About Monster Energy
Most companies spend their money on ad agencies, TV commercials, radio spots, and billboards to tell you how good their products are. At Monster Energy, we chose none of the above. Instead we support the scene, our bands, our athletes and our fans. We back athletes so they can make a career out of their passion. We promote concert tours, so our favorite bands can visit your hometown. We celebrate with our fans and riders by throwing parties and making the coolest events we can think of a reality.
www.monsterenergy.com | www.facebook.com/monsterenergy
Chicago Open Air Publicity Contact
Kristine Ashton-Magnuson/Ashton-Magnuson Media
kristine@am-media.net; (818) 996-2496
Chicago Open Air Marketing & Sponsorship Contact
Clay Busch/Danny Wimmer Presents
clay@dwpresents.com
Live Nation Publicity Contact
Taylor Heydlauff/Live Nation — Midwest
TaylorHeydlauff@livenation.com; (312) 260-9176
Village Of Bridgeview Publicity Contact
Ray Hanania
RGHanania@gmail.com; (312) 933-9855