Date: July 29, 2016
From: Ashley Di Buduo / Kristine Ashton-Magnuson

NAMED ONE OF ROLLING STONE'S
'30 MUST SEE FESTIVALS THIS SUMMER'
LOST HIGHWAY MOTORCYCLE SHOW & CONCERT
WRAPS WITH OVER 20,000 IN ATTENDANCE
The second annual Lost Highway Motorcycle Show & Concert brought over 20,000 fans to the San Manuel Amphitheater & Festival Grounds this past Saturday, July 23rd for stellar bike shows, stunt shows, camping, and two stages of live music with headliner Brantley Gilbert closing out the night. Christopher Rodriguez was the lucky winner of the Harley-Davidson Electra Glide Classic valued at over $40k from Quaid Harley-Davidson, customized by Kraus Motor Company, painted by Taylor Schultz, and featured on the cover of the July issue of Baggers Magazine.
The motorcycle, music, and camping destination festival featured additional performances by Social Distortion, Eagles Of Death Metal, Justin Moore, Foghat, Chevy Metal, Tyler Farr, Face To Face, Black Rebel Motorcycle Club, Colt Ford, Tony Joe White, Paul Cauthen, and more. A motorcycle culture experience, the day showcased top-tier motorcycle professionals including builders, parts and accessories manufacturers, riding gear creators, custom leathersmiths and jewelry designers/makers in the vendor village.
Roland Sands Design and Indian Motorcycle featured motorcycle races throughout the day on their Super Hooligan flat track, and UNKNOWN Industries' team of riders entertained attendees with their freestyle Harley-Davidson riding and demos throughout the day. Motorcycle builders and enthusiasts from around the country showcased their custom bikes to the crowd and to editors of the world's top custom motorcycle magazines—Hot Bike, Baggers and Street Chopper. Presented by Geico Motorcycle Insurance, the magazines hosted the motorcycle shows, with their editors judging the custom creations and awarding trophies and prizes.
True American craftsmanship was showcased through the collaborated works of Speakeasy Original and Red Beard Leather on custom handmade championship belts for the winners of the three 'Best of Show' bike show categories. Johnny Klein, with his 2003 FXDX Dyna built by Chip from San Diego Customs and painted by Pete "Hot Dog" Finlan, earned the Hot Bike Best of Show championship belt. Bill from Scode City Cycles, with his Pan/Shovel Chopper, took the Street Chopper Best of Show. Ivan Sauceda, with a 2015 Street Glide built by Jimmy Todd from Top Line Tubes, painted by Buck Wild Brand, won the Baggers Best of Show championship belt. Additionally, each was awarded $500 from Geico Motorcycle.
Simpson Motorcycle Helmets partnered with House Of Kolor to have custom painter Taylor Schultz host and curate a helmet art show. Taylor Schultz invited seven of the country's most talented artists to paint helmets for the show. Artists included Andrew Babish, James Dean, Stephen Gibson, Tanner Leaser, Phil Leonard, Andrew Meeh and Mike Weigate. Their works were on display for attendees of Lost Highway to check out and will be auctioned online in coming weeks, raising money for the Infinite Hero Foundation.
"Even in 108 degree temperatures, which was the hottest weekend in the last few years, we had an attendance of 20,000 fans at the 2016 Lost Highway festival at the San Manuel Amphitheater Festival Grounds in San Bernardino, CA," says SGE's John Reese. "Thanks to all the bands (including Brantley Gilbert, Social Distortion, Justin Moore and many more), the vendors, and the various attractions including the Hooligan Flat Track Race and the Unknown Harley Stunt Show for making Lost Highway an epic event. See you in 2017."
Check out video highlights from the festival here: https://youtu.be/LMmlwbMuJY0
Roland Sands Designs x Indian Motorcycle Super Hooligan Race Results:
Hooligan Main:

1st #9, Jordan Michael Graham x 1995 Harley Davidson Sportster 1200
2nd #454, Tyler "Tall Boy T" Heuertz x 1997 Harley Davidson Sportster 1200
3rd #74, Cameron Brewer (RSD) x Harley Davidson Sportster Pickle Tracker

Run What Ya Brung:

1st #23, Travis Hayes (Team Rusty Butcher) x 1978 Yamaha DT400
2nd #911, Jason Klements x 1995 Harley Davidson Sportster 1200
3rd #46, Matt Jenkins x 2001 Harley Davidson Sportster 1200

Run What Ya Brung Vintage:

1st #03, Jeffrey "Meatball" Tulinius x 1968 Triumph T100
2nd #20, Mark "Lucky" Locke x 1970 Husky
3rd #34, Scott Jones (Noise Cycles) x 1965 Harley Davidson XLCH 900
Lost Highway Motorcycle Show & Concert was produced by Live Nation and Synergy Global Entertainment (SGE), and made possible through the support of partners Quaid Harley-Davidson, Ram Trucks, O'Reilly, Rockstar Energy Drink, Cosmic Fog, Victorville Motors, Sailor Jerry, Pabst Blue Ribbon, Roadhouse Biker Church, Cosmic Fog, Fxck Cancer, and Lagunitas.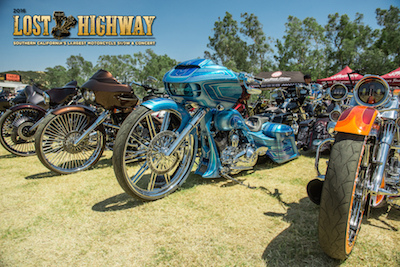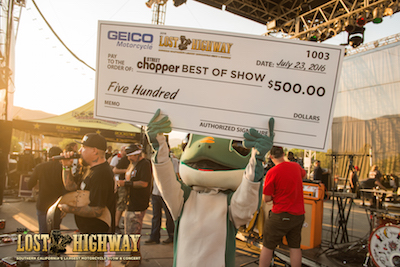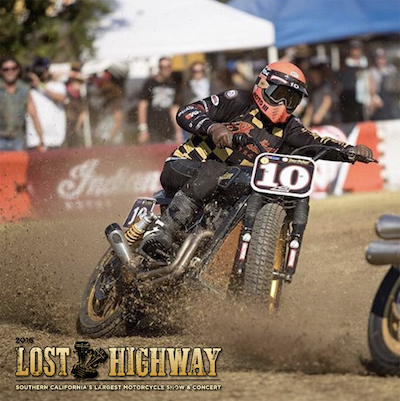 Lost Highway Links/Socials:
---
About SGE:
Synergy Global Entertainment, Inc. (SGE) specializes in producing music events and music marketing programs benefitting brands, artists, consumers, partners and attendees alike. SGE has produced thousands of branded music festivals, concerts, tours and events throughout the world playing to millions of applauding fans.
About Live Nation Entertainment:
Live Nation Entertainment (NYSE: LYV) is the world's leading live entertainment company comprised of global market leaders: Ticketmaster, Live Nation Concerts, Live Nation Media & Sponsorship and Artist Nation Management. For additional information, visit www.livenationentertainment.com.
Lost Highway Publicity Contacts:
Ashton-Magnuson Media
Ashley Di Buduo
ashley@a12entertainment.com; (323) 379-9684
Kristine Ashton-Magnuson
Kristine@am-media.net; (818) 996-2496