Date: August 2, 2016
From: Kristine Ashton-Magnuson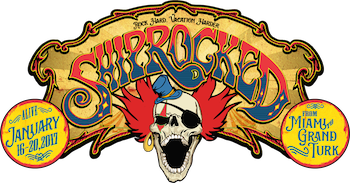 SHIPROCKED 2017
ADDS TO ITS STELLAR LINEUP
WITH BANDS INCLUDING SHIPROCKED VETERANS
ART OF DYING, STITCHED UP HEART, AND LETTERS FROM THE FIRE
INITIAL ROSTER FOR THE STOWAWAYS ALL STAR BAND
INCLUDES FRANK BELLO (ANTHRAX), ROB CAGGIANO (VOLBEAT),
JOSH TODD & STEVIE DACANAY (BUCKCHERRY), GEOFF TATE,
SONNY SANDOVAL (P.O.D.), RON 'BUMBLEFOOT' THAL & MORE

WAITING LIST AVAILABLE FOR
"THE GREATEST VACATION ON EARTH"
SAILING JANUARY 16-20, 2017 ONBOARD CARNIVAL VICTORY
Despite selling out in just one week after staterooms went on sale to the public in May, ShipRocked 2017 continues to add to its stellar lineup. ShipRocked veterans Art of Dying, Stitched Up Heart and Letters From The Fire, as well as first-timers Living Sacrifice and Them Guns, join a lineup that features headliner Breaking Benjamin, along with Papa Roach, Alter Bridge, Sevendust, Pop Evil and more. ShipRocked 2017 sails January 16-20, 2017 from Miami, FL to Grand Turk in the Turks & Caicos Islands onboard Carnival Victory.
In addition, ShipRocked's own all-star band The Stowaways and its revolving cast of special guests will once again be pulling out all the stops with classic hits, unexpected surprises, and a roster of performers that can't be seen anywhere else. The initial roster for the 2017 edition of The Stowaways has been revealed, including Oli Herbert (All That Remains), Frank Bello (Anthrax), Dameon & Gabe Aranda (Aranda), Josh Todd and Stevie Dacanay (Buckcherry), Ron "Bumblefoot" Thal (ex-Guns N' Roses), Doug Robb and Chris Hesse (Hoobastank), Jerry Gaskill (King's X), Madame Mayhem, Dave Buckner (ex-Papa Roach), Sonny Sandoval (P.O.D.), Geoff Tate (ex-Queensrÿche), Lukas Rossi and Miles McPherson (The Halo Method), Joey & Jorge Dueñas (Unloco), and Rob Caggiano (Volbeat).
Those who would like to make a reservation for ShipRocked 2017 can join the waiting list by visiting www.ShipRocked.com.
The full lineup for ShipRocked 2017 is as follows: Breaking Benjamin, Papa Roach, Alter Bridge, Sevendust, Pop Evil, The Stowaways, 12 Stones, Another Lost Year, Art of Dying, Avatar, Cane Hill, Crobot, The Dead Deads, From Ashes To New, Lacey Sturm, Letters From The Fire, Living Sacrifice, Monster Truck, Mothership, Shaman's Harvest, Stitched Up Heart, Them Guns, and Wilson, plus the comedy of Big Jay Oakerson; D.J. Lippy Rage; The S.D.R. Sideshow; with ringmasters Kayla Riley of SiriusXM's Octane and Ralph Sutton of The Tour Bus Radio.
Additional details about ShipRocked 2017 theme nights and onboard activities will be available in the coming months at www.ShipRocked.com.
Produced by ASK4 Entertainment, ShipRocked is a once-in-a-lifetime experience with unique performances and musical collaborations that provides guests with the opportunity to vacation with their favorite bands, meet new friends, and reunite with old ones year after year. ShipRocked onboard and beach activities include photo meet and greets with band members, poolside games, artist Q&A sessions, trivia challenges, game shows, parties, contests and more. The ShipRocked Cancer Sucks! onboard charity auction has raised nearly $500,000 to date for innovative medical research and finding a cure for cancer.
Rock Hard. Vacation Harder.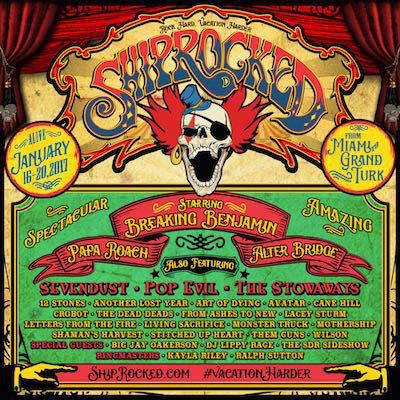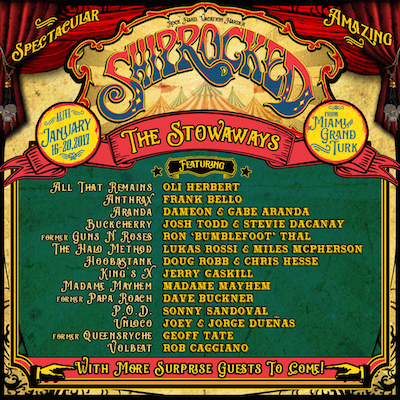 ---
About ShipRocked
The ultimate rock music cruise vacation is produced by Alan Koenig of ASK4 Entertainment. Each ShipRocked is a once-in-a-lifetime experience that provides guests with the opportunity to vacation with their favorite bands, meet new friends, and reunite with old friends year after year. On any given day, guests might find themselves dining, drinking, rocking out, swimming, working out, or gambling alongside their favorite rock musicians. The full-ship charter provides a one-of-a-kind experience for guests to have the time of their lives with thousands of like-minded friends.
www.ShipRocked.com
About ASK4 Entertainment
ASK4 Entertainment is a premier rock music theme cruise and destination event producer. ASK4 Entertainment produces ShipRocked and Motörhead's Motörboat.
www.facebook.com/ASK4Entertainment