Date: August 11, 2016
From: Kristine Ashton-Magnuson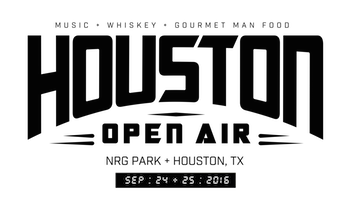 HOUSTON OPEN AIR
DAILY BAND LINEUPS, GOURMET MAN FOOD — FEATURING 'TACOLANDIA'
AND JACK DANIEL'S OLD NO. 7 WHISKEY ROW
ANNOUNCED FOR TWO-DAY FESTIVAL
SEPTEMBER 24 & 25 AT NRG PARK IN HOUSTON, TX
THE BIGGEST ROCK EXPERIENCE IN TEXAS
FEATURES OVER 35 BANDS
LED BY AVENGED SEVENFOLD AND ALICE IN CHAINS
PLUS DEFTONES, CHEVELLE, SLAYER AND MANY MORE
The initial Gourmet Man Food menu, whiskey selections and daily band lineups have been announced for the first-ever Houston Open Air, to be held Saturday, September 24 and Sunday, September 25, 2016 at NRG Park in Houston. Texas's biggest rock experience will feature performances from over 35 bands, including Avenged Sevenfold, Alice In Chains, Deftones, Chevelle, Slayer and many more.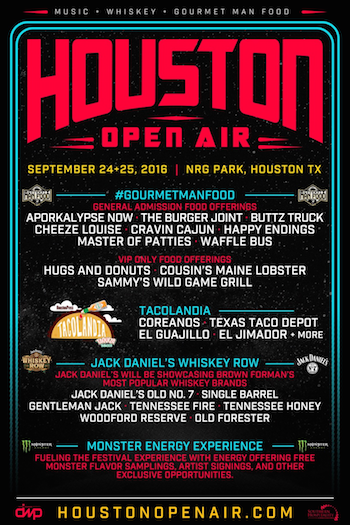 In addition to three stages of top rock bands, Houston Open Air features the celebrated Jack Daniel's Old No. 7 Whiskey Row, and a Texas-sized Gourmet Man Food experience, which will highlight Houston's emergence as a great American food city, and feature the Tacolandia Mexican food village with some of Houston's top Tex-Mex spots.
Weekend, single-day and VIP tickets for Houston Open Air are on sale now at www.HoustonOpenAir.com.
Here's a preliminary list of Gourmet Man Food and whiskey offerings at Houston Open Air:
Gourmet Man Food:

Houston Open Air will feature food from several Houston favorites, with additional vendors from around the country. Along with its general admission and VIP Gourmet Man Food selections, Houston Open Air will also feature a local Tex-Mex showcase at Tacolandia. The current list of Gourmet Man Food vendors and menu items for Houston Open Air includes:

Tacolandia presented by the Houston Press and Tabasco

Coreanos award-winning "Mexican cuisine with Korean in between," named one of the "101 Best Food Trucks In America 2015" by The Daily Meal (Loco Pollo, The Babe, The Og) • El Guajillo, serving traditional Mexican street food from Morelia, Michoacan, Mexico • Texas Taco Depot (Slow Roasted Brisket w/Fire Roasted Corn & Black Bean Medley, Slow Cooked Pork Carnitas w/Grilled Pineapple, Butter Garlic Shrimp w/Cabbage Slaw, Marinated Grilled Chicken w/Caramelized Onions & Roasted Bell Pepper)

General Admission

Cheeze Louise (Salmon Grilled Cheese Melt or Bowl, Meat Lover's Grilled Cheese, Fried Chicken Man N Cheese Bowl) • Master Of Patties (The Philly Burger, Chili Cheeseburger, The Moink Burger) • Cravin' Cajun (Spicy Shrimp Po-Boy, Gator Critter Fritters, The Soft Shell Crab Sandwich) • Aporkalypse Now (Texas Red Bison & Brisket Chili Bowl, Texas Sampler, Giant Split-Bone Pork Chop) • The Waffle Bus (Buttermilk Chicken & Waffle, Cheeseburger Fryders, Nutella & Banana Waffle, Chicken Thunder Fries) • Buttz Truck (Texas Butt, Carolina Butt, Taco Butt) • The Burger Joint (Classic Burger, Bacon Burger, Fire Burger, Mushroom Burger) • Hugs And Donuts

VIP

Happy Endings Asian fusion dogs (The BDL, Queso Hot Dog, Queso Kimchi Fries) • Sammy's Wild Game Grill • Cousin's Maine Lobster (Fresh Maine Lobster Roll, Lobster Quesadilla, Shrimp Tacos)

Whiskey:

Jack Daniel's Old No. 7 Whiskey Row will feature the following brands: Jack Daniel's Black Label, Gentleman Jack, Jack Daniel's Tennessee Honey, Jack Daniel's Tennessee Fire, Old Forester, and Woodford Reserve.
The daily band lineup for Houston Open Air is as follows (subject to change):
Saturday, September 24

Alice In Chains, Slayer, The Cult, Ministry, Anthrax, Alter Bridge, Chevy Metal, Buckcherry, Sevendust, letlive., Sick Puppies, Max & Iggor Cavalera Return To Roots, Jim Breuer and the Loud & Rowdy, Gemini Syndrome, Texas Hippie Coalition, Sons of Texas, The Word Alive, Dinosaur Pile-Up

Sunday, September 25

Avenged Sevenfold, Deftones, Chevelle, Pierce The Veil, Ghost, Of Mice & Men, Baroness, Hellyeah, Nothing More, Skindred, Avatar, The Amity Affliction, Neck Deep, Mothership, Young Guns, Starset, KYNG, Twelve Foot Ninja, September Mourning
Hotel discounts for Houston Open Air are available through Curadora at: https://curadora.com/events/houston-open-air-2016-219baf2a/
For full details about all tickets, hotel and VIP packages, visit www.HoustonOpenAir.com.
As previously announced, in light of the recent flooding in the Houston area, a portion of the proceeds from all Houston Open Air tickets sold will benefit the Greater Houston Storm Relief Fund. The Greater Houston Storm Relief Fund was established by Houston Mayor Sylvester Turner to accept flood relief donations that will stay in the Houston community and aid the victims of the recent storms. To donate or learn more, visit www.houstonrecovers.org.
Houston Open Air is produced by Danny Wimmer Presents, a producer of some of the biggest rock festivals in America, including LOUDER THAN LIFE, Chicago Open Air, Monster Energy Welcome To Rockville, Monster Energy Fort Rock, Monster Energy AFTERSHOCK, Monster Energy Carolina Rebellion, Northern Invasion, Monster Energy Rock Allegiance, Rock On The Range and more.
Houston Open Air sponsors include: Monster Energy, Jack Daniel's, El Jimador, Fxck Cancer's Dyin2Live, NRG Park and SoHo Concessions, with more to be announced.
NRG Park, home of the NFL's Houston Texans and the Houston Livestock Show and Rodeo, is located at One NRG Park in Houston, TX.
For more information on Houston Open Air, visit:
---
About Danny Wimmer Presents
Since 1993, music industry veteran Danny Wimmer has been producing concerts and festivals, both large and small. In 2011, he formed Danny Wimmer Presents, which now produces several of the largest rock and alternative festivals in the U.S. By combining A-list talent with local cuisine and culture, DWP has become recognized within the industry for delivering the highest-quality entertainment experiences to fans, artists, sponsors, partners and host cities. DWP creates memorable and all-encompassing festival experiences, leaving both consumers and partners with lasting and meaningful impressions. With 580,000 fans attending all DWP festivals in 2015, and 10 billion media impressions, DWP will continue to add new music festivals to its already stellar portfolio, which includes Rock On The Range, Monster Energy Aftershock Festival, Monster Energy Welcome To Rockville, Monster Energy Carolina Rebellion, Louder Than Life, and Monster Energy Rock Allegiance, among others.
www.DannyWimmerPresents.com
About NRG Park
NRG Park is the premier and most-versatile tradeshow, consumer show, convention and sports and entertainment complex in Harris County, specifically near the cultural center and urban hub of Houston, Texas. The 350-acre complex with 26,000 parking spaces is uniquely comprised of four facilities: NRG Center, NRG Arena, NRG Stadium and NRG Astrodome where adaptability, hospitality and distinct service all meet to provide a world-class experience. The uniqueness of NRG Park is apparent in the flexibility of its facilities, each offering the opportunity to host large exhibitions, concerts, sporting events, conventions and meetings. NRG Stadium is home to both the Houston Texans and the world-famous Houston Livestock Show and Rodeo. NRG Center offers 1.4 million square feet of exhibit and meeting space, as well as, being fully wired to accommodate networking needs of our clients. NRG Arena's versatile seating configurations and adjacent exhibit space comfortably accommodate mid-scale events. And then there's NRG Astrodome, an iconic structure that served many sports and entertainment performances for nearly forty years. At NRG Park, education, entertainment, trade, commerce and competition all come together in one vibrant and energizing environment. Couple this with our professional staff dedicated to achieving the highest levels of customer and guest satisfaction and you'll clearly understand why NRG Park is a leader in the event industry.
http://nrgpark.com
Houston Open Air Publicity Contact
Kristine Ashton-Magnuson/Ashton-Magnuson Media
kristine@am-media.net; (818) 996-2496
Houston Open Air Marketing & Sponsorship Contact
Clay Busch/Danny Wimmer Presents
clay@dwpresents.com