Date: August 25, 2016
From: Kristine Ashton-Magnuson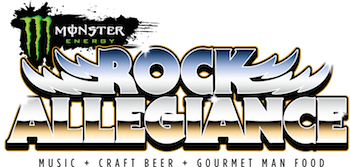 DAILY BAND LINEUPS, GOURMET MAN FOOD, CRAFT BEER
AND EXPERIENCES ANNOUNCED FOR
MONSTER ENERGY ROCK ALLEGIANCE
SEPTEMBER 17 & 18, 2016 AT
PHILADELPHIA'S TALEN ENERGY STADIUM
AVENGED SEVENFOLD AND ALICE IN CHAINS
TOP THE NORTHEAST'S BIGGEST ROCK EXPERIENCE ALSO FEATURING
SLAYER, THE OFFSPRING, BREAKING BENJAMIN, VOLBEAT & MORE
Eat.Drink.Rock.Repeat.
The Gourmet Man Food lineup, craft beer selections and daily band lineups have been announced for the second annual Monster Energy Rock Allegiance, September 17 & 18 at Talen Energy Stadium in Chester, PA, just outside Philadelphia.
Monster Energy Rock Allegiance will feature a lineup of over 35 bands on three stages, led by rock heavyweights Avenged Sevenfold and Alice In Chains, along with Slayer, The Offspring, Breaking Benjamin, Volbeat and many more. Last year's single-day debut shattered Talen Energy Stadium's previous attendance high by nearly 10,000 people, with over 26,000 total in attendance, prompting festival organizers to expand to two days.
Weekend General Admission and VIP tickets—as well as a limited number of single day tickets—for Monster Energy Rock Allegiance are available at www.RockAllegiance.com.
The current daily band lineup for Monster Energy Rock Allegiance is as follows (subject to change):
Saturday, September 17

Alice In Chains, Breaking Benjamin, The Offspring, The Cult, Motionless In White, Baroness, Chevy Metal, Trivium, Buckcherry, Avatar, Max & Iggor Cavalera Return To Roots, Sick Puppies, Jim Breuer and the Loud & Rowdy, letlive., The Apocalypse Blues Revue, Skindred, Young Guns, The Word Alive, Dinosaur Pile-Up

Sunday, September 18

Avenged Sevenfold, Slayer, Volbeat, Chevelle, Pierce The Veil, Ghost, Anthrax, Killswitch Engage, Of Mice & Men, Sevendust, Hellyeah, The Amity Affliction, Neck Deep, Crobot, Twelve Foot Ninja, KYNG, Death Angel, Devour The Day, Hundredth
Festival doors open at 11:00 AM each day.
Here's a preliminary list of Monster Energy Rock Allegiance onsite experiences, including Gourmet Man Food and craft beer, as well as nonprofit organizations with a presence at the festival: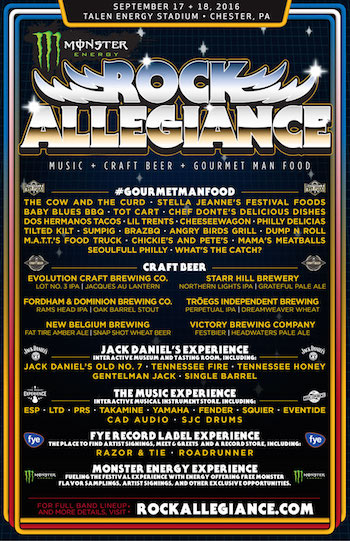 Gourmet Man Food:

Monster Energy Rock Allegiance features a Gourmet Man Food experience celebrating what makes Philadelphia cuisine famous, unique and delicious. The current Gourmet Man Food lineup includes: Angry Bird Grill • Baby Blues BBQ • BrazBQ • Cheese E. Wagon • Chef Donte's Delicious Dishes • Chickie's & Pete's • Dos Hermanos Tacos • Dump-N-Roll • Lil Trent's • M.A.T.T.'s Food Truck • Mama's Meatballs • Philly Delicias • Seoulfull Philly • Stella Jeanne's Festival Foods • Sum Pig • The Cow And The Curd • The Tot Cart • Tilted Kilt • What's the Catch

Craft Beer:

Monster Energy Rock Allegiance is proud to support beer entrepreneurship with a celebration of local breweries and specialty drafts hailing from throughout the nation. The roster of regional and national craft beers is as follows: Evolution Craft Brewing Co (Salisbury, MD — Lot No 3 IPA, Jacques Au Lantern) • Fordham & Dominion Brewing Company (Dover, DE — Rams Head IPA, Oak Barrel Stout) • New Belgium Brewing (Fort Collins, CO — Fat Tire Amber Ale, Snapshot Wheat) • Starr Hill Brewery (Charlottesville, VA — Grateful Pale Ale, Northern Lights IPA) • Tröegs Independent Brewing (Hershey, PA — Perpetual IPA, DreamWeaver Wheat) • Victory Brewing Company (Downington, PA — Festbier, Headwaters Pale Ale).

Monster Energy Experience/Sampling:

Monster Energy will be keeping all fans fueled up and ready to rock by offering free sampling on their Monster Energy viewing deck. Enjoy Monster Energy drinks from one of the best seats in the house. Make sure to check back throughout the festival for a schedule of Monster Energy's interactive artist experiences.
Facebook: facebook.com/monsterenergy
#monsterenergy #monstermusic

Jack Daniel's Experience:

"Taste of Tennessee" invites visitors to come out and tour the nation's oldest registered distillery from outside the Jack Daniel's Hollow. Visitors get to see (and smell) whiskey dripping slowly through charcoal and the new oak barrels used in maturing Tennessee's finest whiskey. The Jack Daniel's Experience is open to all fans, 21 years old and up, for tours free of charge. Stop by the Jack Daniel's Experience for interactive engagements throughout the weekend.
Facebook: facebook.com/jackdaniels
Instagram: @jackdaniels_us
#jackdaniels #BornToMakeWhiskey

Zippo:

Zippo Encore will offer a full stock of Zippo lighters, including the limited edition festival designs. Come by and check out their contests and giveaways or get a free lighter fill or tune-up. Be sure to bring your Zippo lighter to the festival, it could be your ticket to special experiences.
Facebook: facebook.com/zippoencore
Instagram: @zippoencore
#zippo #zippoencore

The Music Experience:

The Music Experience features all the elements that are involved in making music in a professional band setting. The interactive exhibit features guitars, basses, amps, drums, keyboards and electronic gear that are used by today's most popular bands. The Music Experience has autograph signings and artist interactions throughout the day. Check Facebook and Instagram for the latest info on who will be hanging out at The Music Experience.
Facebook: facebook.com/themusicexp
Instagram: @tmexp

f.y.e. Fan Experience:

f.y.e. will be hosting the ultimate fan and artist interactive experiences throughout the festival. f.y.e. is the only place at the festival to get all your favorite band's music — and maybe even get to meet your favorite Monster Energy Rock Allegiance performers. Check back for updates on artist meet and greet and autograph signing sessions as well as unique experiences and offers thanks to Razor & Tie Records and Roadrunner Records.
Facebook: facebook.com/FYE
Instagram: @officalFYEmusic
#unitedstatesofFYE

Philadelphia Union — Rock N Jock Experience:

Philadelphia Union will be hosting the ultimate Rock N Jock experience at Monster Energy Rock Allegiance. One winner plus a guest each day will receive prizes from the Philadelphia Union, Monster Energy Rock Allegiance and a private Meet & Greet with Pierce The Veil (Saturday) or Breaking Benjamin (Sunday), along with the ultimate fan experience at both the festival and a 2017 Philadelphia Union game of their choice. To enter, visit http://www.philadelphiaunion.com/rock-enter. No purchase necessary.
Facebook: facebook.com/philadelphiaunion
Twitter: twitter.com/PhilaUnion
Website: http://www.philadelphiaunion.com/
#RockNJock

Dyin 2 Live / Fxck Cancer:

The F C Cancer Foundation's mission is to fight cancer by raising awareness and to educate about early cancer detection, ultimately putting an end to late stage cancer diagnosis. The Dyin 2 Live wish granting program looks to enrich the lives of those fighting cancer by offering them an experience that will bring joy, hope, inspiration, and courage into their lives. In doing this, the program hopes it can help give the cancer fighter a chance to forget, even if it's only for a day, what they are battling. The hope is that it can be used as a source of inspiration to those needing a brighter day in their darkest hour.
www.FxckCancer.org
www.makingdreamshappen.org
www.Dyin2Live.org
Facebook: facebook.com/Dyin2LiveDREAMS or facebook.com/FxckCancerUSA
Instagram: @FxckCancer and @Dyin2LiveDreams

Sharethebus:

Sharethebus is the fun and easy way to get to Monster Energy Rock Allegiance. Shuttles and buses from Harrisburg, Newark, Philadelphia, and more start at $12.50 for a round trip pass. Purchase your bus passes here:
https://www.sharethebus.com/events/rockallegiance?outgoingCity=Harrisburg%20-%20Midtown%20Cinema&tripType=roundtrip

Sharethebus was founded by two individuals from Montreal named Wolf and Kyle. They were fed up with how hard it is to rent a charter bus, and wanted a better way to travel together. In 2014 they started Sharethebus and quickly realized that what they're offering is something that a lot of people want. Today, Sharethebus is a growing team of travel experts, developers, and rock stars who are building the best way for you and all your friends to go where you want, when you want, all while having a blast.
Hotel discounts for Monster Energy Rock Allegiance are available through Curadora at: https://curadora.com/events/rock-allegiance-2016-c21ee149/. For full details about all tickets, hotel and VIP packages, visit www.RockAllegiance.com.
Monster Energy Rock Allegiance is produced by Danny Wimmer Presents, Live Nation, and Spectra at Talen Energy Stadium.
Talen Energy Stadium is a state-of-the-art Major League Soccer stadium that serves as the home to Philadelphia Union and is located at 1 Stadium Drive in Chester, PA, just outside Philadelphia.
The festival is fueled by Monster Energy. Additional sponsors include Jack Daniel's, Zippo Encore, The Music Experience, F.Y.E., Roadrunner Records, Razor & Tie Records, Take Me Home, Fxck Cancer/Dyin2Live, and more.
For more information on Monster Energy Rock Allegiance, visit:
Talen Energy Stadium social media accounts:
To receive advance notice and special offers to future Talen Energy Stadium events, join the free Talen Energy Stadium CyberClub here.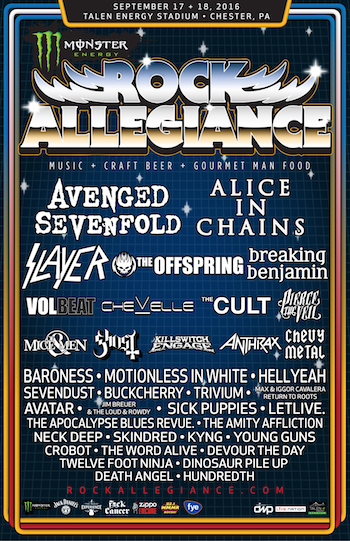 ---
About Danny Wimmer Presents
Since 1993, music industry veteran Danny Wimmer has been producing concerts and festivals, both large and small. In 2011, he formed Danny Wimmer Presents, which now produces several of the largest rock and alternative festivals in the U.S. By combining A-list talent with local cuisine and culture, DWP has become recognized within the industry for delivering the highest-quality entertainment experiences to fans, artists, sponsors, partners and host cities. DWP creates memorable and all-encompassing festival experiences, leaving both consumers and partners with lasting and meaningful impressions. With 580,000 fans attending all DWP festivals in 2015, and 10 billion media impressions, DWP will continue to add new music festivals to its already stellar portfolio, which includes Rock On The Range, Monster Energy Aftershock Festival, Monster Energy Welcome To Rockville, Monster Energy Carolina Rebellion, Louder Than Life, and Monster Energy Rock Allegiance, among others.
www.DannyWimmerPresents.com
About Live Nation
Live Nation Entertainment (NYSE: LYV) is the world's leading live entertainment company comprised of global market leaders: Ticketmaster, Live Nation Concerts, Live Nation Media & Sponsorship and Artist Nation Management. For additional information, visit www.livenationentertainment.com.
About Monster Energy
Most companies spend their money on ad agencies, TV commercials, radio spots, and billboards to tell you how good their products are. At Monster Energy, we chose none of the above. Instead we support the scene, our bands, our athletes and our fans. We back athletes so they can make a career out of their passion. We promote concert tours, so our favorite bands can visit your hometown. We celebrate with our fans and riders by throwing parties and making the coolest events we can think of a reality.
www.monsterenergy.com | www.facebook.com/monsterenergy
Monster Energy Rock Allegiance Publicity Contact
Kristine Ashton-Magnuson/Ashton-Magnuson Media
kristine@am-media.net; (818) 996-2496
Live Nation Publicity Contact
Rachel Spivak/Live Nation
RachelSpivak@LiveNation.com
Monster Energy Rock Allegiance Marketing & Sponsorship Contact
Clay Busch/Danny Wimmer Presents
clay@dwpresents.com