Date: September 16, 2016
From: Kristine Ashton-Magnuson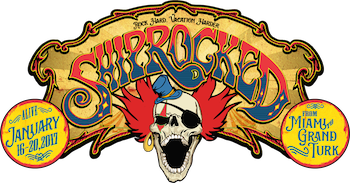 SHIPROCKED 2017
ANNOUNCES OFFICIAL PRE-PARTY,
THEME NIGHTS AND ADDITIONAL ENTERTAINMENT
FOR "THE GREATEST VACATION ON EARTH"
FEATURING
BREAKING BENJAMIN, PAPA ROACH, ALTER BRIDGE,
SEVENDUST, POP EVIL, THE STOWAWAYS ALL STAR BAND
AND MANY MORE
JANUARY 16-20, 2017 ONBOARD CARNIVAL VICTORY
The Official ShipRocked 2017 Pre-Cruise Party, onboard theme nights and additional entertainment have been announced for ShipRocked 2017. "The Greatest Vacation On Earth" features headliner Breaking Benjamin, along with Papa Roach, Alter Bridge, Sevendust, Pop Evil, ShipRocked's own all-star band The Stowaways, and more. ShipRocked 2017 sails January 16-20, 2017 from Miami, FL to Grand Turk in the Turks & Caicos Islands onboard Carnival Victory.
ShipRocked 2017 sold out in just one week after staterooms went on sale to the public in May. Those who would still like to make a reservation for ShipRocked 2017 can join the waiting list by visiting www.ShipRocked.com.
Open only to ShipRocked guests, the Official ShipRocked 2017 Pre-Cruise Party will feature performances by Art of Dying and Stitched Up Heart, plus a surprise headlining performance. The all-ages party takes place January 15, 2017 at The Wynwood Yard in Miami. Doors open at 7pm. Located in the heart of the Wynwood Arts District (56 NW 29th Street, Miami, FL 33127) and just minutes from downtown Miami, The Wynwood Yard is one of the coolest spots in town. In addition to live music, there will multiple food trucks on site, beverages, raffle prizes and more. For more information, visit www.ShipRocked.com.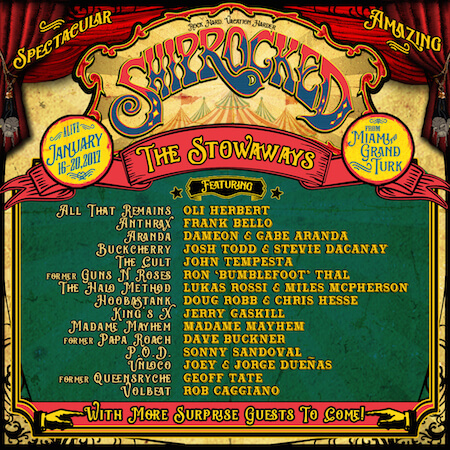 Onboard Carnival Victory, drummer John Tempesta (The Cult) will perform with The Stowaways alongside a previously announced all-star crew that includes Frank Bello (Anthrax), Rob Caggiano (Volbeat), Josh Todd and Stevie Dacanay (Buckcherry), Geoff Tate, Sonny Sandoval (P.O.D.), Ron "Bumblefoot" Thal, and a dozen others.
Also joining the ShipRocked 2017 lineup are comedians Annie Lederman (MTV's Girl Code, Comedy Central's @midnight, We Have Issues on E!) and Liza Treyger (Comedy Central's Snapchat series Like It With Liza).
In addition, while every ShipRocked is a magical experience for guests and bands alike, ShipRocked 2017 takes it literally: Street Magician Ryan Shadow will be roaming the Carnival Victory throughout the cruise, dazzling guests, defying reason, and disregarding gravity with a mind-blowing display of wizardry, devilry, sorcery, and sleights of hand.
The full lineup for ShipRocked 2017 is as follows: Breaking Benjamin, Papa Roach, Alter Bridge, Sevendust, Pop Evil, The Stowaways, 12 Stones, Another Lost Year, Art Of Dying, Avatar, Cane Hill, Crobot, The Dead Deads, From Ashes To New, Lacey Sturm, Letters From The Fire, Living Sacrifice, Monster Truck, Mothership, Shaman's Harvest, Stitched Up Heart, Them Guns, and Wilson, plus the comedy of Big Jay Oakerson, Annie Lederman, and Liza Treyger; Ryan Shadow; D.J. Lippy Rage; The S.D.R. Sideshow; with ringmasters Kayla Riley of SiriusXM's Octane and Ralph Sutton of The Tour Bus Radio.
Theme nights for ShipRocked 2017 are as follows:
Monday, January 16

ShipRocked Things (Embarkation)

It's finally time to leave The Upside Down of the real world behind, so you can rock hard and vacation harder together! So get suited up, and let's ship out! Show us your ShipRocked spirit by creating some inspired DIY group swag, or simply don that old school gear from your SR wardrobe of yesteryear! This is the day to wear it bright and loud, and ShipRocked proud.

Red Is The New Black (Monday night)

We're going all in on RED! Red is the color of Power, the Solo Cup and STOP. All the greatest heroes of our time donned red. The Kool-Aid guy, Santa Claus, Bozo, Elmo, The Baron, Dorothy, Manchester United, that one Angry Bird…the list goes on and on. Pay tribute to your favorite Red by piling on as much of the crimson as you can handle. Up the ante, get creative, whatever your red little heart desires! Just remember the Redder The Better.

Tuesday, January 17

Game Of ShipRockers

Here Ye! Here Ye! Winter is coming and thee must prepareth. House ShipRocked, the Lord & Protector of the mighty Victory Kingdom at Sea, cordially invite thee to an evening of merriment, fantasy and endless steins of mead! Tis a party for the finest fashion of the Seven Kingdoms, with pieces of gold awarded to those who've come to claim the throne. It shall be a celebration for Medieval Times that would make even the Red Wedding blush!

Wednesday, January 18

The Rocking Dead

Channel your favorite rock stars of the past who have moved on to play that great stage in the sky…undead or in their living glory! It's a Dead Carpet Affair and the dress code is strictly VIP-RIPs. The Stowaways will even help us raise the dead during a special tribute set so the rock legends of late can be heard again. Sail! Sail! Rock 'N' Roll!

Thursday, January 19

Circus Shiptacular!

Lady and Gentleman Rockers! Come one, come all, come tall and come small, step up, and step in under the ShipRocked Big-Top during the final night of our rockin' revue! Witness the Acrobats, Trapeze Artists, Lion Tamers, Trained Animals, Jugglers, Magicians, Mimes, and Clowns, Clowns, wonderful Clowns! Or if the strange and bizarre are your particular pleasure, marvel at the Fantastic Freaks and Human Oddities, Alive and In-Person at most stupendous sideshow at sea! The Bearded Lady, Siamese Twins, Elephant Man, Amazing Amazon, Dog Faced Boy, Fortune Tellers and more! You won't believe your eyes!
Produced by ASK4 Entertainment, ShipRocked is a once-in-a-lifetime experience with unique performances and musical collaborations that provides guests with the opportunity to vacation with their favorite bands, meet new friends, and reunite with old ones year after year. ShipRocked onboard and beach activities include photo meet and greets with band members, poolside games, artist Q&A sessions, trivia challenges, game shows, parties, contests and more. The ShipRocked Cancer Sucks! onboard charity auction has raised nearly $500,000 to date for innovative medical research and finding a cure for cancer.
Rock Hard. Vacation Harder.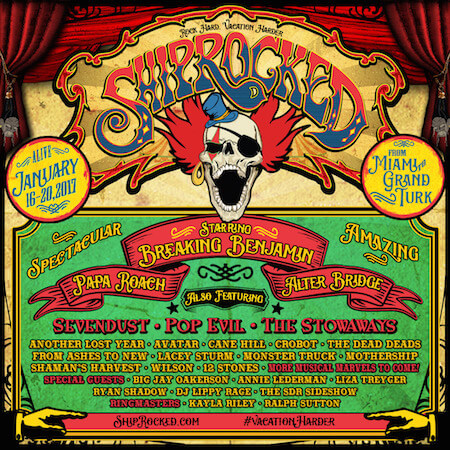 ---
About ShipRocked
The ultimate rock music cruise vacation is produced by Alan Koenig of ASK4 Entertainment. Each ShipRocked is a once-in-a-lifetime experience that provides guests with the opportunity to vacation with their favorite bands, meet new friends, and reunite with old friends year after year. On any given day, guests might find themselves dining, drinking, rocking out, swimming, working out, or gambling alongside their favorite rock musicians. The full-ship charter provides a one-of-a-kind experience for guests to have the time of their lives with thousands of like-minded friends.
www.ShipRocked.com
About ASK4 Entertainment
ASK4 Entertainment is a premier rock music theme cruise and destination event producer. ASK4 Entertainment produces ShipRocked and Motörhead's Motörboat.
www.facebook.com/ASK4Entertainment