Date: October 5, 2016
From: Kristine Ashton-Magnuson

THIRD ANNUAL
LOUDER THAN LIFE
WRAPS WITH 50,000 IN ATTENDANCE
OVER TWO-DAY FESTIVAL AT CHAMPIONS PARK IN LOUISVILLE
WITH HEADLINERS AVENGED SEVENFOLD AND SLIPKNOT
FESTIVAL CONTINUES TO GROW,
WORKING HAND IN HAND WITH LOUISVILE COMMUNITY
The third annual LOUDER THAN LIFE—held October 1 & 2 at Champions Park in Louisville—drew to a close with 50,000 in attendance over the two-day festival celebrating the region's culture and cuisine, and featuring award-winning bourbons and spirits, Gourmet Man Food, craft beer and some of the biggest names in rock music.
LOUDER THAN LIFE 2016 featured Slipknot and Avenged Sevenfold—headlining together for the first time ever—topping a mindblowing music lineup of over 35 bands on three stages, with performances from Disturbed, Korn, Slayer, The Cult, Ghost, Pierce The Veil and many more. On Saturday night, Rock and Roll Hall of Famers Cheap Trick were joined onstage by Anthrax, Vinnie Paul (Hellyeah), Taylor Hawkins (Chevy Metal, Foo Fighters), Chris Shiflett (Foo Fighters), and members of The Cult. On Sunday night, Slipknot's Corey Taylor pulled double-duty, joining Korn onstage for the first time ever to perform the band's new single "A Different World" before donning his mask for Slipknot's thunderous festival-closing set. Check out a video clip here: www.instagram.com/p/BLHOWIagp_H/?taken-by=louderthanlifefest.
LOUDER THAN LIFE celebrated the culture of Louisville and offered attendees a full day and night of experiences, including Bourbon World presented by the Louisville Courier-Journal, regional craft beer, over 40 vendors in the Gourmet Man Food village, the Jack Daniel's Experience, band meet-and-greets and autograph signings hosted by Monster Energy, FYE, and The Music Experience, and much more. Attendees were able to have their festival t-shirts customized by New York rock fashion designer Christian Benner at the Christian Benner Experience. In the It's Miller Time VIP Lounge, fans enjoyed a private bar and additional Gourmet Man Food options, seated viewing of the festival main stages, and a sports bar showing all the weekend's college and NFL football action.
LOUDER THAN LIFE, which had an estimated economic impact of nearly $13 million on the Louisville area in 2015, continues to drive tourism to Louisville. Says Danny Wimmer Presents CEO Danny Hayes, "This year marked the beginning of what we intend to be a broader inclusion of greater Louisville into the LOUDER THAN LIFE experience. Our focus is bringing tourism to this great city, and we want to make sure our fans get to see all that Louisville has to offer. We also want to make sure that local businesses benefit from our being here. This year we showcased Fourth Street Live! with official pre and afterparties. And our team particularly enjoyed a very special kickoff dinner at the Wine Studio at 610 Magnolia prepared by our favorite celebrity chef Edward Lee, and hosted by our dear friend, SiriusXM's Shannon Gunz."
Louisville Mayor Greg Fischer comments, "Another strong year is in the books for LOUDER THAN LIFE. Cheers to its return in 2017."
"Visiting for a festival or event is the number one driver for tourism in Louisville, and LOUDER THAN LIFE, with its strong following, has benefited the city both culturally and economically," says Karen Williams, President & CEO of the Louisville Convention & Visitors Bureau. "We look forward to welcoming back this premier destination festival for the fourth year next Fall."
Here is some of the positive press response to LOUDER THAN LIFE 2016:
"Louder Than Life is truly the ultimate festival experience for any fan of rock, metal and alternative music. With this being Alternative Press's second year at the festival, it is incredible to see how much it has grown, and helped our community come together in a huge way. Long live rock 'n' roll!"

—Anthony Lauletta, Alternative Press, Social Media Manager

"The Louder Than Life festival kicked off Saturday at Louisville's Champions Field with 12 hours of rock 'n' roll spread across three stages…the festival ran flawlessly with easy access to quality festival food, loads of bourbon, and lots of metal…the festival itself ran like clockwork all weekend. The short sets were perfect, staggered start times made it easy to see nearly any band you liked, and navigating Champions Park was a piece of cake."

—Jeffrey Lee Puckett, Louisville Courier-Journal, October 1 and 3, 2016

"It's the festival that gives rockers the metal they crave."

—Chris Sutter, WDRB-TV (FOX 30, Louisville), September 30, 2016
In addition to the economic impact, LOUDER THAN LIFE also focuses on its social impact in the community. This year, LOUDER THAN LIFE's charity partners, including Take Me Home Animal Rescue, Fxck Cancer / Dyin To Live, and Living The Dream raised over $40,000 for various causes.
The Student Experience (TSE)—the outreach program of The Music Experience—featured a backstage tour for local music students from Mom's Music — School of Rock to see the inner workings of a festival and learn about all the jobs the music industry has to offer. The Music Experience also hosted a "30 Seconds To Shred" guitar contest and "Beat Off" drumming contest for festival attendees. 14-year-old drum contest winner Michael Davis (who is visually impaired) left the audience at The Music Experience in awe when he showcased his drumming skills and beat over 40 contestants to take home a custom SJC drum kit as his prize. Watch a video of Michael's winning performance here: www.facebook.com/louderthanlifefestival/videos/953999761394302/.
Produced by Danny Wimmer Presents, America's premier production company for rock music festivals, Louisville's LOUDER THAN LIFE features a selection of award-winning bourbons, whiskey, spirits, craft beer, and Gourmet Man Food curated personally by festival creator Danny Wimmer, along with a powerful music lineup of rock legends and breaking talent. The festival celebrates the bourbon culture and culinary heritage of this unique American city. In 2015, Louisville was #2 on the USA Today list of Best Local Food Scenes and was featured in Time Magazine's list of America's Best Music Scenes.
Sponsors for LOUDER THAN LIFE include Monster Energy, Jack Daniel's, Miller Lite, f.y.e., The Music Experience, Zippo Encore, Tito's Vodka, El Jimador Tequila, 4th Street Live, Louisville Courier Journal, Leo Weekly, Spudz Potato Chips, Vibes High-Fidelity Earplugs, Roadrunner Records, Fxck Cancer's Dyin 2 Live, Marine's, Take Me Home Animal Rescue, Yelp and more.
For more information on LOUDER THAN LIFE, visit: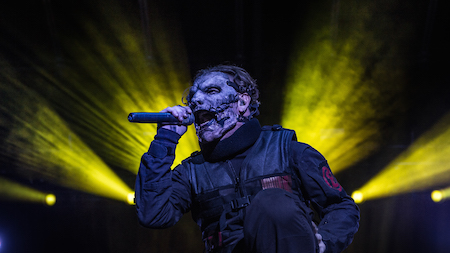 (Slipknot by Andrew Fore)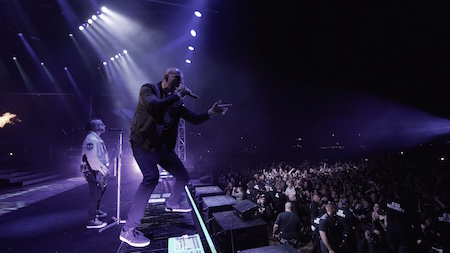 (Avenged Sevenfold by Strati Hovartos)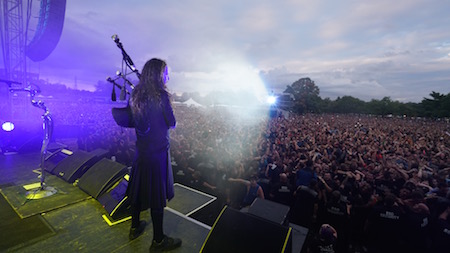 (Korn by Strati Hovartos)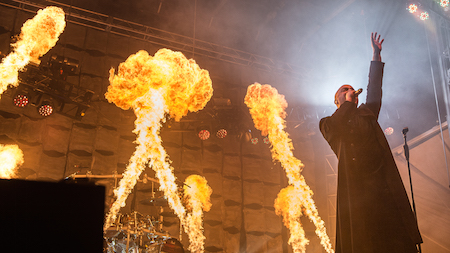 (Disturbed by Andrew Fore)
---
About Danny Wimmer Presents
Since 1993, music industry veteran Danny Wimmer has been producing concerts and festivals, both large and small. In 2011, he formed Danny Wimmer Presents, which now produces several of the largest rock and alternative festivals in the U.S. By combining A-list talent with local cuisine and culture, DWP has become recognized within the industry for delivering the highest-quality entertainment experiences to fans, artists, sponsors, partners and host cities. DWP creates memorable and all-encompassing festival experiences, leaving both consumers and partners with lasting and meaningful impressions. With 580,000 fans attending all DWP festivals in 2015, and 10 billion media impressions, DWP will continue to add new music festivals to its already stellar portfolio, which includes Rock On The Range, Monster Energy Aftershock Festival, Monster Energy Welcome To Rockville, Monster Energy Carolina Rebellion, Louder Than Life, and Monster Energy Rock Allegiance, among others.
www.DannyWimmerPresents.com
LOUDER THAN LIFE Publicity Contact
Kristine Ashton-Magnuson/Ashton-Magnuson Media; kristine@am-media.net; (818) 996-2496
LOUDER THAN LIFE Marketing & Sponsorship Contact
Clay Busch/Danny Wimmer Presents; clay@dwpresents.com