Date: November 3, 2016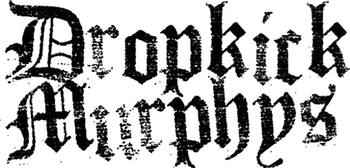 Dropkick Murphys' New Album

11 Short Stories Of Pain & Glory


Due Out January 6
Band Announces 11 Short Stories Of Pain & Glory 2017 National Tour Starting February 21 And Culminating With Annual Hometown Run Of Boston Shows St. Patrick's Day Week
Dropkick Murphys today announced that their ninth studio album 11 Short Stories Of Pain & Glory will be released on January 6th through their label Born & Bred Records. The album is available for pre-order now and the band has shared an incredible lyric video for the song "Blood", from the new album. Ted Hutt, who has previously worked with the band (and Gaslight Anthem and Old Crow Medicine Show), produced the new album.
Dropkick Murphys—Al Barr (lead vocals), Tim Brennan (guitars, accordion, mellotron, whistles, vocals), Ken Casey (lead vocals, bass guitar), Jeff DaRosa (banjo, bouzouki, mandolin, harmonica, acoustic guitars, vocals), Matt Kelly (drums, percussion, vocals), James Lynch (guitar, vocals)—also announced a tour with openers The Interrupters and Blood or Whiskey except where noted (see full dates below). The first U.S. date of the 11 Short Stories Of Pain & Glory 2017 tour is February 21 in Bethlehem, PA. The trek will culminate with the band's annual hometown run of Boston shows St. Patrick's Day Week (March 15-19). Tickets for all shows go on sale this Friday, November 4.
The Dropkick Murphys have been synonymous with the city of Boston, and it's almost startling to learn that 11 Short Stories Of Pain & Glory was not recorded there, but in El Paso, Texas. "To me, the whole journey starts with the fact we actually agreed to go — and then went — to Texas. Because we've never left home to make a record," says bassist and founder Ken Casey. "As everyone's lives have become crazier and busier with kids and families, it's gotten harder to buckle down at home. We decided to leave Boston, go down to literally the middle of nowhere and lock ourselves in a room."
Besides the location, the album was influenced by the band's work with The Claddagh Fund, a charity the band established in 2009 to help support addiction recovery as well as children's and veterans' organizations. The band is hands-on in raising funds, mentoring, and lending a helping hand in the fight. Many of the songs reflect these experiences, and the band's sadness, anger and dismay at the opiate epidemic ravaging the country — in particular, Boston and New England. The song "Rebels With A Cause" was written about kids who are given up on, and left behind by a system that has written them off as hopeless. "Paying My Way" is about the way up and out of addiction and the dream of bigger and better things in life.
"4-15-13" stands out as one of the most emotional pieces in the group's catalog. The track pays homage to the victims of the Boston Marathon Bombing, most of whom the band grew to know personally after visits to their hospital rooms in the aftermath. "Since that day, we felt like not taking the challenge to write a song about what we all went through would be taking the coward's way out," Casey reflects. "We put more importance on writing that piece of music than anything we've ever done, because if you're going to touch that day, it has to be done right. We went through so many emotions with that whole experience, as did everyone in Boston. It changed the city forever."
On the album, the band carries on the tradition of rough and tumble storytelling — the kind of writing that never leaves fans wondering whether the band have lived what they're singing about. A look back at childhood life, a snapshot of a clueless Masshole, a stop-you-in-your tracks reflection on a terrorist tragedy…it's all there across the record's 11 tracks. There are moments of ass-kicking Celtic punk attitude, ball-busting wisecracks, tear-jerking confessions, and the kind of upbeat words of wisdom that can be chanted loud and proud across arenas and stadiums worldwide.
11 Short Stories Of Pain & Glory represents a high-water mark for Dropkick Murphys as they invite listeners everywhere to once again take an active part in their story. "We've stayed true to what the band is and has always been. And we're still expanding on our sound and lyrical content," offers Tim Brennan.
11 Short Stories Of Pain & Glory tour dates are as follows with The Interrupters and Blood or Whiskey except where noted below.
Date
City
Venue
2/21/17
Bethlehem, PA
Sands Bethlehem Event Center*+
2/22/17
Columbus, OH
Express Live!*+
2/24/17
Clive, IA
7 Flags Event Center*+
2/25/17
Hinckley, MN
The Grand Minnesota Taste Together*
2/26/17
Sioux Falls, SD
The District*+
2/28/17
Kansas City, MO
Uptown Theater*+
3/1/17
Tulsa, OK
Cain's Ballroom*+
3/2/17
Little Rock, AR
Metroplex Live*+
3/3/17
Robinsonville, MS
Horseshoe Tunica — Bluesville*+
3/4/17
Birmingham, AL
Iron City*+
3/6/17
St. Petersburg, FL
Janus Live*
3/7/17
Ft. Lauderdale, FL
Revolution Live*
3/8/17
Lake Buena Vista, FL
House of Blues*
3/10/17
Myrtle Beach, SC
House of Blues*+
3/11/17
Washington, DC
Shamrockfest

(Dropkick Murphys ONLY)

3/12/17
Huntington, NY
The Paramount*+
3/15/17
Boston, MA
TBA
3/16/17
Boston, MA
TBA
3/17/17
Boston, MA
TBA
3/18/17
Boston, MA
Agganis Arena
3/18/17
Boston, MA
After Party @ House Of Blues with Pro Boxing
3/19/17
Boston, MA
TBA


* w/ Blood or Whiskey
+ w/ The Interrupters
Note: Following the March 18 Agganis Arena show, the band's official after party at House Of Blues on Lansdowne Street will feature the St. Patrick's Clash II Pro Boxing with local hero, U.S. Marine Afghan Veteran and undefeated Light Middleweight Mark "Bazooka" DeLuca (16-0, 10KOs), as well as top local talent and some of Ireland's best fighters. Proceeds from the after party will benefit The Claddagh Fund charities.
---
Dropkick Murphys History
Dropkick Murphys have become ambassadors for their city. In Boston, it seems like everybody knows someone connected to the band whether by blood, friendship, or the time they shared a brew at a Bruins game. They've built a legacy that does Beantown proud. Since their 1996 formation, they've sold a staggering 4 million albums worldwide with 2005's The Warrior's Code achieving an RIAA Gold certification and its smash single "I'm Shipping Up To Boston" nearing double platinum and appearing during a key moment of Martin Scorsese's Academy Award-winning The Departed. Most recently, 2013's Signed And Sealed In Blood netted their second consecutive Top 10 debut on the Billboard Top 200, and debuted at number 6 in Germany. The album spawned standout tracks "The Boys Are Back," "Out Of Our Heads," "Prisoner's Song," and "Rose Tattoo," a fan favorite that has accumulated 24 million views on YouTube — without the aid of being a radio hit. A special version of this song featuring the band's buddy Bruce Springsteen was released as a benefit for the Boston Marathon bombing victims. They've hosted sold out concerts at most of the city's landmarks, including Fenway Park, TD Garden, the Boston Pops, and even the last voyage of the USS Constitution. They updated the Boston Red Sox anthem "Tessie" in 2004, which may or may not have had something to do with the team's first World Series win in 86 years…
Dropkick Murphys Publicity Contacts:
Big Hassle (National PR)
Jim Merlis: jim@bighassle.com; (310) 838-2276
Ashton-Magnuson Media (Tour/Regional/Specialty PR)
Kristine Ashton-Magnuson: kristine@am-media.net; (818) 996-2496
Ashley Di Buduo: ashley@a12entertainment.com; (323) 379-9684