Date: November 15, 2016
From: Kristine Ashton-Magnuson

THOUSANDS TURN OUT FOR
KFRG PRESENTS DRIFTWOOD AT DOHENY STATE BEACH
SATURDAY, NOVEMBER 12 IN DANA POINT, CA
FESTIVAL FEATURED CALIFORNIA CRAFT BEER & WINE TASTING, TOP REGIONAL BBQ,
AND MUSIC FROM CO-HEADLINERS JERROD NIEMANN AND RODNEY ATKINS,
PLUS THOMPSON SQUARE, PARMALEE,
THE WHITE BUFFALO, MARIACHI EL BRONX, AND DANNY WORSNOP
Country Music • Craft Beer & Wine • BBQ
Thousands turned out on Veterans Day weekend for the first annual KFRG presents Driftwood at Doheny State Beach, featuring country music, craft beer, artisan wine and top notch BBQ held at the scenic Doheny State Beach in Dana Point, CA on Saturday, November 12.
Driftwood at Doheny State Beach featured over 100 craft beers and artisan wines, some of the best BBQ in the region, as well as a full day of eclectic music ranging from country to Americana and mariachi rock, with co-headlining performances from Nashville hitmakers Jerrod Niemann and Rodney Atkins, as well as Thompson Square, Parmalee, The White Buffalo, Mariachi El Bronx, and Danny Worsnop (Asking Alexandria and We Are Harlot) in his first-ever outlaw country solo performance. Festival attendees roamed throughout lush grass and sandy areas of Doheny State Beach, right off the shore of the Pacific Ocean.
Festival attendees enjoyed a full afternoon and evening of music, including closing performances from co-headliners Jerrod Niemann and Rodney Atkins (who was joined onstage by wife and singer/songwriter Rose Falcon for a duet and a performance of the #1 country hit "Friday Night," which she co-wrote).
After the event, festival producer John Reese of Synergy Global Entertainment commented, "A party broke out at the beach today! The first ever country music, craft beer, wine and BBQ festival at Doheny State Beach was a magical experience and we're looking forward to next year."
Driftwood at Doheny State Beach received positive feedback from breweries, wine vendors and the media. Here are some of the comments:
"…the perfect environment provided festivalgoers with the ultimate country music experience…From warm ocean breezes, to hammocks in the trees, to people dancing in the sand, the festival was full of love — love for music, love for country and love for each other. There was a tangible spirit of goodness in the air, of kindness and of joy. One that spread throughout and created a message of unity…If this year's Driftwood is any sign of what you will have to look forward to for next year's festival season, you're going to want to mark this occasion on your calendar for one not to miss."

—Sari Cohen, AXS.com, November 14, 2016

"What do you get when country music embraces craft beer and wine? A rollicking good time!…I can honestly say that I enjoyed every single beer of the very many that I tried…The nicest throng of festival attendees I have ever met populated the Driftwood Country Music Festival. Everyone I met was engaging and genuinely friendly. On this day, Doheny State Park took the title of 'the happiest place on earth'."

—Ron Watt, FirkinBeer.com, November 15, 2016

"The energy of the event was positively electric and everyone fed off one another. Best experience in recent memory!"

—Sean McNew, Ritual Brewing Company

"Amazing venue…can't beat listening to great music, sampling world class beers and wines all while being steps from the waters of the Pacific Ocean!"

—Bryan Molar, Wine Warehouse

"Driftwood was another great event put on by the Brew Ha Ha and SGE production team this past weekend. I could not have asked for a better venue to have a concert and a beer festival all mixed into one. I'm the type of rep that hangs out at the booth most of the time and engages in conversation with the audience enjoying these festivals, and I have to say everybody couldn't stop talking about how much fun they were having hanging out on the beach listening to music enjoying craft beer. Artifex will be at the next one!"

—Nicholas Cordato, Co-Founder, Artifex Brewing
A portion of the proceeds from Driftwood at Doheny State Beach will be donated to the San Onofre Parks Foundation—a California non-profit that cooperatively works with the California State Parks to develop, preserve and enhance the recreation and experience of California's unique and beautiful coastal parks—and the Doheny State Beach Interpretive Association (DSBIA), the non-profit cooperating association of Doheny State Beach, dedicated to the protection of the park's beaches, facilities, marine refuge and its historical, cultural and social stories.
Driftwood at Doheny State Beach also featured the Country Strong veteran appreciation area for non-profits that support and create awareness for veterans' causes. In partnership with Metal of Honor, Country Strong aims to raise financial support and awareness for military non-profits, providing information on the services offered by these foundations to military patrons, while also showing gratitude and an extra special time for our military men and women and their families in attendance.
Some of the participating breweries at Driftwood included: AleSmith, Artifex Brewing Company, Barley Forge, Bootleggers, Bottle Logic Brewing, Chapman Crafted, Coronado Brewing Co., Firestone Walker, Left Coast Brewing, Mother Earth Brewing Co., Ritual Brewing Co., Sierra Nevada, Telegraph Brewing, and more.
Some of the wines that were available for tasting were: Chateau Souverain (Sauv Blanc), Chronic Cellars (Purple Paradise), J Lohr (Bay Mist Riesling), Story Point (Chardonnay), and William Hill (Cabernet Sauvignon).
KFRG presents Driftwood at Doheny State Beach was produced by premier music festival production company Synergy Global Entertainment (SGE), Orange County, California's most successful and respected craft beer festival producer Brew Ha Ha Productions, and California's new country KFRG-FM (K-Frog).
Sponsors for KFRG presents Driftwood at Doheny State Beach included: Audi Of Mission Viejo, Snickers Crisper, Krave Jerky, Deep Eddy Vodka, Tom Gore Wines, Cosmic Fog and Lyft.

(photo by Brian Bloss)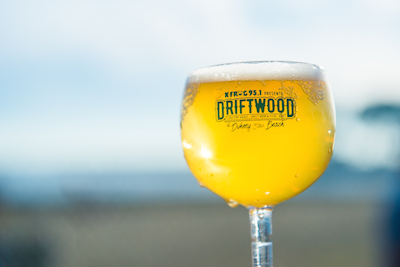 (photo by Justin George)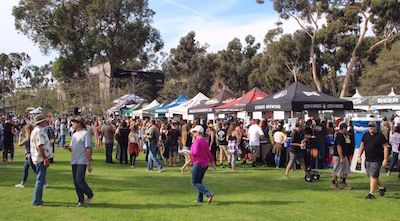 (photo by Cameron Collins)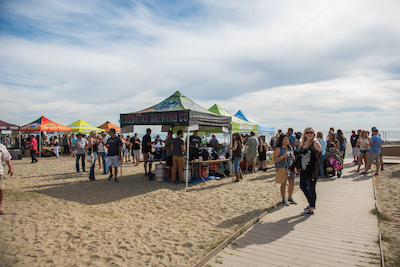 (photo by Justin George)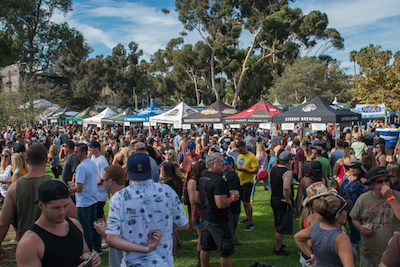 (photo by Justin George)
---
About Synergy Global Entertainment, Inc.
Synergy Global Entertainment, Inc. (SGE) is one of the world's premier music festival production companies. With hundreds of live events worldwide each year, SGE works with agencies, brands and musical talent to produce or co-produce concerts across various genres and interests. SGE produces Funny Or Die's ODDBALL Comedy And Curiosity Festival. In addition, SGE co-produced the Rockstar Energy Drink Mayhem Festival and the worldwide Rockstar Taste of Chaos, produced the Rockstar Energy UPROAR Festival and conceived and developed KNOTFEST with Slipknot and 5B Artist Management. SGE has also produced many other national festivals and tours. SGE senior staff have a combined 60 years of experience in artist management, large scale festival production and brand integration and have worked with artists as diverse as Guns N' Roses and The Cure. SGE excels at integrating brands' needs with large scale musical entertainment.
About Brew Ha Ha Productions
Brew Ha Ha Productions (BHHP) is Orange County, California's most successful craft beer event producer. Its team brings years of successful event production and business experience along with an inside view of the craft beer industry and its enthusiasts. Fueled by a desire to promote craft beer, along with a vision of a different kind of beer fest, the Orange County Brew Ha Ha Craft Beer Festival was conceived. BHHP is known best for their events like the Orange County Brew Ha Ha, Brew Ho Ho 'Holiday Ale Festival', Sabroso 'Craft Beer & Taco Festival' and the Brew Hee Haw at the OC Fair. The events have been a resounding success and the OC Brew Ha Ha has been voted "BEST Craft Beer Festivals in Southern California" six years in a row by the Orange County Beer Society. In six short years, BHHP has enjoyed unprecedented growth making them the largest craft beer event producers in Orange County and one of the largest on the west coast.
About KFRG
KFRG (95.1 FM, "K-FROG") is a commercial country music formatted radio station in Southern California broadcasting to Riverside, San Bernardino, Los Angeles and Orange Counties. Owned by CBS Radio, its studios are in Colton, CA and the transmitter site for KFRG is north of San Bernardino. Programming on 95.1 KFRG-FM is also simulcast on 92.9 KXFG-FM in the Temecula Valley region of South Riverside County. Together, the two frequencies reach an audience of over 600,000 listeners each week.
Publicity Contacts
Ashton-Magnuson Media
Kristine Ashton-Magnuson: kristine@am-media.net; (818) 996-2496
Ashley Di Buduo: ashley@a12entertainment.com; (323) 379-9684