Date: January 6, 2017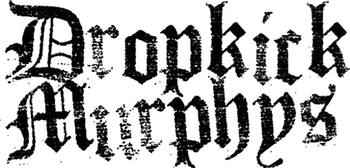 Dropkick Murphys
11 Short Stories Of Pain & Glory Out Today
Album No. 1 On iTunes

Official Video For "Paying My Way" Released

Stereogum Names New Release Their
"Album Of The Week"
"The Dropkick Murphys are still capable of making me feel alive the way few bands do."
—Stereogum
"…they show no signs of mellowing with age."
—Boston Globe
"Its most potent album in years."
—Newsday
The Dropkick Murphys' 11 Short Stories Of Pain & Glory is released today through their label Born & Bred Records. The album has gone straight to No. 1 on the iTunes charts. The band has also shared the official video for its foot-stomping, anthemic song "Paying My Way," which can be viewed here.
11 Short Stories Of Pain & Glory has been garnering some of the best reviews in the band's history.
There's a feeling of purpose throughout the album, influenced by the band's work with The Claddagh Fund, a charity the band established in 2009 to help support addiction recovery as well as children's and veterans' organizations. The band is hands-on in raising funds, mentoring, and lending a helping hand in the fight. Many of the songs reflect these experiences, and the band's sadness, anger and dismay at the opiate epidemic ravaging the country — in particular, Boston and New England. "Paying My Way" is about the way up and out of addiction and the dream of bigger and better things in life.
"'Paying My Way' is not just about paying your bills," explains Dropkick Murphys founder/lead singer Ken Casey. "It's about doing what you have to do in order to be a good person. But at the end of the day, never losing sight of the fact that doing the next right thing may lead to great things one day."
It's rare to be reaching new heights nine albums into a band's career, but that's exactly what Dropkick Murphys have done with 11 Short Stories Of Pain & Glory.
Tickets are on sale now for Dropkick Murphys' 11 Short Stories Of Pain & Glory tour, which kicks off February 21 in Bethlehem, PA, and culminates with the band's annual hometown run of Boston shows St. Patrick's Day Week (March 15-19).
Find the album, along with limited edition CDs & vinyl on the band's official webstore.
Download the current Dropkick Murphys press photo here: http://bit.ly/2iMAUUt
---
Dropkick Murphys History
Dropkick Murphys have become ambassadors for their city. In Boston, it seems like everybody knows someone connected to the band whether by blood, friendship, or the time they shared a brew at a Bruins game. They've built a legacy that does Beantown proud. Since their 1996 formation, they've sold a staggering 4 million albums worldwide with 2005's The Warrior's Code achieving an RIAA Gold certification and its smash single "I'm Shipping Up To Boston" nearing double platinum and appearing during a key moment of Martin Scorsese's Academy Award-winning The Departed. Most recently, 2013's Signed And Sealed In Blood netted their second consecutive Top 10 debut on the Billboard Top 200, and debuted at number 6 in Germany. The album spawned standout tracks "The Boys Are Back," "Out Of Our Heads," "Prisoner's Song," and "Rose Tattoo," a fan favorite that has accumulated 24 million views on YouTube — without the aid of being a radio hit. A special version of this song featuring the band's buddy Bruce Springsteen was released as a benefit for the Boston Marathon bombing victims. They've hosted sold out concerts at most of the city's landmarks, including Fenway Park, TD Garden, the Boston Pops, and even the last voyage of the USS Constitution. They updated the Boston Red Sox anthem "Tessie" in 2004, which may or may not have had something to do with the team's first World Series win in 86 years…
Dropkick Murphys Publicity Contacts:
Big Hassle (National PR)
Jim Merlis: jim@bighassle.com; (310) 838-2276
ADA a Warner Music Group company (National PR)
Corey Brewer: Corey.Brewer@ADA-music.com; (212) 707-2151
Ashton-Magnuson Media (Tour/Regional/Specialty PR)
Kristine Ashton-Magnuson: kristine@am-media.net; (818) 996-2496
Ashley Di Buduo: ashley@a12entertainment.com; (323) 379-9684