Date: January 30, 2017
From: Kristine Ashton-Magnuson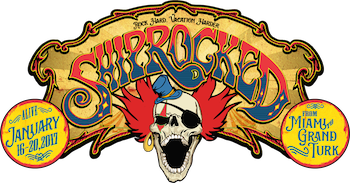 SHIPROCKED 2017
WRAPS SOLD OUT CRUISE
ONBOARD CARNIVAL VICTORY
JANUARY 16-20, 2017
WITH BREAKING BENJAMIN, PAPA ROACH,
ALTER BRIDGE, SEVENDUST, POP EVIL & MORE
After selling out in record time, ShipRocked 2017 set sail from Miami on January 16 onboard Carnival Victory for four days and nights of a three-ringed floating rock 'n' roll circus on the high seas, led by headliners Breaking Benjamin, along with Papa Roach, Alter Bridge, Sevendust, Pop Evil and more. 3,000 ShipRockers shared in "The Greatest Vacation On Earth," enjoying a packed itinerary of more than 40 performances from 20+ bands — including a pair of unforgettable deck stage sets from ShipRocked's own all star band The Stowaways — a day on the beach on beautiful Grand Turk in Turks & Caicos, sideshows, theme nights, and more.
ShipRocked veterans Sevendust welcomed old friends and new family alike to the floating festivities with their bracing kickoff performance on Carnival Victory's main deck. Headliners Breaking Benjamin brought ShipRocked's eighth edition to a memorable conclusion with a raucous deck stage set on the cruise's final night — before frontman Benjamin Burnley joined many other ShipRocked artists posing for photos and mingling with fans well into the night.
Along the way, Carnival Victory's four stages offered a steady diet of rock from a lineup of more than 20 bands, including: Breaking Benjamin, Papa Roach, Alter Bridge, Sevendust, Pop Evil, The Stowaways all-star band, 12 Stones, Another Lost Year, Art Of Dying, Avatar, Cane Hill, Crobot, Geoff Tate & Bumblefoot, Lacey Sturm, Letters From The Fire, Living Sacrifice, Monster Truck, Mothership, RavenEye, Spraygun War, Stitched Up Heart, The Dead Deads, Them Guns and Wilson.
Comedians Big Jay Oakerson, Annie Lederman and Liza Treyger provided late night laughs, while street magician Ryan Shadow dazzled guests with illusions that appeared to conjure the supernatural. DJ Lippy Rage, The S.D.R. Show and KaraoKings' live band karaoke provided additional afterhours entertainment. ShipRocked 2017 ringmasters Kayla Riley (SiriusXM's Octane), Ralph Sutton (The Tour Bus Radio / The S.D.R. Show) and Big Jay Oakerson (The S.D.R. Show) kept the proceedings moving through a packed schedule of hosted activities both on land and at sea.
The annual onboard ShipRocked Cancer Sucks! charity auction raised money for cancer research, as guests bid on a treasure trove of autographed rock 'n' roll memorabilia, limited edition photographic prints, and more. In addition, ShipRockers participating in the PackForAPurpose.org initiative donated school supplies to Eliza Simons Primary School in Grand Turk through the assistance of local outfitter Blue Water Divers, ShipRocked photographer Chris Bradshaw and his wife Kimberly.
ShipRocked's own all-star band The Stowaways returned in 2017. The revolving cast of musicians featured John Tempesta (The Cult), Ron "Bumblefoot" Thal, Oli Herbert (All That Remains), Geoff Tate, Josh Todd and Stevie Dacanay (Buckcherry), Sonny Sandoval (P.O.D.), CJ Pierce (Drowning Pool), Jerry Gaskill (King's X), and more, plus guest performances from ShipRocked artists including Papa Roach's Jacoby Shaddix and Tony Palermo, Jasen Rauch from Breaking Benjamin, Art of Dying's Jonny Hetherington and Tavis Stanley, Chad Nicefield from Wilson, among others.
The Stowaways' Wednesday night tribute to rock's fallen heroes ran the gamut from the Beastie Boys to David Bowie. Highlights included Type O Negative's Kenny Hickey and Johnny Kelly performing "Black No. 1" for the first time since singer/bassist Peter Steele's death, joined by Avatar singer Johannes Eckerström and Pop Evil bassist Matt DiRito, with The Dead Deads' Hella Dead on keyboards. The set-ending rendition of Pantera's "Walk" brought nearly 50 musicians on stage — joined by a chorus of ShipRockers who packed the Carnival Victory deck for this once-in-a-lifetime experience.
Other highlights of ShipRocked 2017 included:
Artist meet & greets
Artist Q&A with

Benjamin Burnley

(Breaking Benjamin),

Myles Kennedy

(Alter Bridge),

Mark Tremonti

(Alter Bridge),

John Connolly

(Sevendust),

Leigh Kakaty

(Pop Evil),

Johannes Eckerström

(Avatar), and

Lacey Sturm

, hosted by

Kayla Riley

Beer Pong hosted by

Crobot

Deck Wars hosted by

Another Lost Year

ShipRocker Feud game show with

Papa Roach

and

Sevendust

Shippy Awards
Onboard tattoo parlor with artists

Southbay Mike

and

Tahiti Gil

And more!
Here's a sample of what the press had to say about their ShipRocked 2017 experiences:
"There is really nothing that compares to seeing a giant rock show in the middle of the ocean with 3000 of your closest friends."

—Amy Harris, AXS.com, January 23, 2017

"4 full nights of pure rock & roll heaven…The 44 concerts, spread out across 5 on-board venues on the Carnival's Victory while cruising the Atlantic under sun-filled and/or star-filled skies is billed as The Greatest Vacation on Earth, and if such a thing is possible, that may be an understatement."

—Steve Black, Chop Shop Radio, January 24, 2017

"The whole ShipRocked experience is usually a familial one, a full on meet and greet experience between fans and bands."

—Liz Ramanand, Loudwire, January 24, 2017
Before heading to sea, ShipRocked guests gathered at the Official ShipRocked 2017 Pre-Cruise Party at Miami's Wynwood Yard on Sunday, January 15, where they dined on some of Miami's best food truck fare while being treated to acoustic performances from Stitched Up Heart, Art of Dying, and surprise guests Josh Todd and Stevie Dacanay of Buckcherry.
Produced by ASK4 Entertainment, ShipRocked is a once-in-a-lifetime experience with unique performances and musical collaborations that provides guests with the opportunity to vacation with their favorite bands, meet new friends, and reunite with old ones year after year. ShipRocked onboard and beach activities include photo meet and greets with band members, poolside games, artist Q&A sessions, trivia challenges, game shows, parties, contests and more. The ShipRocked Cancer Sucks! onboard charity auction has raised over $500,000 to date for innovative medical research and finding a cure for cancer.
Look for the ShipRocked 2017 aftermovie and details about ShipRocked 2018 to be announced soon and visit www.ShipRocked.com for more information.
Rock Hard. Vacation Harder.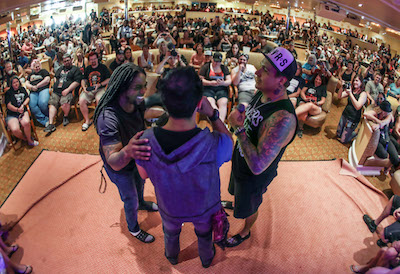 (ShipRocker Feud led by Lajon Witherspoon/Sevendust and Jacoby Shaddix/Papa Roach)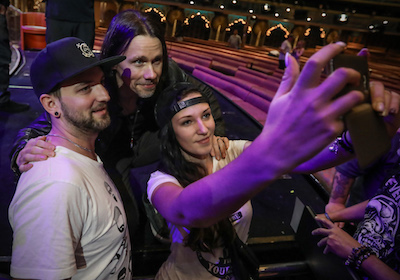 (Myles Kennedy/Alter Bridge poses for a photo with guests)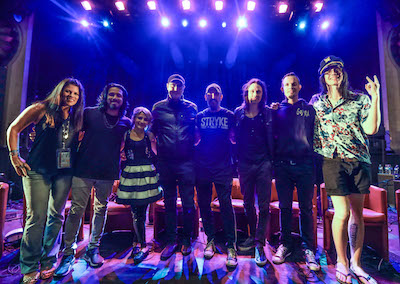 (Artist Q&A with host Kayla Riley and panelists
Leigh Kakaty/Pop Evil, Lacey Sturm, Benjamin Burnley/Breaking Benjamin,
John Connolly/Sevendust, Myles Kennedy/Alter Bridge, Mark Tremonti/Alter Bridge,
Johannes Eckerström/Avatar)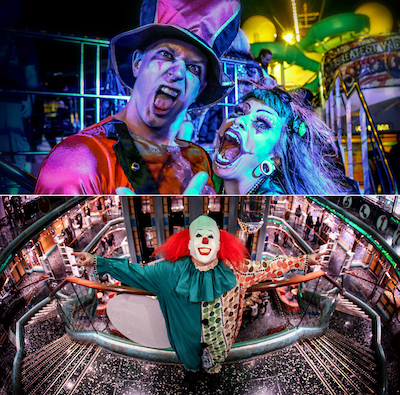 ("Circus Shiptacular!" theme night)
(All photos by Chris Bradshaw.)
---
About ShipRocked
The ultimate rock music cruise vacation is produced by Alan Koenig of ASK4 Entertainment, a premier rock music theme cruise and destination event producer. Each ShipRocked is a once-in-a-lifetime experience that provides guests with the opportunity to vacation with their favorite bands, meet new friends, and reunite with old friends year after year. On any given day, guests might find themselves dining, drinking, rocking out, swimming, working out, or gambling alongside their favorite rock musicians. The full-ship charter provides a one-of-a-kind experience for guests to have the time of their lives with thousands of like-minded friends.
www.ShipRocked.com
www.facebook.com/ASK4Entertainment