Date: February 6, 2017
From: Kristine Ashton-Magnuson

NORTHERN INVASION
SINGLE DAY BAND LINEUPS ANNOUNCED &
SINGLE DAY TICKETS ON SALE MONDAY, FEBRUARY 13
FOR SATURDAY, MAY 13 AND SUNDAY, MAY 14 FESTIVAL AT
SOMERSET AMPHITHEATER IN SOMERSET, WI
WITH SOUNDGARDEN, KID ROCK
GODSMACK, THE OFFSPRING, BUSH, PAPA ROACH AND MANY MORE
The single day band lineups have been announced for the third annual Northern Invasion—Saturday, May 13 and Sunday, May 14 at Somerset Amphitheater in Somerset, WI—and single day tickets go on sale next Monday, February 13.
Soundgarden and Kid Rock will headline Northern Invasion 2017, which hosts the biggest rock bands for over twelve hours each day on three stages, and offers a top tier campground experience.
Single day General Admission tickets for Northern Invasion will be available for only $59.50 each beginning Monday, February 13 at Noon Central Time. In addition, a special early bird single day GA ticket will be available for only $50.00, available for purchase beginning today at 5:00 PM Central Time at www.NorthernInvasion.com.
The daily band lineup (subject to change) for Northern Invasion is as follows:
Saturday, May 13

Soundgarden, Godsmack, Bush, The Pretty Reckless, Pierce The Veil, In Flames, Sum 41, The Struts, Of Mice & Men, Dillinger Escape Plan, Rival Sons, The Story So Far, I Prevail, Volumes, Attila, Dinosaur Pile-Up, Dorothy, Bleeker, As Lions, Citizen Zero

, and more

Sunday, May 14

Kid Rock, The Offspring, Papa Roach, Alter Bridge, Amon Amarth, Opeth, Gojira, Motionless In White, Fozzy, Nothing More, Every Time I Die, Starset, Bad Omens, Radkey, Wage War, Sylar, Badflower, Frank Carter & The Rattlesnakes, The Charm The Fury

, and more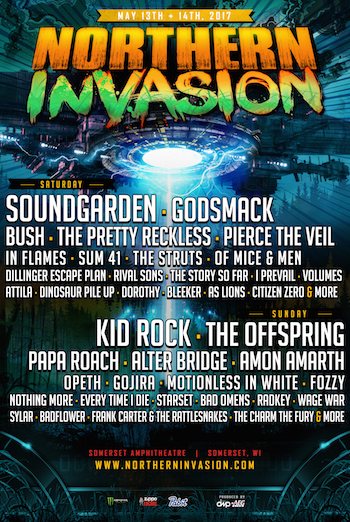 Weekend tickets, as well as hotel, camping and VIP packages are also available for purchase. Available camping packages (RV and tent options for 3 nights) include Groupie, Roadie, Star, and Ultimate Package at Float Rite Park. Hotel packages offered for 3 nights are: Bronze, Silver, Gold, and Platinum. All camping and hotel packages include a $25 festival merchandise voucher for each person. For details on each package, visit: www.NorthernInvasion.com.
As in the past, General Admission ticket discounts are available for active military through Northern Invasion partner GovX (www.govx.com).
Northern Invasion is produced by Danny Wimmer Presents and AEG Live and is part of the World's Loudest Month concert series, which features the biggest names in rock music performing in eight distinct U.S. concert atmospheres in during six consecutive weekends in April, May and June of 2017.
Northern Invasion is supported by our rockin' sponsors: Monster Energy, Zippo, and Pabst Brewing Company. These partners, along with many others, will feature interactive experiences, artist meet & greets, and other unique fan engagement opportunities throughout the festival.
Somerset Amphitheater has been a favorite Midwest music venue since the late '80s. Located on the Apple River and less than 40 minutes from the Twin Cities, for years it has served as a summer hub for music and camping for those from Minnesota, Wisconsin and beyond.
For more information on Northern Invasion, visit:
---
About AEG Live
AEG Live is one of the largest live music companies in the world. The company is dedicated to all aspects of live contemporary music performances, including producing and promoting global and regional concert tours, music events and world-renowned festivals. AEG Live operates in North America, Europe and Asia through 16 regional offices that support its tours, which include such artists as Taylor Swift, Paul McCartney, The Rolling Stones, Justin Bieber, Katy Perry and Kenny Chesney; produces or supports over 25 music festivals, including the iconic Coachella Valley Music & Arts Festival; and owns, manages or books more than 60 clubs and theaters. AEG Live presents more than 8,000 shows annually worldwide and conducts business under such globally renowned brands as AEG Live, Goldenvoice, Concerts West, Messina Touring Group, Marshall Arts LTD, and Madison House Presents.
www.aeglive.com
About Danny Wimmer Presents
Since 1993, music industry veteran Danny Wimmer has been producing concerts and festivals, both large and small. In 2011, he formed Danny Wimmer Presents, which now produces several of the largest rock and alternative festivals in the U.S. By combining A-list talent with local cuisine and culture, DWP has become recognized within the industry for delivering the highest-quality entertainment experiences to fans, artists, sponsors, partners and host cities. DWP creates memorable and all-encompassing festival experiences, leaving both consumers and partners with lasting and meaningful impressions. DWP will continue to add new music festivals to its already stellar portfolio, which includes Rock On The Range, Monster Energy Aftershock Festival, Monster Energy Welcome To Rockville, Monster Energy Carolina Rebellion, Louder Than Life, Monster Energy Rock Allegiance, and Chicago Open Air, among others.
www.DannyWimmerPresents.com
For more information about Northern Invasion, please contact:
PR: Kristine Ashton-Magnuson, Ashton-Magnuson Media; kristine@am-media.net; (818) 996-2496
MARKETING: Chamie McCurry, AEG Live; Chamie@aeglive.com & Clay Busch, DWP; clay@dwpresents.com
SPONSORSHIP: Chris Thomas, AEG Live; cthomas@aeglive.com & Clay Busch, DWP; clay@dwpresents.com