Date: February 9, 2017
From: Kristine Ashton-Magnuson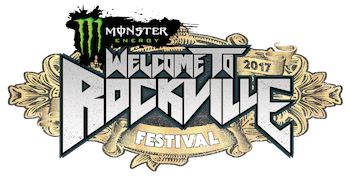 MONSTER ENERGY WELCOME TO ROCKVILLE
DAILY BAND LINEUPS
AND ONSITE EXPERIENCES ANNOUNCED;
OF MICE & MEN ADDED TO LINEUP
FOR SEVENTH ANNUAL EVENT
APRIL 29 & 30 AT METROPOLITAN PARK IN JACKSONVILLE, FLORIDA
The daily band lineups—including the addition of Of Mice & Men—and a variety of onsite festival experiences have been announced for the 7th annual Monster Energy Welcome To Rockville, Saturday, April 29 and Sunday, April 30, 2017 at Jacksonville, Florida's scenic Metropolitan Park along the St. Johns River. Rock legends Soundgarden, Def Leppard, and A Perfect Circle lead the music lineup for Florida's biggest rock experience, which features over 40 bands on three stages, including a tremendous list of talent with The Offspring, Mastodon, Chevelle, Seether, Papa Roach and many more. Visit www.WelcomeToRockvilleFestival.com for all the details and to purchase tickets.
Monster Energy Welcome To Rockville kicks off the annual World's Loudest Month festival series and, in addition to the incredible music lineup, will feature a variety of unique entertainment offerings including Monster Energy Experience, the Jack Daniel's Experience, The Music Experience, FYE Fan Experience, Caduceus Cellars & Merkin Vineyards Wine Garden, along with incredible food and beverage offerings and other onsite experiences.
Maynard James Keenan of A Perfect Circle, who owns Caduceus Cellars & Merkin Vineyards, said, "We're looking forward to being a part of a positive 2017 and seeing 2016 in our rearview mirrors. Bringing A Perfect Circle and the Caduceus Cellars & Merkin Vineyards Wine Garden to Welcome To Rockville is the first of many steps we plan on taking towards that goal. A thank you to Danny Wimmer Presents for this opportunity to co-headline with Soundgarden. We're off to a great start."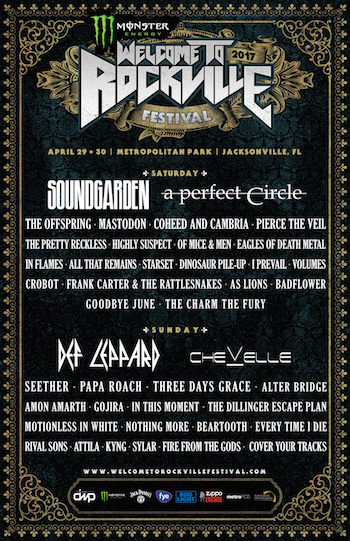 The daily band lineup (subject to change) for Monster Energy Welcome To Rockville is as follows:
Saturday, April 29

Soundgarden, A Perfect Circle, The Offspring, Mastodon, Coheed and Cambria, The Pretty Reckless, Pierce The Veil, In Flames, Highly Suspect, Of Mice & Men, Eagles of Death Metal, All That Remains, Starset, Dinosaur Pile-Up, I Prevail, Crobot, Volumes, As Lions, Frank Carter & The Rattlesnakes, Badflower, Goodbye June, The Charm The Fury

Sunday, April 30

Def Leppard, Chevelle, Papa Roach, Alter Bridge, Seether, Three Days Grace, Amon Amarth, In This Moment, The Dillinger Escape Plan, Gojira, Motionless In White, Nothing More, Rival Sons, Beartooth, Every Time I Die, Attila, KYNG, Sylar, Fire From The Gods, Cover Your Tracks
Here's a preliminary list of the Monster Energy Welcome To Rockville onsite experiences, including the Food Experience (featuring some of Florida's greatest food) and craft beer partners, as well as nonprofit organizations with a presence at the festival:
Monster Energy Experience:

Fueling the festival experience with energy, the Monster Energy Experience offers free Monster flavor samplings, artist signings, and other exclusive opportunities. Stop by the Monster Energy Experience and get energized for your Welcome To Rockville festival! Watch for the full list of artist signings and meet & greets.
Facebook: facebook.com/monsterenergy
#monsterenergy #monstermusic

FYE Fan Experience:

FYE will be hosting the ultimate fan & artist interactive experiences throughout the festival! FYE is the only place at the festival to get all your favorite band's music — and maybe even get to meet your favorite Welcome To Rockville performer! Check back for updates on artist meet & greet and autograph signing sessions!
Facebook: facebook.com/FYE
Instagram: @officalFYEmusic
#unitedstatesofFYE

Zippo:

Zippo Encore will be back in action at Welcome To Rockville with a full stock of Zippo lighters, including the limited edition festival designs! Come by and check out their contests and giveaways or get a free lighter fill or tune-up. Be sure to bring your Zippo lighter to the festival, it could be your ticket to special experiences.
www.zippo.com
Facebook: facebook.com/zippoencore
Instagram: @zippoencore
#zippo #zippoencore

The Music Experience:

The Music Experience features all the elements that are involved in making music in a professional band setting. The interactive exhibit features guitars, basses, amps, drums, keyboards and electronic gear that are used by today's most popular bands. After laying your hands on the hottest equipment available, you will walk away feeling like a rock star and you may even see one there, too! Keep checking this page for updates, schedule and interactive artist experience day of show! Thanks to all our partners. Come and meet your favorite band members from the festival at The Music Experience Tent. You can win free amps, free guitars and get tons of other free stuff as well. Keep checking for meet and greet times here and on The Music Experience Facebook page.
Facebook: facebook.com/themusicexp
Instagram: @tmexp

Jacksonville Jaguars Rock 'N' Jock:

Welcome to Rockville and the Jacksonville Jaguars have teamed up to bring you the Rock 'N' Jock Sweepstakes. Beginning on March 6th, enter for a chance to win a pair of VIP passes to Welcome to Rockville, a meet and greet with Def Leppard, two Jacksonville Jaguar jerseys, a pair of tickets to a Jaguars 2017 home game of your choice and more. For more information, visit www.WelcomeToRockvilleFestival.com.

Food Experience:

Restaurants serving at Monster Energy Welcome To Rockville will include: Black Sheep (modern American cuisine using fresh, local ingredients), Indochine (voted Jacksonville's "Best Thai"), Mojo's BBQ (unique barbeque experience), and TacoLu (the Bangin' Bus serving Bangin' Shrimp tacos, and other TacoLu classics). Additional food vendors include: Angry Bird Grill, Ben's Burrito Bowl, Brucci's, Burger Joint, Catullo Brothers, Cely's Filipino Food, Cheese Louise, Classic Home Cookin', Cravin' Cajun, Funnel Cake Fantasy, Girls Gone Green Nacho Bar, Grumpy's Homemade Ice Cream, GuanaBana Ice Pops, Hebros Bacon Restaurant, Island Noodles, Knuckle Sandwiches, Mac' Attack, Mama's Food Truck, Master of Patties, Mount Olympus Greek, Mystery Melt Machine, Nomi's Island Girl Foods, Ollie's Tots, Pele's Wood Fired Pizza, Pie Baby, Pounders Burgers, Rock N' Roll Arepas, Sweet Pete's, Up In Smoke, and What's The Catch Fish Tacos.

Caduceus Cellars & Merkin Vineyards Wine Garden:

This wine garden will highlight Caduceus Cellars and Merkin Vineyards, owned by Arizona resident Maynard James Keenan, co-founder of international recording acts TOOL, A Perfect Circle, and PUSCIFER. Having already dove headfirst into this venture, Maynard found out from a distant relative that wine making is in his blood. His Great Grandfather, "Spirito" Marzo, had vineyards and made wine in Venaus, Italy, just North of Turino in Piemonte.
https://caduceus.org/

Bud Light — The Official Beer of Welcome to Rockville:

Introduced in 1982, Bud Light is a premium light lager with a superior drinkability that has made it the best-selling and most popular beer in the United States. Bud Light is brewed using a blend of premium aroma hop varieties, both American-grown and imported, and a combination of barley malts and rice. The light-bodied beer features a fresh, clean and subtle hop aroma, delicate malt sweetness and a crisp finish that delivers the ultimate refreshment. For more information, visit www.BudLight.com.

Jack Daniel's Experience:

The "Taste of Tennessee" invites visitors to come out and tour the nation's oldest registered distillery from outside the Jack Daniel's Hollow. The Jack Daniel's Experience, a mobile museum, is bringing a little of the much-loved distillery from Lynchburg to anywhere in the USA. Visitors will learn who Mr. Jack Daniel was and how he ended up with the best selling whiskey in the world. They'll get to see (and smell) whiskey dripping slowly through charcoal and the new oak barrels used in maturing Tennessee's finest whiskey. Once you tour the Experience and spend some time with the folks from Jack, it'll make you want to plan a visit to Lynchburg, Tennessee to see how and where they've made Jack Daniel's since 1866. The Experience is open to all folks, 21 years old and up, for tours free of charge. Games and giveaways will also be part of the entertainment at various times throughout the festival.
Facebook: facebook.com/jackdaniels
Instagram: @jackdaniels_us
#jackdaniels #BornToMakeWhiskey

Monster Energy Welcome To Rockville Ferris Wheel:

The ferris wheel returns for its third consecutive year. Make sure to find it on the map, take a ride, and see the beautiful St. Johns River for that ultimate Rockville photo moment.

Craft Beer:

The Monster Energy Welcome To Rockville Craft Beer selections will feature top breweries from the region, including Jacksonville's Bold City Brewery (Duke's Brown Ale, Orange Screamsicle), Jacksonville Beach's Green Room Brewing (Head High IPA, Count Rock-U-La), St. Augustine's Ancient City Brewing (AC/BC — Back In Black Cherry Ale, Matanzas River Red Ale) and many more to be announced.

Keep Golf Metal:

A movement that encourages festival attendees to play a 9 hole putt putt course with PGA level golf clubs provided by Rife Putters and MasterFit Custom Golf Clubs. Keep Golf Metal also has apparel that features designs that fuse the rock and golf world together.

Take Me Home:

Take Me Home (TMH) has been saving the lives of homeless animals since 2001. TMH was founded as an animal rights advocacy foundation saving orphaned animals and striving to end animal overpopulation. TMH works in conjunction with shelters and rescues throughout California and beyond to help save animals on death row, on the streets, or in unsafe living conditions. Stop by their booth for custom gear and to contribute to a great cause.
www.takemehome.tv

Fxck Cancer:

The Dyin 2 Live DREAMS Program is a wish-granting organization whose purpose is to try and enrich the lives of those fighting cancer by offering them an experience that will bring hope and inspiration to their lives. In doing this, we hope it can help give them a chance to forget, even if it's only for a day what they are battling. Through our extensive network of friends, supporters, and affiliates, we are able to reach out to individuals and present them with one of a kind experiences and opportunities that arise. We feel a Dyin 2 Live Dream can offer a source of inspiration for those undergoing difficult medical treatments and be a positive force that offers a life-changing impact not only on them, but also the family to overcome their obstacles. If you are currently fighting cancer or know of someone in the fight who could benefit from a Dyin 2 Live Dream, please submit your story and tell us why and how a Dyin 2 Live day would help. Also, anyone interested in being a supporter, volunteer, or donor, please contact us at mywish@dyin2live.org.
www.dyin2live.org

Metro PCS:

Stay fully charged at Welcome to Rockville with Metro PCS. Metro PCS will be providing charging stations throughout the festival grounds so you can remain fully powered and upload all those great moments to Facebook and Instagram!
#welcometorockville #Allthingsrock
Weekend and Single Day General Admission and VIP tickets as well as hotel and VIP packages for Monster Energy Welcome To Rockville are available now at www.WelcomeToRockvilleFestival.com. Discounted online hotel rates are also available through Curadora. Visit www.WelcomeToRockvilleFestival.com for details.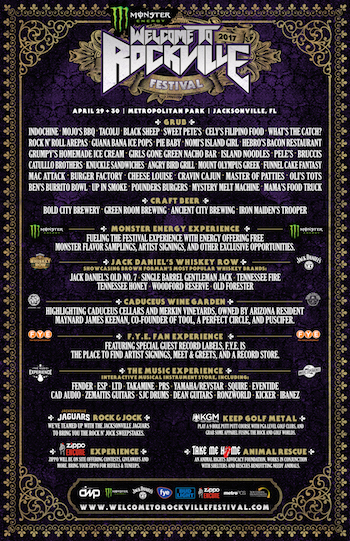 VIP tickets include: a VIP entrance to venue; access to VIP lounge area featuring dedicated bar, beverage and food service; viewing of main stages; seated area with shade for dining; private restroom facilities; and a VIP guest laminate.
As in the past, General Admission ticket discounts are available for active military through Monster Energy Welcome To Rockville partner GovX (www.govx.com).
Monster Energy Welcome To Rockville is Florida's biggest rock experience. Tickets have sold out for the past three years, and there were over 50,000 in attendance at the 2015 and 2016 events.
Monster Energy Welcome To Rockville is fueled by Monster Energy. Additional 2017 sponsors include: Bud Light, Jack Daniel's, The Music Experience, Zippo, MetroPCS, and more to be announced.
Monster Energy Welcome To Rockville is produced by Danny Wimmer Presents, a producer of some of the biggest rock festivals in America, including Rock On The Range, Monster Energy AFTERSHOCK, Monster Energy Fort Rock, Monster Energy Carolina Rebellion, LOUDER THAN LIFE, Northern Invasion, Chicago Open Air, Monster Energy Rock Allegiance, and more.
For more information on Monster Energy Welcome To Rockville, visit:
---
About Danny Wimmer Presents
Since 1993, music industry veteran Danny Wimmer has been producing concerts and festivals, both large and small. In 2011, he formed Danny Wimmer Presents, which now produces several of the largest rock and alternative festivals in the U.S. By combining A-list talent with local cuisine and culture, DWP has become recognized within the industry for delivering the highest-quality entertainment experiences to fans, artists, sponsors, partners and host cities. DWP creates memorable and all-encompassing festival experiences, leaving both consumers and partners with lasting and meaningful impressions. With 580,000 fans attending all DWP festivals in 2015, and 10 billion media impressions, DWP will continue to add new music festivals to its already stellar portfolio, which includes Rock On The Range, Monster Energy Aftershock Festival, Monster Energy Welcome To Rockville, Monster Energy Carolina Rebellion, Louder Than Life, Chicago Open Air and Monster Energy Rock Allegiance, among others.
www.DannyWimmerPresents.com
About Southern Hospitality Concessions
Southern Hospitality Concessions is a premier concession company that specializes in food and beverage service for outdoor music festivals. Incorporating a mix of localized cuisine and traditional selections, the SoHo experience is a unique blend of flavors. SoHo designs, fulfills and manages a custom concessions solution for each event. SoHo was founded on the principle that the unique experience of each outdoor event requires a distinct concession approach that is consistent with the vision of the event organizer. SoHo understands that at a live event, food and beverage is not just a service, it is part of the guest's overall experience.
www.SoHoConcessions.com
About Metropolitan Park
Metropolitan Park offers a scenic, spacious site for Monster Energy Welcome To Rockville that's just a few hours drive from cities including Orlando, Tampa, Gainesville, Savannah and Tallahassee, and is easily accessible by plane from around the country. Metropolitan Park is a premier 27-acre recreational facility along the beautiful St. Johns River in downtown Jacksonville, Florida at 1410 Gator Bowl Blvd.
About Monster Energy
Most companies spend their money on ad agencies, TV commercials, radio spots and billboards to tell you how good their products are. At Monster Energy, we chose none of the above. Instead we support the scene, our bands, our athletes and our fans. We back athletes so they can make a career out of their passion. We promote concert tours, so our favorite bands can visit your hometown. We celebrate with our fans and riders by throwing parties and making the coolest events we can think of a reality.
www.monsterenergy.com | www.facebook.com/monsterenergy
Monster Energy Welcome To Rockville Contacts
Kristine Ashton-Magnuson/Ashton-Magnuson Media (Publicity)
kristine@am-media.net; (818) 996-2496
Clay Busch/Danny Wimmer Presents (Marketing & Sponsorship)
clay@dwpresents.com