Date: March 8, 2017

LAS RAGEOUS LAUNCHES NATIONAL FLYAWAY SWEEPSTAKES
FOR NEW TWO-DAY MUSIC FESTIVAL
FRIDAY, APRIL 21 & SATURDAY, APRIL 22
IN DOWNTOWN LAS VEGAS
FEATURING AVENGED SEVENFOLD, GODSMACK,
ANTHRAX, BREAKING BENJAMIN & MORE
70% OF TICKETS ALREADY SOLD;
LOCAL OPENERS ADDED TO LINEUP
Sin City's new two-day music festival, Las Rageous, is coming to the heart of downtown Las Vegas on Friday, April 21 and Saturday, April 22. Featuring some of the biggest names in hard rock and metal, the festival has launched a national flyaway sweepstakes for the inaugural event. One lucky winner will receive two VIP Gold tickets to Las Rageous, roundtrip airfare, and three-night stay at The D Hotel. The deadline to enter is Monday, March 20 at Noon PT. Participants must be 21 or older and live within the Continental US to enter. Fans can enter on the Las Rageous Facebook Page, at: www.facebook.com/lasrageous.
With only 10,000 tickets available and 70% of tickets already sold, fans are encouraged to purchase tickets soon! VIP Silver packages are completely sold out, and after April 1, weekend passes will increase by $20. All tickets are two-day festival tickets for both Friday and Saturday. For more ticketing and purchase information, visit www.LasRageous.com.
The exciting lineup features music from 21st Century hard rock titans Godsmack, and a chance to see Avenged Sevenfold up close and personal before they head out on their upcoming stadium tour alongside Metallica. In addition, fans can anticipate hearing songs off Coheed and Cambria's Good Apollo record, including fan favorites "Welcome Home" and "The Suffering;" hits from Breaking Benjamin, still going strong on the heels of their #1 album Dark Before Dawn; a diverse set from trailblazers of thrash Anthrax, who just celebrated their 35 year anniversary as one of the genre's staples; the mighty Mastodon, just weeks after the release of their new album Emperor of Sand; tracks from Killswitch Engage's latest album, Incarnate; a powerful Eagles Of Death Metal live set; music from Of Mice & Men's new album, Cold War; tunes from All That Remains' upcoming eighth studio album, Madness; music from The Devil Wears Prada's new album, Transit Blues; and a homecoming party for Las Vegas' own Escape The Fate.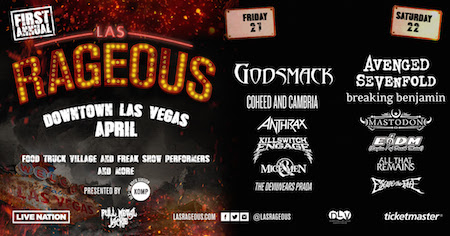 In keeping with the Las Vegas scene's long history of fostering some of the rock and metal genres' most impressive breakout acts, Las Rageous will also have some of its best local talent opening each day. Local acts booked so far include We Gave It Hell, Nations, A Friend A Foe, and Code Red Riot.
All ages are welcome and doors open at 4 p.m., with headliners taking the stage at approximately 10 p.m. The festival will also feature a collection of wandering freak show performers and a Vegas scene foodie-focused Food Truck Village.
For more information on Las Rageous, please visit:
---
Las Rageous Publicity Contacts:
Ashley Di Buduo, ashley@a12entertainment.com, (323) 379-9684
Kelly Frey, kelly@thepublicitylab.com, (702) 872-8472
Kristine Ashton-Magnuson, kristine@am-media.net, (818) 996-2496