Date: March 22, 2017
From: Kristine Ashton-Magnuson / Ashley Di Buduo

TRAVIS BARKER PRESENTS MUSINK:
10TH ANNUAL MUSIC FESTIVAL & TATTOO CONVENTION
WRAPS WITH 20,000 IN ATTENDANCE
MARCH 17, 18 & 19
AT THE OC FAIR & EVENT CENTER
WITH PERFORMANCES FROM NOFX, THE USED,
BAD RELIGION, PENNYWISE & MORE
Hundreds of world-class tattoo artists. Thousands of fans. Untold gallons of ink. Travis Barker presents MUSINK completed its 10th annual festivities with 20,000 in attendance over a monster weekend of performances from California punk legends including Bad Religion, NOFX, Pennywise, plus The Used, Glassjaw, Goldfinger (with special guest Travis Barker on drums), and more.
The annual music festival and tattoo convention featured daily tattoo contests, the Low 'N' Slow Car Show (presented by Travis Barker's Famous Stars and Straps and Tribal Streetwear), a vendor village, the Miss MUSINK competition, and one of the world's biggest gatherings of elite tattoo artists March 17, 18 & 19 at the OC Fair & Event Center in Costa Mesa, CA.
Here is some of what the press had to say about this year's MUSINK:
"By the third and final day of the 10th annual MUSINK Tattoo Convention & Music Festival on Sunday a lot of the fans, most of whom splurged on three-day passes, were sporting their fresh tattoos and still had plenty of energy left over to get wild during evening sets by Pennywise and Bad Religion."

—Orange County Register, March 20, 2017

"As consistent as the artwork of a great tattoo artist, MUSINK continues to deliver a weekend of ink, punk rock, and good times year after year."

—OC Weekly, March 20, 2017

"The event has emerged as the largest tattoo and music festival in the nation. After getting the full experience, there is no doubt that punk rock has found its place in the 21st century. It's here. In Orange County. At MUSINK."

—AXS.com, March 20, 2017

"Music, ink, and cars are the trifecta of epic, and it is also MUSINK in a nutshell."

—Tattoo.com / ROCKwell UnScene, March 18, 2017
The full music lineup for MUSINK 2017 included NOFX, The Used, Bad Religion, Pennywise, The Vandals, Glassjaw, Goldfinger, Lagwagon, Story of the Year, Swingin' Utters, Unwritten Law, Hell or Highwater, and A Wilhelm Scream.
Hundreds of tattoo artists were hard at work all weekend in two tattoo halls, including featured artists Robert Atkinson, Jack Rudy, Nikko Hurtado, Little Linda, Juan Puente, Small Paul Stottler, Yushi Holie Glory, Marc Jackson, Fabian Iezzi, Franco Vescovi, Baba, Eddie Tana, Gold Rush Tattoo, Corey Miller, Britton McFetridge, Freddy Negrete, Alex Trufant, Charlie Roberts, Eric Gonzalez, Chuey Quintanar, Norm, Big Sleeps, Frank Whittington, Shawn Barber, Kim Saigh, Lynn King, Big Gus, Bob Tyrrell, Rich Pineda, Julius Vargas, Steve Schultz, Gary Elsworth, Brian Gonzalez, Carlos Macias, Tattoo Louie, John Caleb, Mando Islas, London Reese, Josh Woods, Chris Earl and many more.
MUSINK 2017 was produced by Bill Hardie, Travis Barker, John Reese, and Sean Akhavan. MUSINK partners included: Rockstar Energy Drink, DIXXON Flannel Company, Golden Crown Barber Shop, Famous Stars and Straps, Johnny's Saloon, Tecate, Deep Eddy Vodka, Weinerschnitzel, Naked Juice, Cosmic Fog, Sullen, Second Floor, and Bishop Rotary.
For more information on MUSINK, please visit: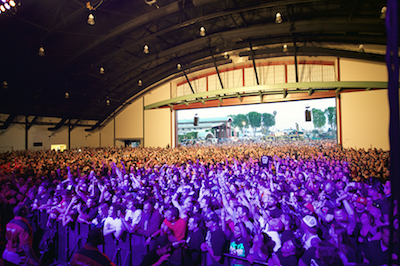 Photo by Scott Uchida
Pennywise crowd at MUSINK
Photo by Scott Uchida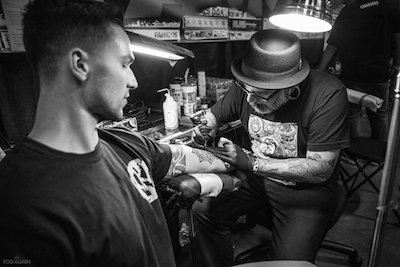 Photo by Daniel Rojas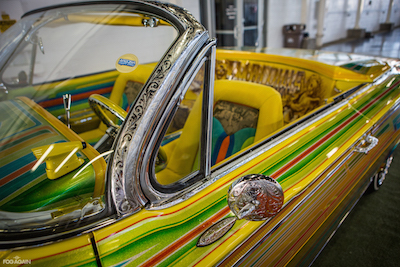 Photo by Daniel Rojas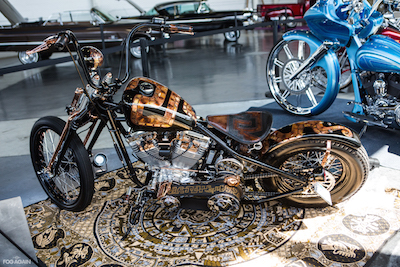 Photo by Daniel Rojas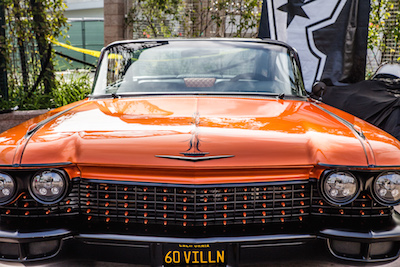 Photo by Gentle Giant Digital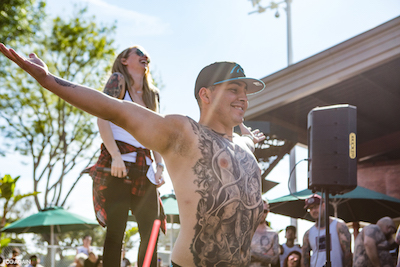 Photo by Daniel Rojas
---
MUSINK Publicity Contacts:
Ashton-Magnuson Media
Kristine Ashton-Magnuson, kristine@am-media.net, (818) 996-2496
Ashley Di Buduo, ashley@a12entertainment.com, (323) 379-9684
Travis Barker Publicity Contact:
Jenni Weinman/The Current Co., weinman@thecurrentco.com, (424) 245-4390