Date: March 23, 2017
From: Kristine Ashton-Magnuson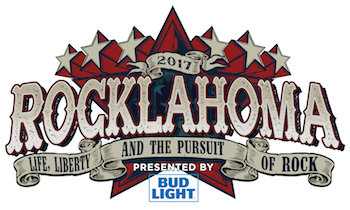 ROCKLAHOMA
DAILY BAND LINEUPS ANNOUNCED
FOR AMERICA'S BIGGEST MEMORIAL DAY WEEKEND PARTY
FRIDAY, MAY 26, SATURDAY, MAY 27 AND SUNDAY, MAY 28
AT "CATCH THE FEVER" FESTIVAL GROUNDS IN PRYOR, OKLAHOMA
DEF LEPPARD, SOUNDGARDEN AND THE OFFSPRING HEADLINE
A WEEKEND FILLED WITH PERFORMANCES FROM
THE BEST CURRENT ROCK ARTISTS AND CLASSIC BANDS

SINGLE DAY TICKETS ON SALE
MONDAY, MARCH 27 AT NOON CT
The single day band lineups have been announced for the 11th year of Rocklahoma, presented by Bud Light, May 26, 27 & 28, 2017 at "Catch the Fever" Festival Grounds in Pryor, Oklahoma, just outside Tulsa. Single day tickets will go on sale Monday, March 27 at Noon CT at www.Rocklahoma.com, and weekend ticket prices will increase at that time.
Soundgarden, Def Leppard, and The Offspring lead the music lineup for America's Biggest Memorial Day Weekend Party, which features the best current rock artists and classic bands. The three-day camping festival features music on three stages, as well as a campground stage to keep the music going all night long. With onsite camping amenities and unparalleled VIP packages, Rocklahoma lives up to its motto of "Life, Liberty & the Pursuit of Rock." In 2016, Rocklahoma had its biggest year ever, with over 70,000 fans attending the festival's 10th year.
The Rocklahoma weekend kicks off with the Campground Party starting in the afternoon on Thursday, May 25. The full Rocklahoma music lineup is as follows (subject to change):
Thursday, May 25 (Campground Party):

Another Lost Year, Nicnos, Locust Grove, Final Drive, Midnight Mob, Hoodslide, Stolen Rhodes, BC & The Big Rig, Reliance Code, Screaming Red Mutiny

Friday, May 26:

Def Leppard, Three Days Grace, Skillet, Pierce The Veil, The Pretty Reckless, In Flames, Slaughter, Rival Sons, Fozzy, Badflower, Goodbye June, Aeges, Retrospect All Stars, Lynam, Aska, Electro_Nomicon, Ratchet Dolls, Death Grip, T.R.O.Y., Arson City, Keychain, Sun And Flesh, Thousand Years Wide, Save The Hero, The Normandys, Difuser

Saturday, May 27:

Soundgarden, Stone Sour, The Cult, Zakk Sabbath, Suicidal Tendencies, Diamond Head, Fuel, Starset, Red Sun Rising, Dinosaur Pile-Up, DED, Kore Rozzick, Dead Metal Society, Wild Street, Diamond Lane, Black Tora, Five Star Hooker, Moxy & The Influence, Adakain, NonHuman Era, The Mendenhall Experiment, Paralandra, Wild Fire, The Adarna, The Revolutioners

Sunday, May 28:

The Offspring, Seether, Jackyl, Ratt, Buckcherry, Taking Back Sunday, Nothing More, Black Stone Cherry, Norma Jean, Wage War, Royal Republic, One Less Reason, London's Dungeon, Niterain, Nova Rex, 3D In Your Face, The Tip, Desire The Fire, Wild Planes, Coda Cutlass, As Above So Below, The Chimpz, Sweatin Bullets, Weston Horn & The Hush, Skytown, The Fairweather
Registration for the Miss Rocklahoma competition is underway now through March 31 at www.Rocklahoma.com. Voting on the Top 10 finalists begins April 10 and five finalists will compete on stage at Rocklahoma for the chance to be named Miss Rocklahoma 2017.
Single day General Admission tickets for Rocklahoma will be available for only $72 each and single day ticket 4-packs will be sold for $260 beginning Monday, March 27 at Noon Central Time. (Ticket prices do not include fees.)
The last day to purchase Rocklahoma 2017 tickets at the current special price is Monday, March 27 at 11:59 AM CDT. At 12:00 PM CDT on Monday, March 27, ticket prices will increase as follows:
Weekend General Admission: $137*
Weekend GA 4-Packs: $467*
GA Camping: $95*
VIP Camping: $115*
*plus applicable service fees
A limited number of River Spirit Casino Groupie packages are still available. VIP Reserved, River Spirit Casino Roadie and Rockstar Packages are SOLD OUT. For full details, please visit www.Rocklahoma.com.
As in the past, General Admission ticket discounts are available for active military through Rocklahoma partner GovX (www.govx.com).
The campgrounds are a unique part of the Rocklahoma experience, with an endless party running around the clock for four days. General Admission Camping and VIP Camping tickets may be purchased as an add-on during online checkout at www.Rocklahoma.com. Campgrounds open on Sunday, May 21 at Noon and will remain open until Noon on Tuesday, May 30. Camping is only available with weekend ticket purchases and prices for camping will increase on Monday, March 27 at Noon.
In addition to music, Rocklahoma offers multiple onsite experiences, including those listed below.
Rocklahoma is supported by our rockin' sponsors: Bud Light, Monster Energy, Zippo, River Spirit Casino, D&B Processing and more.
Rocklahoma is produced by AEG Presents, and is part of the World's Loudest Month concert series, which features the biggest names in rock music performing in eight distinct U.S. concert atmospheres during six consecutive weekends in April, May and June of 2017.
Rocklahoma is located just 45 minutes northeast of Tulsa, in Pryor, OK. The "Catch the Fever" Festival Grounds is a premier destination for a multi-day festival and includes onsite camping with access to restrooms and shower house, a general store for campers, VIP reserved seating, hospitality areas and much more.
---
For more information about Rocklahoma, please contact:
PR: Kristine Ashton-Magnuson, AM Media; kristine@am-media.net; (818) 996-2496
MARKETING: Chamie McCurry, AEG Presents: cmccurry@aegpresents.com
SPONSORSHIP: Chris Thomas, AEG Presents; cthomas@aegpresents.com