Date: April 11, 2017
From: Kristine Ashton-Magnuson / Ashley Di Buduo
KLOS PRESENTS SABROSO
CRAFT BEER, TACO & MUSIC FESTIVAL
POWERED BY GRINGO BANDITO
SOLD OUT CROWD OF 8,500
ENJOYS A DAY OF MUSIC ON THE BEACH
FROM THE OFFSPRING, SUM 41 & MORE
PLUS CRAFT BEER SAMPLING, GOURMET TACOS,
LUCHA LIBRE STYLE WRESTLING &
A RECORD-SETTING TACO EATING CONTEST

SATURDAY, APRIL 8
AT DOHENY STATE BEACH IN DANA POINT, CA
A sold out crowd of 8,500 gathered under the California sunshine for KLOS presents Sabroso: Craft Beer, Taco & Music Festival powered by Gringo Bandito on Saturday, April 8 at Doheny State Beach in Dana Point, CA. Sabroso was produced by California's most successful and respected craft beer festival producer, Brew Ha Ha Productions, and premier music festival production company Synergy Global Entertainment (SGE).
Fans at the 4th annual festival — which sold out two weeks in advance — enjoyed a headlining set from Orange County's own The Offspring, plus performances from Sum 41, Rival Sons, Lit, Unwritten Law, the world's first and only heavy metal mariachi band, Metalachi, and Slidebar Battle of the Bands winner Fused By Defiance. Attendees were treated to an afternoon of complimentary craft beer tasting with over 40 of the best breweries from Southern California and beyond, gourmet street tacos and other food from more than 20 vendors, plus sweet indulgences like beer ice cream from Scoops On Tap and premium chocolates from So Rich! Chocolates.
Lucha libre style wrestlers competed throughout the day as the waves of the Pacific crashed behind their beachside ring, and professional eaters including world champion Takeru Kobayashi took to the stage before The Offspring's performance for the 7th Annual Gringo Bandito Chronic Tacos Challenge. While runner-up Molly Schuyller, European champion Jesse Pynnönen and others devoured tacos at an astonishing pace, Kobayashi stole the show by downing 159 tacos in 10 minutes — shattering his own 2015 record of 144.
Among the many taco vendors, Mess Hall Canteen was awarded "Best Of Show" by a panel of media judges, with Falasophy named first runner up, and The Kroft named second runner up.
"With tacos, beer and live music, Sabroso a sold-out success at Doheny" headlined Kelli Fadroski's Orange County Register review of the festival (4/9/17). "Music fans, beer lovers and taco connoisseurs were out to have a good time Saturday at the fourth annual Sabroso Craft Beer, Taco & Music Festival at Doheny State Beach in Dana Point."
Elsewhere, Sari Cohen of AXS.com (4/10/17) noted, "It didn't matter who you came to see, or which band captured your heart, the festival had something for everyone. Sabroso not only brought the best of rock music together, it also brought the best beers, the best tacos and by far the best scenery you could ever dream of. Southern California is home to some of the greatest music festivals in the world and an event that highlights all of the things we love about it here only confirms what we already knew — KLOS's Sabroso Craft Beer, Taco & Music Festival at Doheny is a recipe that is made to perfection."
Sabroso co-producer Cameron Collins of Brew Ha Ha Productions explains, "When I say Sabroso is a dream come true, I mean it literally. It came from a dream I had, and I woke up at 3:00 A.M. to write it all down. But in my dream, the breweries were having like a Chihuahua fashion show and the luchadors were the ones serving the beer. It was a little risky, but we did it and it's become kind of a crowd favorite."
Sabroso co-producer John Reese of SGE says, "How do you top tacos and beer? Bring them together at one of the best festival locations in the world at Doheny State Beach, add a great radio partner like KLOS, a day of killer music topped by The Offspring, and invite 8,500 of your closest friends. Thanks to Gringo Bandito, Chronic Tacos, all the breweries, taco chefs and restaurants, bands, professional and amateur eaters, wrestlers and everyone who came out to enjoy the day and who helped make Sabroso a huge success."
Sponsors included KLOS, Gringo Bandito (Dexter Holland from The Offspring's top-rated hot sauce), Chronic Tacos, and more.
A portion of the proceeds from Sabroso will be donated to the Doheny State Beach Interpretive Association (DSBIA), the non-profit cooperating association of Doheny State Beach, dedicated to the protection of the park's beaches, facilities, marine refuge and its historical, cultural and social stories.
For more on KLOS presents Sabroso: Craft Beer, Taco & Music Festival powered by Gringo Bandito, visit: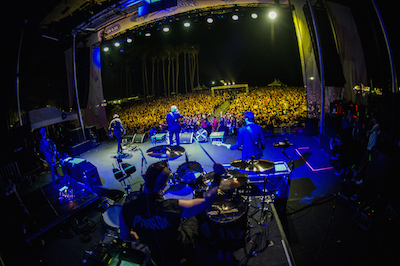 (The Offspring)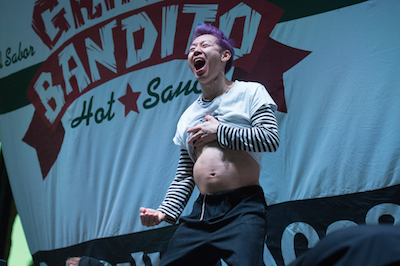 (World champion eater Takeru Kobayashi)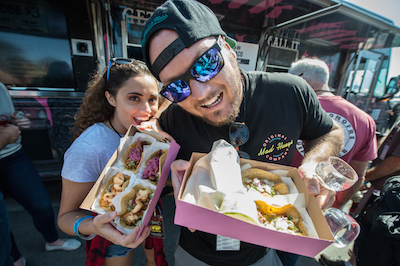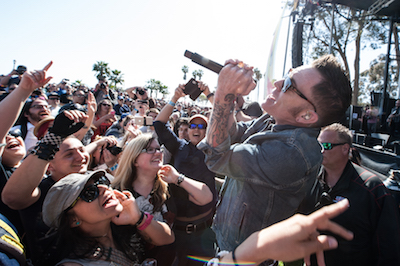 (Lit)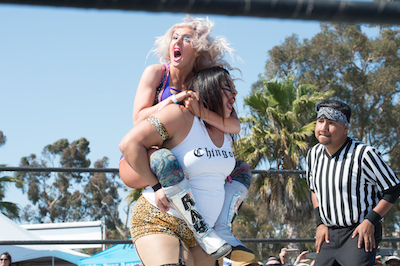 (wrestlers)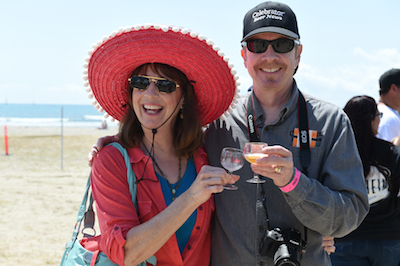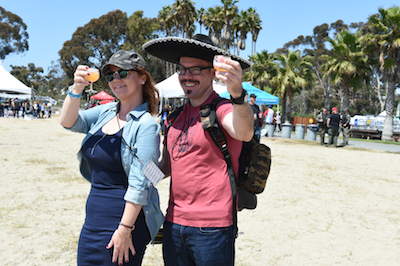 (All photos by Stephanie Cabral)
---
About Synergy Global Entertainment, Inc.
Synergy Global Entertainment, Inc. (SGE) is one of the world's premier music festival production companies. With hundreds of live events worldwide each year, SGE works with agencies, brands and musical talent to produce or co-produce concerts across various genres and interests. SGE produces and curates Funny Or Die's ODDBALL Comedy And Curiosity Festival, Ohana Dana Point, and co-produces a number of craft beer & music festivals including Driftwood — Orange County's biggest country festival on the sand. In addition, SGE co-produced the Rockstar Energy Drink Mayhem Festival and the worldwide Rockstar Taste of Chaos, produced the Rockstar Energy UPROAR Festival and conceived and developed KNOTFEST with Slipknot and 5B Artist Management. SGE has also produced many other national festivals and tours. SGE senior staff have a combined 60 years of experience in artist management, large scale festival production and brand integration, and have worked with artists as diverse as Guns N' Roses and The Cure. SGE excels at integrating brands' needs with large scale musical entertainment.
About Brew Ha Ha Productions
Brew Ha Ha Productions (BHHP) is Orange County, California's most successful craft beer event producer. Its team brings years of successful event production and business experience along with an inside view of the craft beer industry and its enthusiasts. Fueled by a desire to promote craft beer, along with a vision of a different kind of beer fest, the Orange County Brew Ha Ha Craft Beer Festival was conceived. BHHP is known best for their events like the Orange County Brew Ha Ha, Brew Ho Ho 'Holiday Ale Festival', Sabroso 'Craft Beer & Taco Festival' and the Brew Hee Haw at the OC Fair. Brew Ha Ha has been voted "BEST Craft Beer Festivals in Southern California" six years in a row by the Orange County Beer Society. Brew Hee Haw Craft Beer Festival was honored in 2016 with a First-Place Western Fairs Association Achievement Award for best Event Within an Event. In six short years, BHHP has enjoyed unprecedented growth making them the largest craft beer event producers in Orange County and one of the largest on the west coast.
About KLOS
KLOS The Rock of Southern California (95.5 FM) is a commercial Rock music formatted radio station in Southern California broadcasting to Los Angeles, Ventura, Riverside, San Bernardino, and Orange Counties. KLOS features specialty music shows such as Frosty, Heidi & Frank, Jonesy's Jukebox, Full Metal Jackie's Whiplash, Check I…2, and many more. Owned by Cumulus Media, KLOS studios are in Culver City, CA and the station reaches an audience of over 1.5 million listeners each week.
Sabroso Craft Beer, Taco & Music Festival Publicity Contacts
Ashton-Magnuson Media:
Kristine Ashton-Magnuson, kristine@am-media.net; (818) 996-2496
Ashley Di Buduo, ashley@a12entertainment.com; (323) 379-9684
The ACE Agency:
Tori Elder, tori@theaceagency.com; (702) 413-8625
Gringo Bandito Publicity Contact:
Bob Bradley, Bob@BobBradley.info; (714) 321-1471