Date: April 12, 2017
From: Kristine Ashton-Magnuson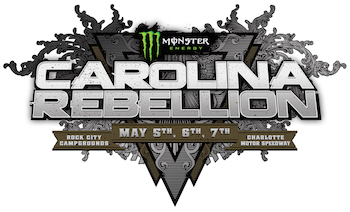 FESTIVAL EXPERIENCES AND "PIG OUT VILLAGE"
ANNOUNCED FOR
7TH ANNUAL MONSTER ENERGY CAROLINA REBELLION
MAY 5, 6 AND 7, 2017
AT ROCK CITY CAMPGROUNDS
AT CHARLOTTE MOTOR SPEEDWAY

FEATURING SOUNDGARDEN, DEF LEPPARD, AVENGED SEVENFOLD
AND MANY MORE
The lineup of festival experiences, as well as details for the Pig Out Village, featuring some of the best food that the Carolinas have to offer, have been announced for the 7th annual Monster Energy Carolina Rebellion, May 5, 6 and 7 at Rock City Campgrounds at Charlotte Motor Speedway in Concord, NC.
The Mid-Atlantic's Biggest Rock Festival will feature three days of today's best rock—along with legendary classic artists—playing on four stages, a world-class BBQ village, and top notch camping facilities. Soundgarden (Friday), Def Leppard (Saturday) and Avenged Sevenfold (Sunday) will headline a bill that also includes A Perfect Circle, Korn, The Offspring, The Cult, Volbeat, Mastodon, Papa Roach, Three Days Grace, Seether, Chevelle, Alter Bridge, Tesla, Pierce The Veil, The Pretty Reckless, Eagles of Death Metal, Highly Suspect, the recently added Of Mice & Men, and more.
Monster Energy Carolina Rebellion tickets are on sale now at www.CarolinaRebellion.com. Upgrades are available at checkout with weekend GA ticket purchases. A limited number of Bronze & Gold Hotel Packages, the Star Camping Package, as well as Tent & Basic RV camping packages are still available. VIP Lounge, Silver, Platinum and Diamond Hotel Packages, as well as Groupie & Roadie Camping Packages are SOLD OUT.
The daily band lineup for Monster Energy Carolina Rebellion is as follows (subject to change):
Friday, May 5

Soundgarden, A Perfect Circle, Mastodon, The Cult, Pierce The Veil, Opeth, Amon Amarth, Highly Suspect, Eagles of Death Metal, The Dillinger Escape Plan, Of Mice & Men, Gojira, Every Time I Die, Starset, Radkey, Black Map, Volumes, Dorothy, As Lions, Wage War, Mother Feather

Saturday, May 6

Def Leppard, Korn, Tesla, Chevelle, Alter Bridge, The Pretty Reckless, Sum 41, In Flames, In This Moment, Machine Gun Kelly, The Amity Affliction, All That Remains, Rival Sons, Nothing More, I Prevail, Dinosaur Pile-Up, DED, Badflower, Frank Carter & The Rattlesnakes, Royal Republic, Cover Your Tracks

Sunday: May 7

Avenged Sevenfold, The Offspring, Volbeat, Papa Roach, Seether, Three Days Grace, Skillet, Coheed and Cambria, Taking Back Sunday, Falling In Reverse, Motionless In White, Beartooth, Fozzy, KYNG, Sylar, Goodbye June, Fire From The Gods, Citizen Zero, The Charm The Fury
In addition to music, Monster Energy Carolina Rebellion will offer multiple onsite experiences, including those listed below.
Monster Energy Carolina Rebellion is produced by Danny Wimmer Presents and AEG Presents and is part of the World's Loudest Month concert series, which features the biggest names in rock music performing in eight distinct U.S. concert atmospheres in during six consecutive weekends in April, May and June of 2017.
Monster Energy Carolina Rebellion is supported by great corporate partners including Monster Energy, Jack Daniel's, Zippo, Bud Light, FYE, Deep Eddy Vodka, The Music Experience, Pabst Blue Ribbon, Fxck Cancer, and more.
For more information on Monster Energy Carolina Rebellion, visit:
---
About AEG Presents
AEG Presents is one of the largest live music companies in the world. The company is dedicated to all aspects of live contemporary music performances, including producing and promoting global and regional concert tours, music events and world-renowned festivals. AEG Presents operates in North America, Europe and Asia through 16 regional offices that support its tours, which include such artists as Taylor Swift, Paul McCartney, The Rolling Stones, Justin Bieber, Katy Perry and Kenny Chesney; produces or supports over 25 music festivals, including the iconic Coachella Valley Music & Arts Festival; and owns, manages or books more than 60 clubs and theaters. AEG Presents produces more than 8,000 shows annually worldwide and conducts business under such globally renowned brands as AEG Presents, Goldenvoice, Concerts West, Messina Touring Group, Marshall Arts LTD, and Madison House Presents.
www.aegpresents.com
About Danny Wimmer Presents
Since 1993, music industry veteran Danny Wimmer has been producing concerts and festivals, both large and small. In 2011, he formed Danny Wimmer Presents, which now produces several of the largest rock and alternative festivals in the U.S. By combining A-list talent with local cuisine and culture, DWP has become recognized within the industry for delivering the highest-quality entertainment experiences to fans, artists, sponsors, partners and host cities. DWP creates memorable and all-encompassing festival experiences, leaving both consumers and partners with lasting and meaningful impressions. DWP will continue to add new music festivals to its already stellar portfolio, which includes Rock On The Range, Monster Energy Aftershock Festival, Monster Energy Welcome To Rockville, Monster Energy Carolina Rebellion, Louder Than Life, Monster Energy Rock Allegiance, and Chicago Open Air, among others.
www.DannyWimmerPresents.com
About Monster Energy
Most companies spend their money on ad agencies, TV commercials, radio spots and billboards to tell you how good their products are. At Monster Energy, we chose none of the above. Instead we support the scene, our bands, our athletes and our fans. We back athletes so they can make a career out of their passion. We promote concert tours, so our favorite bands can visit your hometown. We celebrate with our fans and riders by throwing parties and making the coolest events we can think of a reality.
www.monsterenergy.com | www.facebook.com/monsterenergy
For more information about Monster Energy Carolina Rebellion, please contact:
PR: Kristine Ashton-Magnuson, Ashton-Magnuson Media; kristine@am-media.net; (818) 996-2496
MARKETING: Chamie McCurry, AEG Presents; cmccurry@aegpresents.com & Clay Busch, DWP; clay@dwpresents.com
SPONSORSHIP: Chris Thomas, AEG Presents; cthomas@aegpresents.com & Clay Busch, DWP; clay@dwpresents.com