Date: April 12, 2017
From: Kristine Ashton-Magnuson
METAL MAYA
ALL-INCLUSIVE HEAVY METAL DEST-FEST VACATION
DEBUTS OCTOBER 29-NOVEMBER 2
AT NOW SAPPHIRE RIVIERA CANCUN RESORT
IN MEXICO'S YUCATAN PENINSULA
ANTHRAX, OVERKILL, SUPERJOINT,
METAL ALLEGIANCE AND DEATH ANGEL
LEAD MUSIC LINEUP WITH MORE BANDS TO BE ANNOUNCED

TICKETS ON SALE WEDNESDAY, APRIL 12 AT 1:00 PM ET
ASK4 Entertainment—the creator and producer of ShipRocked—announces the first annual Metal Maya, a 4-day all-inclusive heavy metal destination festival vacation from October 29 - November 2 at the luxurious Now Sapphire Riviera Cancun, just south of Cancun in the paradise of Puerto Morelos on Mexico's Yucatan Peninsula.
Metal Maya is the perfect place to celebrate Halloween and Día de los Muertos (also known as Day Of The Dead and "Hanal Pixán" to the Mayans of Yucatan Peninsula) and will feature performances from a dozen bands in a tropical paradise. The initial music lineup includes: Anthrax, Overkill, Superjoint (with Philip Anselmo), heavy metal all-star band Metal Allegiance, Death Angel, Otep, and Tim "Ripper" Owens, with more bands to be announced. The Metal Allegiance band will include Phil Demmel (Machine Head), David Ellefson (Megadeth), Gary Holt (Slayer/Exodus), Mark Menghi, Mark Osegueda (Death Angel), Mike Portnoy (The Winery Dogs, Transatlantic, Flying Colors, The Neal Morse Band), Steve "Zetro" Souza (Exodus), Ryan Waste (Municipal Waste), and more special guests. Metal Maya will be hosted by SiriusXM's own Jose Mangin.
Metal Maya packages start at only $1399 per person and go on sale Wednesday, April 12 at 1:00 PM ET at www.MetalMaya.com.
"I've been going down to Riviera Cancun for a few years now, and it's one of my favorite places," said Anthrax's Charlie Benante. "And now, to go down there and play, and have some fun, and enjoy the weather?! This is going to be an awesome event! I'm really excited about it and I think that everyone's going to have a great time. We're all going to be at a place where the weather's beautiful, the ocean's there, the drinks are pouring, the metal is blasting, and your favorite bands are playing. Can't wait to see you there!"
Metal Maya host Jose Mangin of SiriusXM and Affliction said, "Far beyond honored to host this first of its kind Metal-themed vacation with so many killer bands, friends…and in gorgeous Mexico on Halloween?! I love how exotic our Metal world is getting, and look forward to partying among the living…and with the spirits of the dead! Under the serpent sun…we shall MOSH!"
Metal Maya guests will enjoy luxury accommodations, and tickets include gourmet meals, and all beverages (including alcohol). The all-inclusive heavy metal dest-fest vacation will feature bands performing on multiple stages in an intimate environment with only 1,000 guests (with two performances each from Anthrax, Overkill, Superjoint, and heavy metal all-star band Metal Allegiance), artist-hosted events, onsite activities, excursions and tours (available for additional fees), theme nights and more.
Guests will enjoy festive celebrations on both Halloween (October 31) and the traditional Mexican Día de los Muertos (November 1) when guests are encouraged to dress up in calaca (skull) masks and sugar skull makeup.
Metal Maya producer Alan Koenig of ASK4 Entertainment said, "ASK4 Entertainment is thrilled to launch the inaugural Metal Maya, a first of its kind dest-fest vacation for the most devout and righteous music fans on the planet, against the backdrop of Mexican paradise at the world-class Now Sapphire Riviera Cancun resort. We plan to summon the dark spirits of Halloween, celebrate Día de los Muertos, and pay tribute to our Metal Gods, with an incredible lineup of metal greats! And we'll probably step up to the altar of all-inclusive indulgence for several Lemmys (Jack & Cokes) between the shows, pools, and the beach!"
Ground transportation from Cancun airport is included with all Metal Maya vacation packages. In addition, for those who want to extend their stay at Now Sapphire Riviera Cancun, discounted rooms will be available to Metal Maya guests just before and after the event. Please note that single day passes will not be available as this is a full vacation package.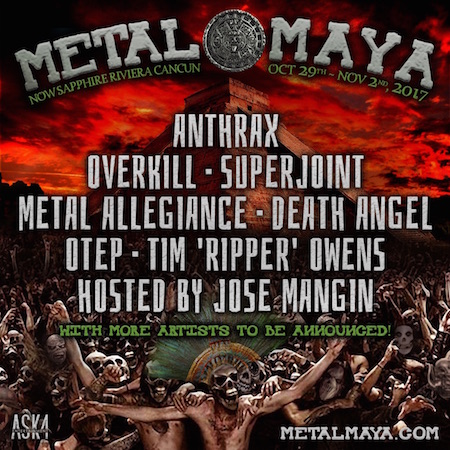 ---
About ASK4 Entertainment
ASK4 Entertainment is a premier rock music theme cruise and destination event producer. The company also produces ShipRocked, the ultimate rock music cruise vacation.
www.facebook.com/ASK4Entertainment
About Now Sapphire Riviera Cancun
Set in a tropical landscape of palm trees, soft sand and sparkling azure sea, Now Sapphire Riviera Cancun, a AAA Four Diamond award-winning resort, offers guests the Unlimited-Luxury® experience, where everything is included. Guests will enjoy the luxuries of elegant accommodations, gourmet a la carte dining, top-shelf spirits, daily activities, nightly entertainment and so much more. Now Sapphire offers elevated indulgences, including lavish treatments at the world-class Now Spa by Pevonia®, while remaining committed to sustainable tourism through its Rainforest Alliance certification.
www.nowresorts.com/sapphire