Date: May 23, 2017
From: Ashley Di Buduo / Kristine Ashton-Magnuson

BLACKEST OF THE BLACK DESTINATION FESTIVAL
ANNOUNCES BAND SET TIMES

BLACKEST AFTER DARK AFTER PARTY
FEATURING DANZIG
BLACK LADEN CROWN

LISTENING PARTY
ANNOUNCED FOR FRIDAY, MAY 26TH & INCLUDED IN FESTIVAL ADMISSION
GLENN DANZIG TO HOLD AUTOGRAPH SIGNING SESSION
FRIDAY, MAY 26TH
Band performance times have been announced for the highly anticipated KLOS Presents Blackest Of The Black Destination Festival, coming to Oak Canyon Park in Silverado, CA in Orange County this Memorial Day Weekend, Friday, May 26th and Saturday, May 27th. The brainchild of Glenn Danzig, the event not only serves as a music festival, but as a cultural experience: an escape. The festival will be hosted by Full Metal Jackie and will feature camping, along with a number of sinister attractions, and two music stages curated by Danzig.
With performances by some of the heaviest acts around, Blackest Of The Black includes Danzig's first confirmed U.S. headline appearance of 2017. VIP doors open at 3:30 p.m and General Admission doors open at 4:00 p.m. Band performance times for Blackest Of The Black are as follows (subject to change):
Friday, May 26th
| | |
| --- | --- |
| 9:30 p.m. | Suicidal Tendencies |
| 8:30 p.m. | Corrosion Of Conformity |
| 7:40 p.m. | Discharge |
| 6:55 p.m. | Deafheaven |
| 6:10 p.m. | Suicide Silence |
| 5:30 p.m. | Butcher Babies |
| 5:00 p.m. | 3Teeth |
Saturday, May 27th
| | |
| --- | --- |
| 8:55 p.m. | Danzig |
| 7:40 p.m. | Ministry |
| 6:40 p.m. | VAMPS |
| 5:40 p.m. | Atreyu |
| 4:55 p.m. | Venom Inc. |
| 4:10 p.m. | Marduk |
| 3:25 p.m. | DevilDriver |
| 2:45 p.m. | Combichrist |
| 2:05 p.m. | Ghoul |
| 1:30 p.m. | Ritual |
The festival has also announced Blackest After Dark: an exclusive after party that will be held on the Blackest Of The Black festival grounds. The event will serve as a listening party for Danzig's new album Black Laden Crown, which will be spun in full, as well as heavy music from KLOS. Kicking off at 10:30 p.m. and lasting late into the night, the carnival rides and bar will remain open for the duration of the party. Admission to Blackest After Dark is included in Friday's festival admission.
Glenn Danzig's comic book company Verotik will be hosting special signings at their booth during the festival, including signings from Danzig himself, only on Friday, May 26th. Additionally, award-winning comic book artist Simon Bisley will be signing on both nights of the festival, Friday, May 26th and Saturday, May 27th.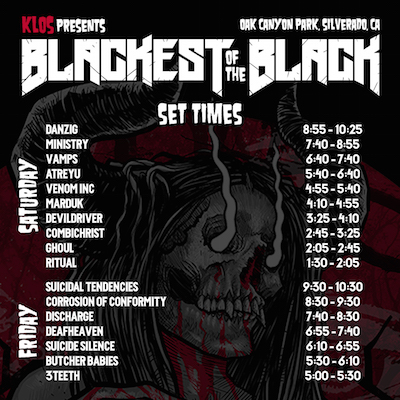 The Verotik area is only one of a slew of dark attractions to be featured at Blackest Of The Black. The festival will also feature a roaming freak show filled with contortionists, demons, and more, thrill rides, and a Sugar Skull Contest. The main attraction, Castle Danzig is a fully immersive walkthrough experience of agony and ecstasy, all based on the music and graphic novels of Glenn Danzig. Within the vicinity of the eerie castle and courtyard, attendees will find a sacrifice altar, bondage stage, suspension stage, electro stage, blood bath, a padded cell, stocks, cage dancers, and more!
Information on tickets, VIP packages, camping and more can be found at www.BlackestFest.com.
Please note that festival admission is not included with camping spots.
Blackest Of The Black is produced by Synergy Global Entertainment (SGE), and presented by KLOS 95.5 FM. Sponsors for Blackest Of The Black include Modelo, Rockstar Energy Drink, Cosmic Fog, Musicians Institute, Blackcraft Whiskey, SlideBar, and more.
For more information on Blackest Of The Black, visit:
---
About Synergy Global Entertainment, Inc.
Synergy Global Entertainment, Inc. (SGE) specializes in producing music events and music marketing programs benefitting brands, artists, consumers, partners and attendees alike. SGE has produced thousands of branded music festivals, concerts, tours and events throughout the world playing to millions of applauding fans.
www.sgeworldwide.com
About KLOS
KLOS The Rock of Southern California (95.5 FM) is a commercial Rock music formatted radio station in Southern California broadcasting to Los Angeles, Ventura, Riverside, San Bernardino, and Orange Counties. KLOS features specialty music shows such as Full Metal Jackie's Whiplash — Frosty, Heidi & Frank — Jonesy's Jukebox — Check I…2, and many more. Owned by Cumulus Media, KLOS studios are in Culver City, CA and the station reaches an audience of over 2 million listeners each week.
Media Contacts:
Ashley Di Buduo, ashley@a12entertainment.com, (323) 379-9684
Kristine Ashton-Magnuson, kristine@am-media.net, (818) 996-2496