Date: May 24, 2017
From: Kristine Ashton-Magnuson / Selena Fragassi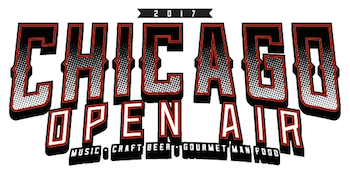 ONSITE ATTRACTIONS INCLUDING FOOD EXPERIENCES,
HEADBANGERS BIER HALL,
DAVID ELLEFSON COFFEEHOUSE,
THE CADUCEUS WINE GARDEN
AND KICKOFF DINNER WITH JOSE MANGIN ANNOUNCED
FOR CHICAGO OPEN AIR
JULY 14, 15 AND 16
AT TOYOTA PARK IN BRIDGEVIEW, IL
HEADLINERS KISS, OZZY OSBOURNE AND KORN
WILL BE JOINED BY ROB ZOMBIE, SLAYER, GODSMACK,
MEGADETH, STONE SOUR, SEETHER, ANTHRAX AND MANY MORE

SPECIAL POP-UP PARTY TODAY, MAY 24
AT NEW KUMA'S CORNER LOCATION
WILL FEATURE THE OFFICIAL CHICAGO OPEN AIR BURGER
FOR ONE DAY ONLY
Chicago Open Air is throwing a special pop-up party TODAY at the brand-new location of Kuma's Corner (852 W. Fulton Market), where the official Chicago Open Air Burger will be available for one day only. It features a 10-ounce beef patty with raspberry jalapeno jam, cheddar cheese, applewood smoked bacon, crispy potato strings, deep-fried chorizo and cream cheese-stuffed breaded jalapeno. No service fee tickets for Chicago Open Air will be available for purchase here and at the other Chicago-area Kuma's Corners locations until the weekend of the festival.
Chicago Open Air has also announced additional onsite experiences, as well as an official kickoff dinner, that will be a part of the second annual festival. The festival will be held July 14, 15 and 16 at Toyota Park in Bridgeview, IL, just outside Chicago.
The Chicago Open Air music lineup leads off with a rare U.S. festival appearance from rock legends KISS (headlining Friday) as well as one of the first solo performances from Ozzy Osbourne (headlining Sunday) since the final Black Sabbath tour, where he will reunite with guitarist Zakk Wylde after a decade apart. Rock heavyweights Korn will headline Saturday. Overall, the three-day music, craft beer and Gourmet Man Food festival will feature over 40 music performances, also including Rob Zombie, Slayer, Godsmack, Megadeth, Stone Sour, Seether, Anthrax, Lamb of God, Meshuggah, Amon Amarth and many more on the Main Stage and the BlackCraft Stage. SiriusXM's Jose Mangin returns to host the weekend and introduce acts. General Admission and VIP tickets are on sale now at www.ChicagoOpenAir.com and at all Chicago-area Kuma's Corner locations.
In addition to music, a number of special events, onsite attractions and festival partners make Chicago Open Air a must-attend destination. Here is a preliminary list of what attendees can expect.
Chicago Open Air Kickoff Dinner:

Danny Wimmer Presents will be throwing the official Chicago Open Air Kickoff Dinner, held at Kuma's Corner (2900 W. Belmont) on Thursday, July 13 at 7 p.m. For $50, attendees will be treated to burgers, appetizers and beer, and will have the chance to hang out with host Jose Mangin, from SiriusXM's Liquid Metal. A limited quantity of only 100 tickets will be available at www.ChicagoOpenAir.com.

Gourmet Man Food:

Festival attendees can savor a variety of local and regional cuisine throughout the weekend including selections from Bruges Brothers, Chicago Doghouse, Crème of the Crop, Dia De Los Tamales, Dinky's Donuts, Kuma's Corner, Pizano's (Chicago deep dish), and Yum Dum. Additional Gourmet Man Food vendors will include: Aporkalypse Now, Porkchop, The Big Cheesy, Ben's Burrito Bowl, Master of Patties, Pie Baby (wood-fired pizza) and The Cheesies Truck.

Headbangers Bier Hall:

Presented by Decibel Magazine, this unique metal themed dive bar is returning to Chicago Open Air. Headbangers Bier Hall will feature national and regional craft beers and artist inspired beverages including: Goose Island (Chicago — 312 Urban Wheat Ale, Four Star Pils), Half Acre Beer Company (Chicago — Daisy Cutter Pale Ale, Vallejo IPA, Pony Pilsner), Iron Maiden's Trooper Beer, Lagunitas (Petaluma, CA — IPA, A Little Sumpin' Sumpin'), Motörhead Wine, Revolution Brewing (Chicago — Fist City, Rev Pils), Surly (Minneapolis — Surly Hell Lager, Surly Furious IPA), Two Brothers Brewing (Chicago — Sidekick Extra Pale Ale, Dog Days Dortmunder Style Lager), and more to be announced. Look for unique experiences throughout the weekend.

Monster Energy:

Stop by the Monster viewing deck to refuel and meet some of your favorite Chicago Open Air artists! Monster Energy will be keeping fans fueled up and ready to rock by offering free sampling on their Monster Energy viewing deck. Enjoy Monster Energy drinks from one of the best seats in the house. Make sure to check back throughout the festival for a schedule of Monster Energy's interactive artist experiences. Most companies spend their money on ad agencies, TV commercials, radio spots and billboards to tell you how good their products are. At Monster Energy, we chose none of the above. Instead we support the scene, our bands, our athletes and our fans. We back athletes so they can make a career out of their passion. We promote concert tours, so our favorite bands can visit your hometown. We celebrate with our fans and riders by throwing parties and making the coolest events we can think of a reality.
Website: www.monsterenergy.com/us/en/music
Facebook: www.facebook.com/monsterenergy
Instagram: www.instagram.com/monsterenergy/
Twitter: https://twitter.com/monsterenergy
#monsterenergy #monstermusic

Jack Daniel's:

"Taste of Tennessee" invites visitors to come out and tour the nation's oldest registered distillery from outside the Jack Daniel's Hollow. Visitors get to see (and smell) whiskey dripping slowly through charcoal and the new oak barrels used in maturing Tennessee's finest whiskey. The Experience is open to all fans, 21 years old and up, for tours free of charge. Stop by the Jack Daniel's Experience for interactive engagements throughout the weekend.
Website: www.jackdaniels.com
Facebook: www.facebook.com/jackdaniels
Instagram: www.instagram.com/jackdaniels_us/
Twitter: https://twitter.com/JackDaniels_US
#jackdaniels #drinkresponsibly

Revolution Brewing:

Illinois' largest craft brewery is brewed right in the heart of Chicago. Started as a brewpub in Logan Square in 2010, Revolution added to its growth with the 2012 opening of its production facility in the Avondale neighborhood, just a short distance from the brewpub. Revolution offers dozens of different beer styles to craft beer fans through stores, its brewpub, and its taproom located at the brewery. Revolution focuses on brewing the highest quality beer as displayed in its popular brews such as Anti-Hero IPA and Fist City, a Chicago pale ale. Rev Brew has tripled its brewing capacity over the past year and sells its beer in seven states including Illinois, Indiana, Ohio, Massachusetts, New York, New Jersey and Wisconsin.

The Music Experience:

The Music Experience features all things a musician needs to ROCK OUT! The interactive exhibit features your chance to test out your inner Rock Star with guitars, basses, amps, drums, keyboards and electronic gear that are used by today's most popular bands. After laying your hands on the hottest equipment available, you will walk away feeling like a rock star! Find a full list of exhibitors coming soon.
Website: http://themusicexperience.com/about/
Facebook: www.facebook.com/TheMusicExp/
Instagram: www.instagram.com/tmexp/
Twitter: https://twitter.com/themusicxp

Ellefson Coffee House:

The premier roasts from Megadeth's David Ellefson will be available onsite at Chicago Open Air exclusively at this special fan meetup spot. Ellefson opened his first coffeeshop in his hometown of Jackson, Minnesota in February 2017 and offers various blends including Roast in Peace, Kenya Thrash, She Wolf and Urban Legend. Fans might even see the bassist-turned-barista serving them coffee!
Website: https://ellefsoncoffeeco.com/

Caduceus Wine Garden:

This wine garden will highlight Caduceus Cellars and Merkin Vineyards, owned by Arizona resident Maynard James Keenan, co-founder of international recording acts TOOL, A Perfect Circle, and PUSCIFER. Having already dove headfirst into this venture, Maynard found out from a distant relative that wine making is in his blood. His Great Grandfather, "Spirito" Marzo, had vineyards and made wine in Venaus, Italy, just North of Turino in Piemonte.
Website: https://caduceus.org/

Heavy Tiki:

The dark side of Tiki is through the totems where savages and beasts enjoy Scorpion Bowls and Zombie cocktails—all in the name of tropical leisure. The Tiki Gods are looking for a good time and they have come to Chicago Open Air to find it! At the Heavy Tiki Bar, fans will find an oasis filled with killer cocktails, shade, and a live broadcast from the one and only Mancow, the legendary radio personality from Chicago's WLUP.

Kuma's Corner:

Kuma's Corner will be returning to serve their signature metal themed burgers.
Website: https://kumascorner.com

Metal Hammer:

The premier metal magazine is turning 30 years old in 2017 and will be celebrating all weekend long at Chicago Open Air. Stay tuned to Metal Hammer's website and social media pages for more details.
Website: http://teamrock.com/metal-hammer
Facebook: https://www.facebook.com/metalhammer/
Instagram: https://www.instagram.com/metalhammeruk/
Twitter: https://www.instagram.com/metalhammeruk/

BlackCraft:

We are proud to announce The BlackCraft Stage as the second stage at Chicago Open Air. Beez from "That's Not Metal" will also be interviewing artists backstage for BlackCraft all weekend. Set times and performing artists will be announced at the end of June. During Chicago Open Air, make sure to visit the BlackCraft apparel shop next to the stage. It's the only place to purchase BlackCraft merchandise over the weekend.
Website: https://www.blackcraftcult.com/

FYE:

FYE is the ONLY place to score your favorite Chicago Open Air artists' latest CDs and Vinyl at the festival and even get a chance to get them signed! Participating labels include Roadrunner, Century Media, Another Century, Nuclear Blast, SharpTone Records, Spinefarm and Razor & Tie Records. We will be hosting artist signings all weekend long — follow us on Facebook and Instagram for the latest signing schedules and special pop-up performances.
Website: www.fye.com/
Facebook: www.facebook.com/FYE
Instagram: www.instagram.com/officialfye/
Twitter: https://twitter.com/officialfye

Fxck Cancer:

The Dyin 2 Live DREAMS Program is a wish-granting organization whose purpose is to try and enrich the lives of those fighting cancer by offering them an experience that will bring hope and inspiration to their lives. In doing this, we hope it can help give them a chance to forget, even if it's only for a day what they are battling. Through our extensive network of friends, supporters, and affiliates, we are able to reach out to individuals and present them with one of a kind experiences and opportunities that arise. We feel a Dyin 2 Live Dream can offer a source of inspiration for those undergoing difficult medical treatments and be a positive force that offers a life-changing impact not only on them, but also the family to overcome their obstacles. If you are currently fighting cancer or know of someone in the fight who could benefit from a Dyin 2 Live Dream, please submit your story and tell us why and how a Dyin 2 Live day would help. Also, anyone interested in being a supporter, volunteer, or donor, please contact us at mywish@dyin2live.org.
Website: www.Dyin2Live.org
Facebook: facebook.com/Dyin2LiveDREAMS or facebook.com/FxckCancerUSA
Instagram: @FxckCancer and @Dyin2LiveDreams

Take Me Home:

Take Me Home (TMH) has been saving the lives of homeless animals since 2001. TMH was founded as an animal rights advocacy foundation saving orphaned animals and striving to end animal overpopulation. TMH works in conjunction with shelters and rescues throughout California and beyond to help save animals on death row, on the streets, or in unsafe living conditions. Stop by their booth for custom gear and to contribute to a great cause.
Website: www.takemehome.tv
The daily music lineup for Chicago Open Air is as follows:
Friday, July 14:

KISS, Rob Zombie, Megadeth, Anthrax, Meshuggah, The Dillinger Escape Plan, Falling In Reverse, Vimic, Suicide Silence, Whitechapel, Crobot, Code Orange, Hell or Highwater, Failure Anthem

Saturday, July 15:

Korn, Godsmack, Seether, Clutch, Steel Panther, Body Count, Avatar, Mushroomhead, Metal Church, Pig Destroyer, Dragonforce, Cane Hill, Night Verses, Black Map

Sunday, July 16:

Ozzy Osbourne, Slayer, Stone Sour, Lamb Of God, Amon Amarth, Behemoth, Hellyeah, Demon Hunter, DevilDriver, KYNG, Norma Jean, Whores., DED
Chicago Open Air is produced by Danny Wimmer Presents, Live Nation and Toyota Park, with the support of the Village of Bridgeview and Bridgeview Mayor Steven Landek.
Festival doors open at 11:00 AM each day.
For more information on Chicago Open Air, visit www.ChicagoOpenAir.com.
Chicago Open Air sponsors include: Monster Energy, Jack Daniel's, FYE, Dyin 2 Live / Fxck Cancer, Take Me Home Animal Rescue, El Jimador Tequila, The Music Experience, Roadrunner Records, Century Media Records and more to be announced.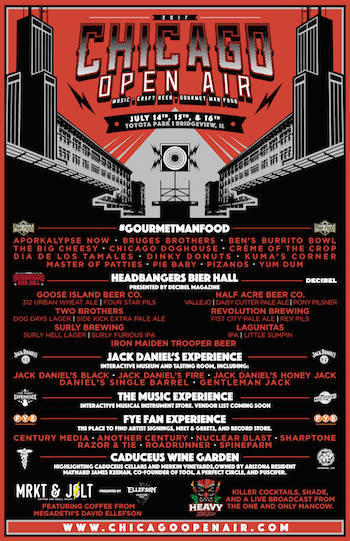 ---
About Danny Wimmer Presents
Since 1993, music industry veteran Danny Wimmer has been producing concerts and festivals, both large and small. In 2011, he formed Danny Wimmer Presents, which now produces several of the largest rock and alternative festivals in the U.S. By combining A-list talent with local cuisine and culture, DWP has become recognized within the industry for delivering the highest-quality entertainment experiences to fans, artists, sponsors, partners and host cities. DWP creates memorable and all-encompassing festival experiences, leaving both consumers and partners with lasting and meaningful impressions. With 580,000 fans attending all DWP festivals in 2015, and 10 billion media impressions, DWP will continue to add new music festivals to its already stellar portfolio, which includes Rock On The Range, Monster Energy Aftershock Festival, Monster Energy Welcome To Rockville, Monster Energy Carolina Rebellion, Louder Than Life, and Monster Energy Rock Allegiance, among others.
www.DannyWimmerPresents.com
About Live Nation Entertainment
Live Nation Entertainment (NYSE: LYV) is the world's leading live entertainment company comprised of global market leaders: Ticketmaster, Live Nation Concerts, Live Nation Media & Sponsorship and Artist Nation Management. For additional information, visit www.livenationentertainment.com.
About Toyota Park
Toyota Park is located at 7000 South Harlem Avenue in Bridgeview, IL. It's the heart of soccer for much of the Midwest and a must-see destination for world-class concerts and other sporting events. Toyota Park is conveniently located in Bridgeview near I-294 and-I-55, within an easy drive from every corner of the Chicago area. Just 15 miles from Chicago's Loop, Toyota Park offers ample parking and is served by PACE buses and shuttle links with the nearby CTA Midway Orange Line station.
www.toyotapark.com
Chicago Open Air Publicity Contacts
Kristine Ashton-Magnuson/Ashton-Magnuson Media
kristine@am-media.net; (818) 996-2496
Selena Fragassi
selena@fr-pr.net; (847) 942-3093
Chicago Open Air Marketing & Sponsorship Contact
Clay Busch/Danny Wimmer Presents
clay@dwpresents.com
Live Nation Publicity Contact
Taylor Heydlauff/Live Nation — Midwest
TaylorHeydlauff@livenation.com; (312) 260-9176
Village Of Bridgeview Publicity Contact
Ray Hanania
RGHanania@gmail.com; (312) 933-9855