Date: June 16, 2017
From: Kristine Ashton-Magnuson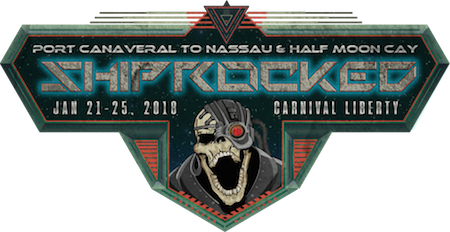 ShipRocked 2018
Initial Band Lineup Announced
Featuring Stone Sour,
Seether, In This Moment, Black Label Society & More

General On Sale Begins Tuesday, June 20
"A ShipRocked Odyssey"
Launches January 21-25, 2018
Onboard Carnival Liberty
From Port Canaveral, Florida To
Nassau & Half Moon Cay In The Bahamas
The initial band lineup has been announced for ShipRocked 2018 — "A ShipRocked Odyssey" — set for January 21-25, 2018 onboard Carnival Liberty. Stone Sour, Seether, In This Moment, and Black Label Society lead a lineup of over a dozen bands slated to play the ninth edition of the annual vacation experience as it sails from Port Canaveral, Florida to Nassau and the private island of Half Moon Cay in The Bahamas.
Check out the official ShipRocked video announcement here: https://youtu.be/BKA8IUa5udA.
Here's what some of the bands are saying about this year's ShipRocked:
"Finally. We've been trying to make this happen for a long time. Now Stone Sour is joining the ShipRocked party — and WE HOPE YOU'RE ALL AS EXCITED AS WE ARE!! There's gonna be music, excitement, craziness and maybe — JUST MAYBE… somebody's goin' to get naked. Come join us on ShipRocked!!"

—Corey Taylor, Stone Sour

"We're really looking forward to being back on ShipRocked! We had a blast in 2016 and we intend to go even bigger on the next one!"

— Shaun Morgan, Seether
In addition to Stone Sour, Seether, In This Moment, and Black Label Society, the otherworldly lineup for ShipRocked 2018 includes The Stowaways, Nothing More, Starset, Beartooth, Nonpoint, Red Sun Rising, Shaman's Harvest, Aranda, Badflower, DED, He Is Legend, Royal Republic, Palisades, Doll Skin, and Kaleido, with more to be announced.
ShipRocked's resident all-star band The Stowaways returns in 2018 for a pair of special shows with its revolving cast of special guests, bringing a mix of classic hits, unexpected surprises, and a roster of performers that can't be seen anywhere else. Check www.ShipRocked.com for the latest on ShipRocked 2018 and The Stowaways' 2018 lineup.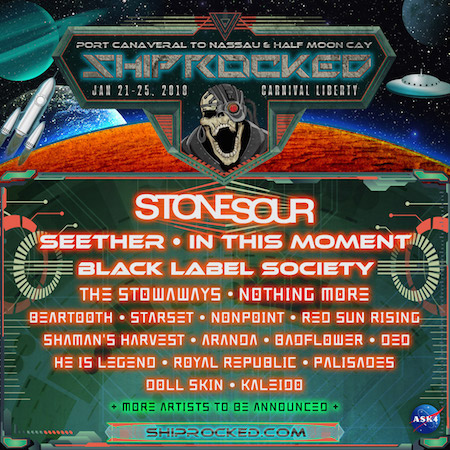 ShipRocked producer Alan Koenig of ASK4 Entertainment says, "We are very proud that the ShipRocked experience continues to grow, and gets better and better with each sailing. This year, we're primed and ready to take our 9th voyage to infinity and beyond, combining two of our favorite things, space and great live rock music! Blasting off from Port Canaveral with an incredible lineup, 2018's mission will continue to push the limits and promises to be the most out of this world vacation yet, taking one small step for man, one giant leap for ShipRocker-kind!"
The ShipRocked 2018 pre-sale is sold out. Remaining staterooms for ShipRocked 2018 will go on sale to the general public on Tuesday, June 20 at Noon ET at www.ShipRocked.com.
Blasting off from Port Canaveral, FL, ShipRocked 2018—A ShipRocked Odyssey—is a once-in-a-lifetime getaway featuring nearly two dozen bands and gravity defying live performances, out of this world artist hosted events and activities, meet & greets, crazy theme nights, after hours parties and more.
ShipRocked 2017 sold out in record time and sailed from Miami on January 16 onboard Carnival Victory for four days and nights of a three-ringed floating rock 'n' roll circus on the high seas, led by headliners Breaking Benjamin, along with Papa Roach, Alter Bridge, Sevendust, Pop Evil and more. 3,000 ShipRockers shared in "The Greatest Vacation On Earth," enjoying a packed itinerary of more than 40 performances from 20+ bands — including a pair of unforgettable deck stage sets from ShipRocked's own all star band The Stowaways — a day on the beach on beautiful Grand Turk in Turks & Caicos, sideshows, theme nights, and more.
Rock Hard. Vacation Harder.

---
About ShipRocked
Produced by ASK4 Entertainment—a premier music theme cruise and destination event producer—ShipRocked is the ultimate rock music cruise vacation with unique performances and musical collaborations, providing guests with the opportunity to vacation with their favorite bands, meet new friends, and reunite with old ones year after year. The full-ship charter provides a one-of-a-kind experience for guests to have the time of their lives with thousands of like-minded friends. ShipRocked activities include photo meet and greets with band members, poolside games, artist Q&A sessions, trivia challenges, game shows, parties, contests and more. The ShipRocked Cancer Sucks! onboard charity auction has raised over $500,000 to date for innovative medical research and finding a cure for cancer.
www.facebook.com/ASK4Entertainment