Date: June 26, 2017

NOTHING MORE
PREMIERE OFFICIAL MUSIC VIDEO
FOR NEW SINGLE "GO TO WAR"
WITH MONSTER ENERGY AFTERSHOCK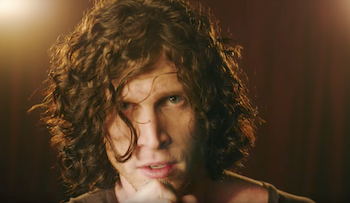 NEW YORK, NY, June 26, 2017— Nothing More premiere the official music video for their new single, "Go To War" today via Monster Energy Aftershock. Directed by Wayne Isham, the video evokes the burning aggression of the track's lyrics through a passionate bar fight between lovers. Watch it on the festival's site: www.aftershockconcert.com.
"I remember being invited to The Roxy because I 'had to' see this band from Texas many years ago. They were the first of 5. I had no expectations. And I was blown away. I immediately came back to the office and told the team this is a band that the company needs to get behind. They had their breakthrough moment at Monster Energy Aftershock 2013 and it's only fitting to premiere 'Go To War' from their upcoming sophomore release together."

—Clay Busch / Vice President of Marketing / Danny Wimmer Presents

"There's no such thing as overnight success but there are defining moments. For us, that moment was Aftershock 2013. I can still feel my feet boiling from the sun-drenched, black stage. I still remember my heart pounding from the energy of the crowd. We were given a shot to prove ourselves in front of every label rep from the west coast as well as many bands on the festival. Sink or swim."

—Jonny Hawkins, Nothing More
"Go To War" is the lead single off the band's forthcoming album The Stories We Tell Ourselves, set for release September 15 via Better Noise Records. Listen to the track HERE. The album is available for pre-order now at all digital retailers along with exclusive merch packages, signed vinyl and CDs at PledgeMusic.
Nothing More will perform at the Monster Energy Aftershock Festival in Sacramento, California on Saturday, October 21. For more information on tour dates, visit: http://nothingmore.net/. For information on Monster Energy Aftershock, visit: www.aftershockconcert.com.
PURCHASE/STREAM "GO TO WAR"
APPLE | SPOTIFY | AMAZON | GOOGLE
FOR MORE INFORMATION ON NOTHING MORE, VISIT:
WEBSITE | FACEBOOK | INSTAGRAM | TWITTER
ASSETS:
BIO | PRESS PHOTO | ALBUM ARTWORK
---
Nothing More Media Contacts:
Jill Segal
212.334.3160 | Jill@E7LG.com

Chelsea Babits (tour)
212.334.3160 | Chelsea@E7LG.com
Monster Energy Aftershock Contacts:
Kristine Ashton-Magnuson/Ashton-Magnuson Media (publicity)
kristine@am-media.net; (818) 996-2496

Clay Busch/Danny Wimmer Presents (marketing & sponsorship)
clay@dwpresents.com