Date: June 30, 2017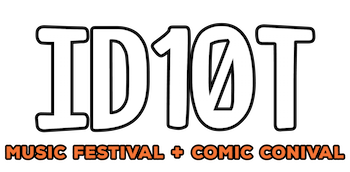 ID10T Music Festival + Comic Conival
Created and Hosted by Comedian Chris Hardwick
Wraps Its Inaugural Year With Thousands In Attendance
June 24th & 25th in Silicon Valley, CA
Los Angeles, CA (June 30, 2017) — Thousands of music, comedy, comics and pop culture lovers congregated for the inaugural ID10T Music Festival & Comic Conival, a groundbreaking, first-of-its-kind experience, created and hosted by Chris Hardwick.
A diverse group of attendees — many of whom were sporting impressive cosplay attire — roamed the Shoreline Amphitheatre and surrounding grounds in Mountain View, CA on Saturday, June 24th and Sunday, June 25th. Each day kicked off with panels, which were overflowing with patrons. Some highlights include Mystery Science Theatre 3000 playing clips from the new season of the reboot, The Magicians discussing the upcoming season, and during the Animaniacs Live! sing-a-long, cheers could be heard from across the venue as the original voices from the show broke into a quick live rendition of the show's theme song. Throughout the day, fans explored comic vendors, displays, and artist signings, with a number of themed discussions in the artist alley. Roaring laughter could be heard coming from the comedy shows, which included a surprise guest set from Chris Hardwick on both nights. Fans rushed the Mad Decent Dance Tent upon opening to grab a spot to dance. On the main stage, Saturday headliner Weezer played to a packed crowd that sang along to every lyric, and Sunday headliner Girl Talk concluded the festival by filling the stage with fans for a full on dance party.
"ID10T Festival was an out of this world, incredible experience and I want to personally thank each and every one of you that came out and joined us this past weekend," said Chris Hardwick. "Whether you were there for music, comedy, panels, artists or just to get the dust off your cosplay, you helped make ID10T more than just a festival—you made it a community. I was blown away by how much joy resonated from every section of the Shoreline grounds and can't wait to do it again next year!"
ID10T co-creator Rob Tweedie said, "What an amazing weekend! This festival was something that had never been done before, but absolutely needed to exist. The sense of celebration and unity was undeniable, and I think everyone from fan to exhibitor to artist to panelist to comedian to musician felt it. It really was a dream come true."
ID10T co-creator Lee Loughridge added, "With over two years in the making, it was great to see all of this finally come together. I feel like people couldn't wrap their heads around the concept initially, but after seeing our vision come to life, now they get it. I really think we are onto something."
The two-day festival featured panels from: Portlandia, Mystery Science Theater 3000, The Magicians, Animaniacs Live!, Harmontown, Stan Against Evil, Con Man, and Futurama; live Nerdist podcast tapings including a Hostful Nerdist podcast, Bizarre States podcast, and Comic Book Panel podcast; comedy sets from Michael Che, Demetri Martin, Garfunkel & Oates, Nikki Glaser, Brian Posehn, Michael Ian Black, Greg Proops, Mike Phirman, Brent Weinbach, Jonah Ray, Matt Braunger, Marcella Arguello, Dan Mintz, Hampton Yount, Adrian McNair, Natasha Muse, Irene Tu, and April Richardson; live music from Weezer, Girl Talk, Madeon, Zeds Dead, OK Go, TV On The Radio, Troyboi, Animal Collective, Crystal Castles, Lord Huron, Jai Wolf, Party Favor, Car Seat Headrest, The Mowgli's, Gryffin, Ape Drums, Robert DeLong, Mothers, 4B, Ron Gallo, Tank And The Bangas, Wax Motif, John Beaver and Sweet Crude; and a number of comic themed discussions, signings, and more in the artist alley. A full list of participating guests and talent can be seen at: http://id10tfest.com/guests/
Additional highlights include the Saban's Power Rangers laser tag course from Lionsgate/Nerdist, which had a steady line both days and featured a special appearance from the Yellow Ranger and Blue Ranger themselves, Becky G and RJ Cyler. Toyota and their interactive experiences, including Catch Me If You Can (a virtual reality demo featuring the Toyota CH-R) and Pick Your Poison (attendees could choose a drink concoctions), were a hit, KRAVE Jerky had life sized Jenga that had fans screaming and cheering each other on all weekend to see who could make it to the top, and Jelly Belly got fans bean boozled, daring attendees to compare some of their tastiest and most popular flavors with the craziest ones. Snickers partnered with April Richardson as their unofficial spokesperson for the weekend, kicking off on Friday night as she hosted ID10T's 'Drink and Draw' launch party. They also partnered with comic book artist Andrew Robinson to create original drawings for their photo booth activation and sketch live drawings onsite portraying how fans feel different on the inside when they don't have a Snickers.
Here is what some of the press had to say about ID10T Music Festival & Comic Conival's debut year:
"Move over San Diego, this is the Con to see."

— AfterBuzz TV

"The Hardwick-created festival fills a need for all things nerd that area residents couldn't have gotten in at Silicon Valley Comic Con or even Outside Lands. You have comedy, movies and television, music, and a little bit of stuff in between to enjoy. There's not much else to ask for under a bright sun and following moonlight."

— BlogCritics

"The atmosphere was rife with possibility; a relaxed sense that one could explore at their own pace the things they already knew they loved and the things they were about to find out they loved. Where else could you watch a Demetri Martin set after getting Babs Tarr to sketch you a Batgirl, but before heading over to catch a minute of a Portlandia panel on your way to the TV On The Radio performance, all while eating a taco? It's precisely that mix of interests, like putting your brain iPod on shuffle, that's the biggest appeal and combined with what we discovered to be a thoroughly engaging comic convention experience, ID10T Fest's future potential is as rich as its inaugural's effort sense of enthusiasm."

— All-Comic

"Chris Hardwick's inaugural ID10T Fest took place last weekend, and brought just about everything you could want in a festival — music, comedy, television, comics, and a whole lot more. It was an eclectic mix of worlds that came together for one hell of a good time."

— The Line Of Best Fit

"In a world oversaturated with summer festivals, ID10T brought together one of the most diverse festival crowds to date…if next year's festival is anything like this one, it's sure to be added to your must-see list."

— The Bay Bridged

"The first attempt by ID10T Fest to combine comics, comedy and music proved to be a success as fans of all ages and medias came together at Shoreline Amphitheatre for Comic Con-style entertainer panels and comic book showcase, stand-up comedy, and music…"

— Riff Magazine
ID10T is produced by Live Nation and Synergy Global Entertainment (SGE).
ID10T partnered with the following sponsors in its inaugural year: SiriusXM, Monster Energy, hosting the ID10T Comedy Stage, Toyota, the exclusive automotive partner, Snickers, Krave Jerky, Peet's Coffee and Tea, Musicians Institute, Lyft, and many more.
For more information on ID10T Music Festival & Comic Conival, please visit:
---
About Live Nation Entertainment:
Live Nation Entertainment (NYSE: LYV) is the world's leading live entertainment company comprised of global market leaders: Ticketmaster, Live Nation Concerts, Live Nation Advertising & Sponsorship and Artist Nation Management. For additional information, visit www.livenationentertainment.com.
About Synergy Global Entertainment, Inc.:
Synergy Global Entertainment, Inc. (SGE) is one of the world's premier music festival production companies. With hundreds of live events worldwide each year, SGE works with agencies, brands and musical talent to produce or co-produce concerts across various genres and interests. SGE produces and curates Funny Or Die's ODDBALL Comedy And Curiosity Festival, Ohana Dana Point, and co-produces a number of craft beer & music festivals including Driftwood — Orange County's biggest country festival on the sand. In addition, SGE co-produced the Rockstar Energy Drink Mayhem Festival and the worldwide Rockstar Taste of Chaos, produced the Rockstar Energy UPROAR Festival and conceived and developed KNOTFEST with Slipknot and 5B Artist Management. SGE has also produced many other national festivals and tours. SGE senior staff have a combined 60 years of experience in artist management, large scale festival production and brand integration, and have worked with artists as diverse as Guns N' Roses and The Cure. SGE excels at integrating brands' needs with large scale musical entertainment.
About Chris Hardwick:
Chris Hardwick is a comedian, actor, TV host, author, writer, producer, and podcaster whose quick wit and up-to-the-minute intellect have made him the voice for a generation of pop culture enthusiasts. Hardwick currently serves as founder, CEO, and creative head of Nerdist Industries, a media empire under the Legendary Digital Network that includes Hardwick's own incredibly successful Nerdist Podcast, which he continues to host weekly and garners over 5.5M downloads per month. Additionally, he serves as host and executive producer of Comedy Central's two-time Emmy Award-winning nightly comedy game show @midnight; host and executive producer of NBC's hit game show series The Wall; and host and executive producer of several AMC programs as part of his extensive multi-year deal, including the highly rated Talking Dead, Talking Dead: Fear Edition, Talking Saul, Talking Preacher, and the newly-announced extension series Talking with Chris Hardwick. Off-screen, he continues to tour the country as a standup comedian. His latest comedy special, Funcomfortable, premiered on Comedy Central in April 2016 and is currently available across digital platforms.
Media Contacts:
Ashley Di Buduo, ashley@a12entertainment.com, (323) 379-9684
Kelly Walsh, kellyohnopr@gmail.com, (585) 765-5162
Kristine Ashton-Magnuson, kristine@am-media.net, (818) 996-2496