Date: July 19, 2017
From: Kristine Ashton-Magnuson / Selena Fragassi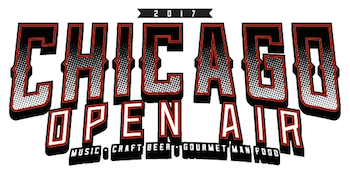 Chicago Open Air:
America's Greatest Metal Experience Unites Fans;
70,000 In Attendance For 3-Day Music Festival
July 14-16 At Toyota Park In Bridgeview, IL
With Ozzy Osbourne, KISS, Korn,
Rob Zombie, Slayer, Godsmack, Megadeth, Stone Sour & Many More
The rock and metal community came out in force for the second annual Chicago Open Air festival, July 14, 15 and 16 at Toyota Park in Bridgeview, IL. There were 70,000 in attendance for America's Greatest Metal Experience which featured a rare U.S. festival appearance from rock legends KISS, and one of the first performances from Ozzy Osbourne since reuniting with guitarist Zakk Wylde after a decade apart.
The three-day festival featured over 40 music performances, also including Saturday headliners Korn, plus Rob Zombie, Slayer, Godsmack, Megadeth, Stone Sour (who currently hold the #1 spot on the Billboard Top Hard Rock Albums Chart with Hydrograd), Seether, Anthrax, Lamb of God, Meshuggah, Amon Amarth (with an elaborate stage production featuring a Viking ship façade and a Nordic battle), and many more on the Main Stage and the BlackCraft Stage.
Check out Chicago Open Air video highlights here:
www.facebook.com/chiopenair/videos/450241542020687/
Chicago Open Air also gave the stage to up-and-coming acts like the Boston-based extreme melodic metal band Aversed, who was handpicked by their fellow students to play the festival as part of a Berklee Popular Music Institute program, and Michigan metalcore act For We Are Many.
Chicago Open Air brought fans, media, and bands from around the U.S. and throughout the world to Chicago. Media outlets came from as far as England, China, Mexico, Canada, and Finland, while bands represented the best from the U.S., U.K., Sweden, Poland, and South Africa.
Clay Busch, Vice President of Marketing for Danny Wimmer Presents explains, "After the incredible debut of the Chicago Open Air festival in 2016, we knew we had to come back even bigger and better in 2017. We have our great heavy metal family in the Chicago area to thank for welcoming us back so strongly and showing us there is a community of fans here that enjoys coming together in the spirit of music. We look forward to building on that relationship in the years to come and solidifying Chicago Open Air as America's greatest heavy metal experience."
Here's a sample of the media's positive feedback on Chicago Open Air:
"…one of the finest heavy line-ups of the summer descended on Chicago for the second annual Chicago Open Air festival…Every single era of heavy music is represented in some form at COA this year, with everything from stadium metal to grindcore getting a showing across the weekend — and the honest result is that it only goes to show how strong the scene is at the moment. When you've got everyone from legends like Slayer and Korn, to modern heavyweights like Lamb Of God and Amon Amarth, to rising young bloods like Code Orange and Avatar all on damn fine form, it's hard not to be excited as fuck about where the genre is at." (Merlin Alderslade, Metal Hammer, July 18, 2017)

"The 2017 edition of Chicago Open Air rocked the Windy City over the weekend, and it featured a dream lineup for metal and hard rock fans." (Loudwire.com, July 17, 2017)

"In its second year Chicago Open Air shows it's got the heavy-rock market cornered…The festival also captures the breadth of the genre while leaving itself open to people with only scant knowledge of metal." (Leor Galil, Chicago Reader, July 6, 2017)

"Rock and Metal Fans…Chicago Open Air needs to be in your list of TOP musical destinations." (Tattoo.com, July 16, 2017)
In addition to music, a number of special events, onsite attractions, and festival partners make Chicago Open Air a must-attend destination.
The festivities got underway with the Chicago Open Air Kickoff Dinner at Kuma's Corner (2900 W. Belmont) on Thursday. The event was hosted by Jose Mangin from SiriusXM's Liquid Metal and attendees enjoyed Kuma's famous heavy metal-themed burgers, appetizers, and craft beer.
Chicago Open Air featured a variety of unique entertainment offerings to go along with its incredible music, food, and beverage lineup, including the Monster Energy Experience (featuring signings with Chicago Open Air artists), Headbangers Bier Hall: Presented by Decibel Magazine (a metal themed dive bar featuring national and regional craft beers and artist inspired beverages), the Jack Daniel's Experience, The Music Experience, Ellefson Coffee House, Caduceus Cellars & Merkin Vineyards Wine Garden, Heavy Tiki Bar, Kuma's Corner, BlackCraft apparel shop, FYE Fan Experience (hosting signings and pop-up performances with artists from participating record labels Roadrunner, Century Media / Another Century, Nuclear Blast / SharpTone Records, Spinefarm and Razor & Tie), Fxck Cancer and the Dyin 2 Live Dreams program, and the Take Me Home animal rights advocacy foundation.
Chicago Open Air is produced by Danny Wimmer Presents, Live Nation and Toyota Park, with the support of the Village of Bridgeview and Bridgeview Mayor Steven Landek.
Chicago Open Air sponsors include: Monster Energy, Jack Daniel's, FYE, Revolution Brewing, BlackCraft Clothing, Ellefson Coffee, Dyin 2 Live / Fxck Cancer, Take Me Home Animal Rescue, The Music Experience, Razor & Tie, Nuclear Blast, Sharptone, Spinefarm, Roadrunner Records, and Century Media Records.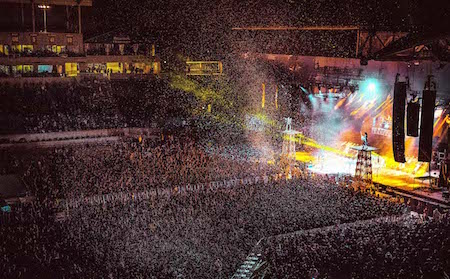 (KISS)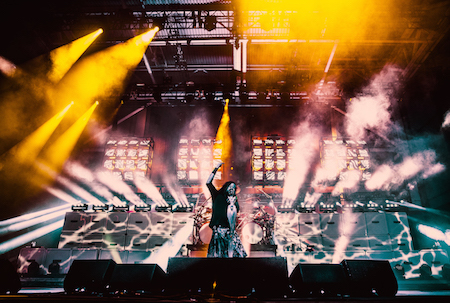 (Korn)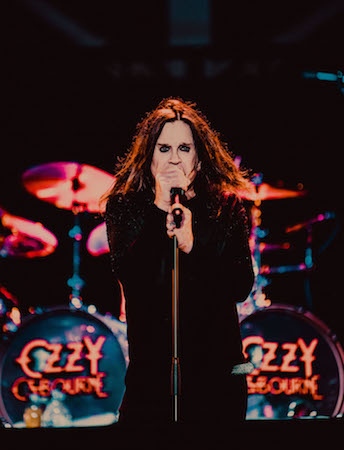 (Ozzy Osbourne)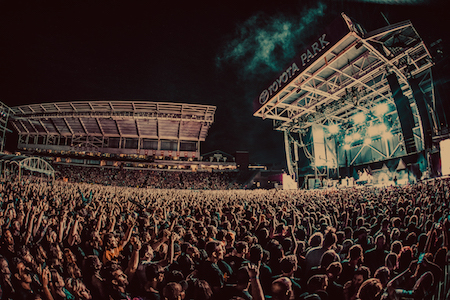 (Ozzy Osbourne)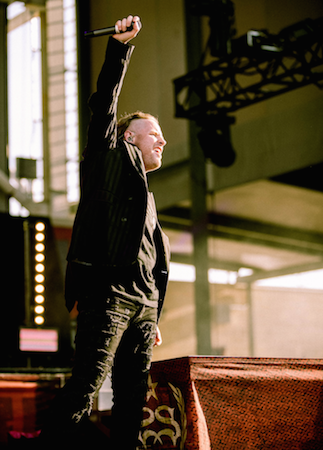 (Corey Taylor of Stone Sour)
(All photos by Steve Thrasher, courtesy of Danny Wimmer Presents)
---
About Danny Wimmer Presents:
Since 1993, music industry veteran Danny Wimmer has been producing concerts and festivals, both large and small. In 2011, he formed Danny Wimmer Presents, which now produces several of the largest rock and alternative festivals in the U.S. By combining A-list talent with local cuisine and culture, DWP has become recognized within the industry for delivering the highest-quality entertainment experiences to fans, artists, sponsors, partners and host cities. DWP creates memorable and all-encompassing festival experiences, leaving both consumers and partners with lasting and meaningful impressions. With 580,000 fans attending all DWP festivals in 2015, and 10 billion media impressions, DWP will continue to add new music festivals to its already stellar portfolio, which includes Rock On The Range, Monster Energy Aftershock Festival, Monster Energy Welcome To Rockville, Monster Energy Carolina Rebellion, Louder Than Life, Bourbon & Beyond, and Monster Energy Rock Allegiance, among others.
www.DannyWimmerPresents.com
About Live Nation Entertainment:
Live Nation Entertainment (NYSE: LYV) is the world's leading live entertainment company comprised of global market leaders: Ticketmaster, Live Nation Concerts, Live Nation Media & Sponsorship and Artist Nation Management. For additional information, visit www.livenationentertainment.com.
About Toyota Park:
Toyota Park is located at 7000 South Harlem Avenue in Bridgeview, IL. It's the heart of soccer for much of the Midwest and a must-see destination for world-class concerts and other sporting events. Toyota Park is conveniently located in Bridgeview near I-294 and-I-55, within an easy drive from every corner of the Chicago area. Just 15 miles from Chicago's Loop, Toyota Park offers ample parking and is served by PACE buses and shuttle links with the nearby CTA Midway Orange Line station.
www.toyotapark.com
Chicago Open Air Publicity Contacts
Kristine Ashton-Magnuson/Ashton-Magnuson Media: kristine@am-media.net; (818) 996-2496
Selena Fragassi/Ashton-Magnuson Media: selena@fr-pr.net; (847) 942-3093
Chicago Open Air Marketing & Sponsorship Contact
Clay Busch/Danny Wimmer Presents: clay@dwpresents.com
Live Nation Publicity Contact
Taylor Heydlauff/Live Nation — Midwest: TaylorHeydlauff@livenation.com; (312) 260-9176
Village Of Bridgeview Publicity Contact
Ray Hanania: RGHanania@gmail.com; (312) 933-9855