Date: September 1, 2017
From: Kristine Ashton-Magnuson / Selena Fragassi

"Fall For All" U.S. Music Festival Series
Amps Up In October With A Month Of Rock Music
At Louder Than Life, Monster Energy Rock Allegiance,
Monster Energy Houston Open Air And
Monster Energy Aftershock Festivals
Tickets On Sale Now, Including Special
30% Off Promotion For Labor Day Weekend

Details Released Soon On Danny Wimmer Presents'
Support For The Relief Efforts in Houston
Rock fans around the country can look forward to the start of the Fall For All festival series hitting major U.S. cities in September and October. Created by Danny Wimmer Presents, the Fall For All series features some of the biggest names in rock and metal music performing over four consecutive weekends. Visit www.TheFallForAll.com for all the details.
The Fall For All festival dates, locations and details are as follows:
Louder Than Life

:

September 30 & October 1

in Louisville, KY

Monster Energy Rock Allegiance

:

October 7

in Camden, NJ

Monster Energy Houston Open Air

:

October 14 & 15

in Houston, TX

Monster Energy Aftershock

:

October 21 & 22

in Sacramento, CA
Tickets are on sale now, with a special Labor Day offer happening this weekend only. Tickets for Louder Than Life and Monster Energy Aftershock are 30% OFF all ticket types, starting Friday, September 1 at midnight and running through Monday, September 4 at 11:59 PM local time. Monster Energy Rock Allegiance ticket 4-packs will be available for $99 during the Labor Day weekend sale.
Danny Wimmer Presents will also be giving away "Rock Boxes" for all the festivals during the Fall For All series. Each Rock Box will include tickets to the festival, items from record labels and bands, and more special goodies! Every box is unique, and filled with merchandise and swag.
For more information, visit: www.TheFallForAll.com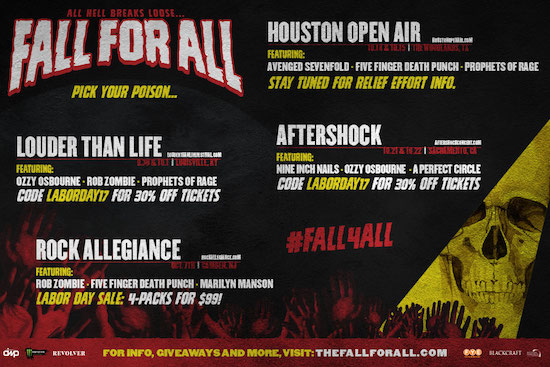 ---
About Danny Wimmer Presents
Since 1993, music industry veteran Danny Wimmer has been producing concerts and festivals, both large and small. In 2011, he formed Danny Wimmer Presents, which now produces several of the largest rock and alternative festivals in the U.S. By combining A-list talent with local cuisine and culture, DWP has become recognized within the industry for delivering the highest-quality entertainment experiences to fans, artists, sponsors, partners and host cities. DWP creates memorable and all-encompassing festival experiences, leaving both consumers and partners with lasting and meaningful impressions. DWP will continue to add new music festivals to its already stellar portfolio, which includes Rock On The Range, Monster Energy Aftershock, Monster Energy Welcome To Rockville, Monster Energy Carolina Rebellion, Louder Than Life, Bourbon & Beyond, Monster Energy Houston Open Air, Monster Energy Rock Allegiance, and Chicago Open Air, among others.
www.DannyWimmerPresents.com
Fall For All Publicity Contacts
Ashton-Magnuson Media
Kristine Ashton-Magnuson, kristine@am-media.net; (818) 996-2496
Selena Fragassi, selena@fr-pr.net; (847) 942-3093
Fall For All Marketing Contact
Clay Busch/Danny Wimmer Presents, clay@dwpresents.com
Fall For All Sponsorship Contact
Erica Shlafer/Danny Wimmer Presents, erica@dwpresents.com