Date: September 8, 2017
From: Kristine Ashton-Magnuson / Selena Fragassi

Band Performance Times Announced For
Louder Than Life
At Champions Park In Louisville, KY
Saturday, September 30 & Sunday, October 1
Featuring Ozzy Osbourne, Prophets Of Rage,
Five Finger Death Punch, Incubus, Rob Zombie & More
Onsite Attractions Including
Bourbon World Presented By The Louisville Courier-Journal,
Heavy Tiki, Rock 'N Roll 'N BBQ, The Big Easy Boil, Love & Fire
Celebrate The World's Top Bourbon, Music & Louisville Cuisine

Limited Tickets & VIP Packages On Sale Now At
LouderThanLifeFestival.com
"Louisville: The Home Of Bourbon.
Great People. Great Food."
Performance times have been announced for the 35-plus bands playing the fourth annual Louder Than Life, Saturday, September 30 and Sunday, October 1 at Champions Park in Louisville, KY.
Rock legend Ozzy Osbourne — recently reunited with guitarist Zakk Wylde for the first time in over a decade — leads a Saturday bill that includes Five Finger Death Punch, Rob Zombie, Mastodon and many more. Prophets of Rage — bringing together the sonic firepower of Rage Against The Machine, Public Enemy and Cypress Hill, with members Tom Morello, Tim Commerford, Brad Wilk, Chuck D, B-Real, and DJ Lord — closes Louder Than Life on Sunday after sets from Incubus, Rise Against, Stone Sour and more.
Louder Than Life band performance times are as follows (subject to change). Festival doors open at 11:00 AM each day.
Saturday, September 30
Monster Energy Stage
| | |
| --- | --- |
| 10:00 PM | Ozzy Osbourne featuring Zakk Wylde |
| 7:50 PM | Rob Zombie |
| 6:10 PM | Halestorm |
| 4:45 PM | Hollywood Undead |
| 3:25 PM | Of Mice & Men |
| 2:10 PM | Sleeping With Sirens |
| 1:00 PM | For We Are Many |
Loudmouth Stage
| | |
| --- | --- |
| 8:55 PM | Five Finger Death Punch |
| 7:00 PM | Mastodon |
| 5:25 PM | Gojira |
| 4:05 PM | Eagles of Death Metal |
| 2:45 PM | Starset |
| 1:35 PM | New Years Day |
| 12:25 PM | Palisades |
Zorn Stage
| | |
| --- | --- |
| 5:40 PM | Steel Panther |
| 4:35 PM | Fire From The Gods |
| 3:30 PM | Through Fire |
| 2:30 PM | DED |
| 1:30 PM | He Is Legend |
Sunday, October 1
Monster Energy Stage
| | |
| --- | --- |
| 8:45 PM | Prophets of Rage |
| 6:45 PM | Rise Against |
| 5:10 PM | Thrice |
| 3:45 PM | Falling In Reverse |
| 2:30 PM | Beartooth |
| 1:20 PM | Joyous Wolf |
Loudmouth Stage
| | |
| --- | --- |
| 7:40 PM | Incubus |
| 5:55 PM | Stone Sour |
| 4:25 PM | The Pretty Reckless |
| 3:05 PM | Nothing More |
| 1:55 PM | Greta Van Fleet |
| 12:45 PM | Black Map |
Zorn Stage
| | |
| --- | --- |
| 5:15 PM | In This Moment |
| 4:15 PM | Lacuna Coil |
| 3:15 PM | Radkey |
| 2:15 PM | Ocean Grove |
| 1:15 PM | '68 |
| 12:15 PM | Biters |
Limited tickets and VIP packages are still on sale while supplies last at www.LouderThanLifeFestival.com, where concertgoers can also find more information about camping packages and discounted online hotel rates available through Curadora. General Admission ticket discounts are also available for active military through Louder Than Life partner GovX (www.govx.com).
All Louder Than Life camping passes include campsite space for 3 nights as well as access to campground bathrooms, showers, food and beverage concession stands, and a general store. Campers also have in and out privileges between the campground and festival grounds throughout the event. Car (tent) camping passes are $99.00 and RV camping passes are $175.00.
Produced by Danny Wimmer Presents, America's premier production company for rock music festivals, Louder Than Life features a selection of award-winning bourbons, whiskey, spirits, craft beer, the best food Louisville has to offer, along with a powerful music lineup of rock legends and breaking talent performing on three stages. The festival celebrates the bourbon culture and culinary heritage of this unique American city, with onsite attractions from the following partners:
Bourbon World presented by the Louisville Courier-Journal:

With 95% of the world's bourbon coming from Kentucky, we have hand selected our favorite distilleries to create a unique opportunity to sample bourbons and exclusive one-time specialty cocktails from inside the World's Loudest Bourbon Tent. Featuring the world's top bourbons including: 1792, Angel's Envy, Barrell, Basil Hayden, Blade And Bow, Buffalo Trace, Bulleit, Coopers' Craft, Eagle Rare, Ezra Brooks, Four Roses, Jefferson's, Jim Beam, Knob Creek, Larceny Bourbon, Maker's Mark, Michter's, Old Forester, Old Scout, Peerless Rye, Rabbit Hole, Rebel Yell, W.L. Weller, Woodford Reserve and more!

It's Miller Time VIP Lounge:

The VIP area includes LED screens featuring video feed from all three main stages; VIP dedicated restrooms; upgraded food; upgraded bourbon and cocktail selections; shaded VIP pavilion with chairs, tables and couches adjacent to the VIP viewing area (exclusive view of North and South main stages from a seated and standing area located near main stage South). Miller Lite will also have a mobile sports bar in the VIP area where you can watch college and pro football games all weekend long. VIP food offerings will include: Pie Baby, Cheese Louise, Martin's BBQ, Blackbeard Espresso and Mike's Prime Rib.

Monster Energy Experience:

Monster Energy will be keeping all fans fueled up and ready to rock by offering free sampling on their Monster Energy viewing deck. Enjoy Monster Energy drinks from one of the best seats in the house. Make sure to check back throughout the festival for a schedule of Monster Energy's interactive artist experiences. Most companies spend their money on ad agencies, TV commercials, radio spots and billboards to tell you how good their products are. At Monster Energy, we chose none of the above. Instead we support the scene, our bands, our athletes and our fans. We back athletes so they can make a career out of their passion. We promote concert tours, so our favorite bands can visit your hometown. We celebrate with our fans and riders by throwing parties and making the coolest events we can think of a reality.
Website: www.monsterenergy.com/us/en/music
Facebook: www.facebook.com/monsterenergy
Instagram: www.instagram.com/monsterenergy/
Twitter: https://twitter.com/monsterenergy
#monsterenergy #monstermusic

Jack Daniel's Experience:

Jack Daniel's will once again bring a "Taste of Tennessee" to music festivals around the country this year. We invite visitors to come out and tour the nation's oldest registered distillery from outside the Jack Daniel's Hollow. The Jack Daniel's Experience, a mobile museum, is bringing a little of the much-loved distillery from Lynchburg to anywhere in the USA. You'll learn who Mr. Jack Daniel was and how he ended up with the best selling whiskey in the world. You'll see (and smell) whiskey dripping slowly through charcoal and the new oak barrels used in maturing Tennessee's finest whiskey. Once you tour the Experience and spend some time with the folks from Jack, it'll make you want to plan a visit to Lynchburg, Tennessee to see how and where we've made Jack Daniel's since 1866. The Experience is open to all folks, 21 years old and up, for tours free of charge. Games and giveaways will also be part of the entertainment at various times throughout the festival.
Website: www.jackdaniels.com
Facebook: www.facebook.com/jackdaniels
Instagram: www.instagram.com/jackdaniels_us/
Twitter: https://twitter.com/JackDaniels_US
#jackdaniels #drinkresponsibly

Zippo Encore:

Zippo Encore will be back in action at Louder Than Life with a full stock of Zippo lighters, including the limited edition festival designs! Come by and check out their contests and giveaways or get a free lighter fill or tune-up. Be sure to bring your Zippo lighter to the festival, it could be your ticket to a special experience.
Website: www.zippo.com
Facebook: www.facebook.com/zippoencore
Instagram: www.instagram.com/ZippoEncore/
Twitter: https://twitter.com/ZippoEncore
#zippo #zippoencore

FYE Fan Experience:

FYE is the only place at the festival to get all your favorite bands' music — and maybe even get to meet your favorite Louder Than Life performer! Check back for updates on artist meet & greet and autograph signing sessions! At the FYE Fan Experience, various bands from participating record labels Century Media/Another Century Records, Razor & Tie, Roadrunner Records, and more will take part in pop-up fan experiences such as meet & greets, acoustic performances, and Q&As. You never know what will happen in the FYE Fan Experience.
Website: www.fye.com/
Facebook: www.facebook.com/FYE
Instagram: www.instagram.com/officialfye/
Twitter: https://twitter.com/officialfye


Caduceus Wine Garden:

This wine garden will highlight Caduceus Cellars and Merkin Vineyards, owned by Arizona resident Maynard James Keenan, co-founder of international recording acts Tool, A Perfect Circle, and Puscifer. Having already dove headfirst into this venture, Maynard found out from a distant relative that wine making is in his blood. His Great Grandfather, "Spirito" Marzo, had vineyards and made wine in Venaus, Italy, just North of Turino in Piemonte.
Website: www.caduceus.org/

Craft Beer (Regional) & Artist Inspired Beverages:

Alltech Lexington, Caduceus Cellars, Falls City Beer, Goodwood Brewing Company, New Albanian Brewing Company, Sierra Nevada, TROOPER Beer, West Sixth Brewing

The Angry Tree Bar presented by Angry Orchard:

The Angry Tree Bar is one of the major focal points at Louder Than Life. Decorated with incandescent glowing apples hanging from the branches and featuring impressive wooden carvings that capture the essence of the Angry Orchard brand, this enchanting refreshment station will offer festivalgoers the perfect place to relax and catch the show, all while enjoying a curated lineup of Angry Orchard ciders and specialty cocktails.

Food Village:

502 Café, Baxter's Grill, Black Rock Grill, Boss Hog BBQ, Brazilian Bistro, Chicago's Dog House, Doc Crow's, Gelato Gilberto, Gospel Bird, Holy Mole Tacos, I Love Spicy Pie Pizza, Island Noodles, Longshot Lobsta, Mike's Kentucky Kitchen, Midway Café, Oli's Tots, Phat Daddy's Creole, Pie Baby, Red Top Dogs, Texas Taco Depot, The Big Cheesy, The Manhattan Project, Tumbleweed, Up In Smoke BBQ, Voodoo Chicken & Waffles and many more.

Experience Louisville:

Check out an exclusive list of bourbon distillery and related attractions brought to you by the City of Louisville at discounted prices.
www.louderthanlifefestival.com/experiences/#experience-louisville

The Music Experience:

The Music Experience features all the elements that are involved in making music in a professional band setting. The interactive exhibit features guitars, basses, amps, drums, keyboards, and electronic gear that are used by today's most popular bands. After laying your hands on the hottest equipment available, you will walk away feeling like a rock star and you may even see one there, too! Come and meet your favorite band members form the festival at The Music Experience Tent. You can win free amps, free guitars and get tons of other free stuff, as well.
Website: www.themusicexperience.com/about/
Facebook: www.facebook.com/TheMusicExp/
Instagram: www.instagram.com/tmexp/
Twitter: https://twitter.com/themusicxp

Heavy Tiki Bar:

The dark side of Tiki is through the totems where savages and beasts enjoy Scorpion Bowls and Zombie cocktails—all in the name of tropical leisure. The Tiki Gods are looking for a good time and they have come to Louder Than Life to find it! At the Heavy Tiki Bar, fans will find an oasis filled with killer cocktails, shade, and seating areas.

The Big Easy Boil presented by Southern Comfort:

The Big Easy drops into Louder Than Life with celebrity guest chefs, incredible New Orleans music, and pitchers of refreshing Southern Comfort cocktails. Oh, did we mention over half a ton of delicious seafood? Yeah, that's coming too.

Rock 'N Roll 'N BBQ hosted by Maker's Mark:

Welcome to Louder Than Life's backyard barbecue party. The biggest classic hits, classic cocktails, and good-to-the-bone barbeque.

Love & Fire presented by Larceny Bourbon:

LOVE & FIRE will feature delicious Larceny Bourbon cocktails and incredible grilled specialties from renowned local Louisville Chefs as well as several surprise guest chefs. Open to all festivalgoers, every attendee will have the chance to win special prizes by spinning the LOVE & FIRE prize wheel, including a seat at the LOVE & FIRE tasting table where prizewinners will learn the intricacies of cooking over a live fire while tasting different dishes paired with Larceny Bourbon.

Down The Rabbit Hole Speakeasy:

Rabbit Hole invites you to go Down The Rabbit Hole into an exclusive bar hidden off the beaten path featuring cocktails by Proprietors LLC, the team behind Death & Co. That's all we can say for now — figuring out how to get in will be entirely up to you!

Dyin 2 Live / Fxck Cancer:

The Dyin 2 Live DREAMS Program is a wish-granting organization whose purpose is to try and enrich the lives of those fighting cancer by offering them an experience that will bring hope and inspiration to their lives. In doing this, we hope it can help give them a chance to forget, even if it's only for a day what they are battling. Through our extensive network of friends, supporters, and affiliates, we are able to reach out to individuals and present them with one of a kind experiences and opportunities that arise. We feel a Dyin 2 Live Dream can offer a source of inspiration for those undergoing difficult medical treatments and be a positive force that offers a life-changing impact not only on them, but also the family to overcome their obstacles. If you are currently fighting cancer or know of someone in the fight who could benefit from a Dyin 2 Live Dream, please submit your story and tell us why and how a Dyin 2 Live day would help. Also, anyone interested in being a supporter, volunteer, or donor, please contact us at mywish@dyin2live.org.
Website: www.Dyin2Live.org
Facebook: www.facebook.com/Dyin2LiveDREAMS and www.facebook.com/FxckCancerUSA
Instagram: www.instagram.com/Dyin2LiveDreams and www.instagram.com/FxckCancer

Take Me Home:

Take Me Home (TMH) has been saving the lives of homeless animals since 2001. TMH was founded as an animal rights advocacy foundation saving orphaned animals and striving to end animal overpopulation. TMH works in conjunction with shelters and rescues throughout California and beyond to help save animals on death row, on the streets, or in unsafe living conditions. Stop by their booth for custom gear and contribute to a great cause.
Website: www.takemehome.tv
Louder Than Life is produced by Danny Wimmer Presents, a producer of some of the biggest rock festivals in America, including Rock On The Range, Monster Energy Aftershock, Monster Energy Welcome To Rockville, Monster Energy Fort Rock, Monster Energy Carolina Rebellion, Chicago Open Air, Bourbon & Beyond, Monster Energy Rock Allegiance, Northern Invasion, Houston Open Air and more.
Additional sponsors for Louder Than Life include Jack Daniel's, Tito's Vodka, Black Craft Cult, USMC and more.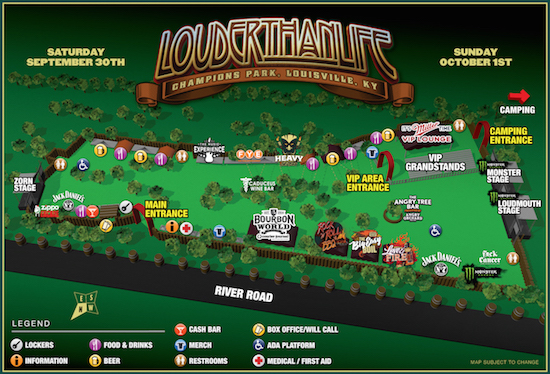 ---
About Danny Wimmer Presents
Since 1993, music industry veteran Danny Wimmer has been producing concerts and festivals, both large and small. In 2011, he formed Danny Wimmer Presents, which now produces several of the largest rock and alternative festivals in the U.S. By combining A-list talent with local cuisine and culture, DWP has become recognized within the industry for delivering the highest-quality entertainment experiences to fans, artists, sponsors, partners and host cities. DWP creates memorable and all-encompassing festival experiences, leaving both consumers and partners with lasting and meaningful impressions. DWP will continue to add new music festivals to its already stellar portfolio, which includes Rock On The Range, Monster Energy Aftershock Festival, Monster Energy Welcome To Rockville, Monster Energy Carolina Rebellion, Louder Than Life, Monster Energy Rock Allegiance, and Chicago Open Air, among others.
www.DannyWimmerPresents.com
Louder Than Life Publicity Contacts
Ashton-Magnuson Media
Kristine Ashton-Magnuson, kristine@am-media.net, (818) 996-2496
Selena Fragassi, selena@fr-pr.net, (847) 942-3093
Louder Than Life Marketing Contacts
Clay Busch/Danny Wimmer Presents, clay@dwpresents.com
Lindsey Medina/Danny Wimmer Presents, lindsey@dwpresents.com
Louder Than Life Sponsorship Contact
Erica Shlafer/Danny Wimmer Presents, erica@dwpresents.com