Date: September 18, 2017
From: Kristine Ashton-Magnuson / Selena Fragassi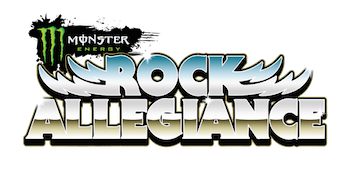 Band Performance Times Announced For
Monster Energy Rock Allegiance
At BB&T Pavilion And Wiggins Waterfront Park
In Camden, NJ On Saturday, October 7
Featuring Rob Zombie, Five Finger Death Punch,
Marilyn Manson, Halestorm, Mastodon & More

Onsite Attractions Include
Philly-Centric Food Offerings, Regional And National Craft Beer,
Band Meet-And-Greets, Autograph Signings & More

Limited Number Of General Admission Lawn Tickets
Still Available At RockAllegiance.com
Performance times have been announced for the 20-plus bands playing the third annual Monster Energy Rock Allegiance, part of Danny Wimmer Presents' Fall For All festival month, Saturday, October 7 at the festival's new location at BB&T Pavilion and Wiggins Waterfront Park in Camden, NJ.
The Northeast's biggest rock experience will feature performances from Rob Zombie, ‬‬‬Five Finger Death Punch, Marilyn Manson, Halestorm, Mastodon, Gojira, and more.
Monster Energy Rock Allegiance band performance times are as follows (subject to change). Festival doors open at 11:00 AM.
Main Stage
| | |
| --- | --- |
| 11:15 PM | Rob Zombie |
| 9:45 PM | Five Finger Death Punch |
| 8:00 PM | Marilyn Manson |
| 6:25 PM | Halestorm |
| 4:00 PM | In This Moment |
| 2:45 PM | Steel Panther |
| 1:35 PM | Radkey |
Stage 2
| | |
| --- | --- |
| 8:55 PM | Mastodon |
| 7:15 PM | Gojira |
| 5:45 PM | Beartooth |
| 4:45 PM | Greta Van Fleet |
| 3:25 PM | Joyous Wolf |
Stage 3
| | |
| --- | --- |
| 6:35 PM | August Burns Red |
| 5:10 PM | Starset |
| 3:50 PM | Black Map |
| 2:50 PM | DED |
| 1:50 PM | He Is Legend |
| 12:55 PM | Biters |
A limited number of General Admission lawn tickets are still on sale while supplies last at www.RockAllegiance.com, where concertgoers can also find more information about discounted online hotel rates available through Curadora.
Monster Energy Rock Allegiance will feature over 20 bands on three stages, along with other onsite activities from sponsors, including:
Craft Beer:

Monster Energy Rock Allegiance is proud to support beer entrepreneurship with a celebration of local breweries and specialty drafts hailing from throughout the nation. The lineup of regional and national craft beers at Monster Energy Rock Allegiance is as follows: 21st Amendment (San Francisco, CA), Dogfish Head (Milton, DE), Founders (Grand Rapids, MI), Neshaminy Creek (Croydon, PA), Oskar Blues (Longmont, CO), Spellbound Brewing (Mount Holly, NJ), Tröegs Independent Brewing (Hershey, PA), Unibroue (Chambly, QC), and Victory Brewing Company (Downington, PA).

Grub:

The festival will feature Philly-centric food offerings from food trucks, including: Baby Blues BBQ, Boardwalk Specialties, Champ's Steaks, Cheese It Up, Chewy's, Chickies & Pete's, Frozen Delights Ice Cream Truck, Guy Fieri's Burger Joint, Lil Trent's Treats, My Four Suns, Nico's Pizza and More!, PB & J's Lunch Box, P.J. Whelihan's, and Sum Pig.

Monster Energy Experience:

Monster Energy will be keeping all fans fueled up and ready to rock by offering free sampling on their Monster Energy viewing deck. Enjoy Monster Energy drinks from one of the best seats in the house. Make sure to check back throughout the festival for a schedule of Monster Energy's interactive artist experiences. Most companies spend their money on ad agencies, TV commercials, radio spots and billboards to tell you how good their products are. At Monster Energy, we chose none of the above. Instead we support the scene, our bands, our athletes and our fans. We back athletes so they can make a career out of their passion. We promote concert tours, so our favorite bands can visit your hometown. We celebrate with our fans and riders by throwing parties and making the coolest events we can think of a reality.
Website: www.monsterenergy.com/us/en/music
Facebook: www.facebook.com/monsterenergy
Instagram: www.instagram.com/monsterenergy/
Twitter: https://twitter.com/monsterenergy
#monsterenergy #monstermusic

FYE Fan Experience:

FYE is the only place at the festival to get all your favorite bands' music — and maybe even get to meet your favorite Monster Energy Rock Allegiance performer! Check back for updates on artist meet & greet and autograph signing sessions! At the FYE Fan Experience, various bands from participating record labels Century Media/Another Century Records, Razor & Tie, Roadrunner Records, Fearless Records, and more will take part in pop-up fan experiences such as meet & greets, acoustic performances, and Q&As. You never know what will happen in the FYE Fan Experience.
Website: www.fye.com/
Facebook: www.facebook.com/FYE
Instagram: www.instagram.com/officialfye/
Twitter: https://twitter.com/officialfye

Dyin 2 Live / Fxck Cancer:

The Dyin 2 Live DREAMS Program is a wish-granting organization whose purpose is to try and enrich the lives of those fighting cancer by offering them an experience that will bring hope and inspiration to their lives. In doing this, we hope it can help give them a chance to forget, even if it's only for a day what they are battling. Through our extensive network of friends, supporters, and affiliates, we are able to reach out to individuals and present them with one of a kind experiences and opportunities that arise. We feel a Dyin 2 Live Dream can offer a source of inspiration for those undergoing difficult medical treatments and be a positive force that offers a life-changing impact not only on them, but also the family to overcome their obstacles. If you are currently fighting cancer or know of someone in the fight who could benefit from a Dyin 2 Live Dream, please submit your story and tell us why and how a Dyin 2 Live day would help. Also, anyone interested in being a supporter, volunteer, or donor, please contact us at mywish@dyin2live.org.
Website: www.dyin2live.org
Facebook: www.facebook.com/Dyin2LiveDREAMS and www.facebook.com/FxckCancerUSA
Instagram: www.instagram.com/Dyin2LiveDreams and www.instagram.com/FxckCancer
Monster Energy Rock Allegiance is produced by Danny Wimmer Presents in association with Live Nation.
The festival is fueled by Monster Energy. Additional sponsors include FYE, Roadrunner Records, Razor & Tie, Century Media and Another Century, Fearless Records, CHRGR, and more.
For more information on Monster Energy Rock Allegiance, visit:
For more on Fall For All, visit: www.TheFallForAll.com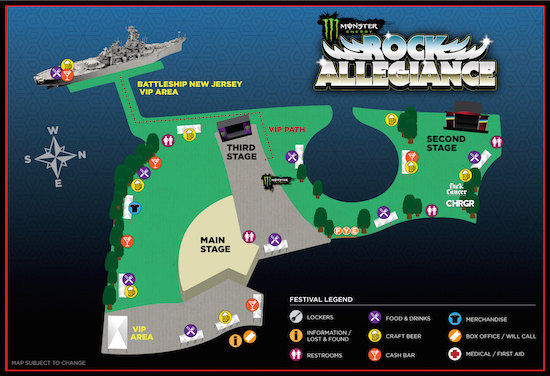 ---
About Danny Wimmer Presents:
Since 1993, music industry veteran Danny Wimmer has been producing concerts and festivals, both large and small. In 2011, he formed Danny Wimmer Presents, which now produces several of the largest rock and alternative festivals in the U.S. By combining A-list talent with local cuisine and culture, DWP has become recognized within the industry for delivering the highest-quality entertainment experiences to fans, artists, sponsors, partners and host cities. DWP creates memorable and all-encompassing festival experiences, leaving both consumers and partners with lasting and meaningful impressions. DWP will continue to add new music festivals to its already stellar portfolio, which includes Rock On The Range, Monster Energy Aftershock Festival, Monster Energy Welcome To Rockville, Monster Energy Carolina Rebellion, Louder Than Life, Monster Energy Rock Allegiance, and Chicago Open Air, among others.
www.DannyWimmerPresents.com
About Live Nation Entertainment:
Live Nation Entertainment (NYSE: LYV) is the world's leading live entertainment company comprised of global market leaders: Ticketmaster, Live Nation Concerts, Live Nation Advertising & Sponsorship and Artist Nation Management. For additional information, visit www.livenationentertainment.com.
About Monster Energy:
Most companies spend their money on ad agencies, TV commercials, radio spots and billboards to tell you how good their products are. At Monster Energy, we chose none of the above. Instead we support the scene, our bands, our athletes and our fans. We back athletes so they can make a career out of their passion. We promote concert tours, so our favorite bands can visit your hometown. We celebrate with our fans and riders by throwing parties and making the coolest events we can think of a reality.
www.monsterenergy.com | www.facebook.com/monsterenergy
Monster Energy Rock Allegiance Publicity Contacts
Ashton-Magnuson Media
Kristine Ashton-Magnuson, kristine@am-media.net, (818) 996-2496
Selena Fragassi, selena@fr-pr.net, (847) 942-3093
Live Nation Philadelphia Publicity
Rachel Spivak/Live Nation; RachelSpivak@LiveNation.com
Monster Energy Rock Allegiance Marketing Contacts
Clay Busch/Danny Wimmer Presents, clay@dwpresents.com
Lindsey Medina/Danny Wimmer Presents, lindsey@dwpresents.com
Monster Energy Rock Allegiance Sponsorship Contact
Erica Shlafer/Danny Wimmer Presents, erica@dwpresents.com