Date: September 27, 2017
From: Kristine Ashton-Magnuson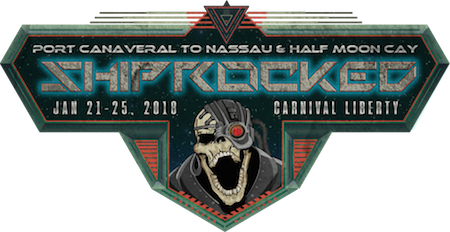 SOLD OUT
ShipRocked 2018
Announces Additions To The Stowaways All Star Band
Plus Stand-Up Comedy, Legions Of Skanks Podcast,
Pre-Party Information & Theme Nights
Waiting List Available For "A ShipRocked Odyssey"
With Stone Sour, Seether,
In This Moment, Black Label Society & More
January 21-25, 2018
Onboard Carnival Liberty
From Port Canaveral, Florida To Nassau & Half Moon Cay In The Bahamas
Staterooms for ShipRocked 2018 sold out shortly after going on sale to the public, but the lineup for the 4-day cruise keeps growing, including additions to The Stowaways all star band, as well as comedians Big Jay Oakerson, Luis J. Gomez, and Dave Smith. Those who would like to make a reservation for ShipRocked 2018 can join the waiting list by visiting www.ShipRocked.com.
The band lineup for ShipRocked 2018 — "A ShipRocked Odyssey," set for January 21-25, 2018 onboard Carnival Liberty, is led by Stone Sour, Seether, In This Moment, and Black Label Society. In all, nearly two dozen bands are slated to play the ninth edition of the annual vacation experience as it sails from Port Canaveral, Florida to Nassau and the private island of Half Moon Cay in The Bahamas.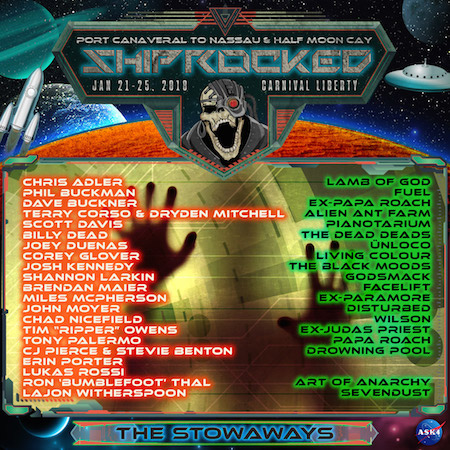 ShipRocked's resident all-star band The Stowaways returns in 2018 for a pair of special shows with its revolving cast of special guests, bringing a mix of classic hits, unexpected surprises, and a roster of performers that can't be seen anywhere else. New additions to The Stowaways lineup include Chris Adler (Lamb of God), Corey Glover (Living Colour), Terry Corso & Dryden Mitchell (Alien Ant Farm), Stevie Benton (Drowning Pool), Chad Nicefield (Wilson), Josh Kennedy (The Black Moods), Billy Dead (The Dead Deads) and more. They join a stellar group of previously announced band members including Lajon Witherspoon (Sevendust), Shannon Larkin (Godsmack), John Moyer (Disturbed), Tony Palermo (Papa Roach), Ron "Bumblefoot" Thal (Art Of Anarchy) and many more. Check www.ShipRocked.com for the latest on ShipRocked 2018 and The Stowaways' 2018 lineup.
In addition to Stone Sour, Seether, In This Moment, and Black Label Society, the otherworldly lineup for ShipRocked 2018 includes The Stowaways, P.O.D., Nothing More, Beartooth, Starset, Red Sun Rising, Otherwise, Shaman's Harvest, Like A Storm, Adelitas Way, Aranda, Badflower, DED, He Is Legend, Royal Republic, Palisades, The Letter Black, Doll Skin, and Kaleido, plus comedians Big Jay Oakerson, Luis J. Gomez, and Dave Smith.
In addition to their stand-up comedy sets, Big Jay Oakerson, Luis J. Gomez and Dave Smith will be recording their "Legion Of Skanks" podcast in front of a live audience.
ShipRockers are invited to start their vacation early at the official ShipRocked 2018 Pre-Party at Milliken's Reef (www.millikensreef.com) in Port Canaveral, featuring acoustic performances from P.O.D., Adelitas Way, and Tim "Ripper" Owens. The party starts at 6:00 PM on Saturday, January 20 and is open only to ShipRocked 2018 guests. Tickets are $40 in advance and $45 at the door, and include a buffet dinner (available throughout the party) and one complimentary alcoholic beverage for guests 21+. ShipRockers of all ages are welcome at the party.
Theme nights for ShipRocked 2018 include: Intergalactic Invasion (space night), The Team Theme (group theme, guest choice), Gone To Plaid (plaid night) and Retro Future Prom 2184 ('80s night in the future). For full details, visit ShipRocked.com.
Blasting off from Port Canaveral, FL, ShipRocked 2018—A ShipRocked Odyssey—is a once-in-a-lifetime getaway featuring nearly two dozen bands and gravity defying live performances, out of this world artist hosted events and activities, meet & greets, crazy theme nights, after hours parties and more. Loudwire calls ShipRocked "…a staple of the hard rock and metal event calendar [March 1, 2017]."
Rock Hard. Vacation Harder.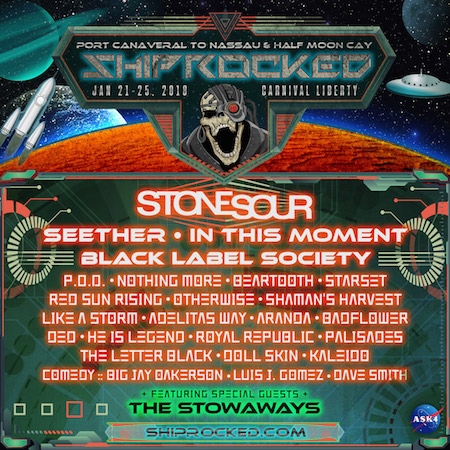 ---
About ShipRocked:
Produced by ASK4 Entertainment—a premier music theme cruise and destination event producer—ShipRocked is the ultimate rock music cruise vacation with unique performances and musical collaborations, providing guests with the opportunity to vacation with their favorite bands, meet new friends, and reunite with old ones year after year. The full-ship charter provides a one-of-a-kind experience for guests to have the time of their lives with thousands of like-minded friends. ShipRocked activities include photo meet and greets with band members, poolside games, artist Q&A sessions, trivia challenges, game shows, parties, contests and more. The ShipRocked Cancer Sucks! onboard charity auction has raised over $500,000 to date for innovative medical research and finding a cure for cancer.
www.facebook.com/ASK4Entertainment