Date: October 27, 2017
From: Kristine Ashton-Magnuson / Selena Fragassi

Monster Energy Aftershock:
50,000 Fans Converge On Sacramento's Discovery Park
For Performances From Nine Inch Nails, Ozzy Osbourne,
A Perfect Circle, Five Finger Death Punch, Run The Jewels,
Stone Sour, Mastodon & Over Two Dozen Others
Saturday, October 21 & Sunday, October 22
Sixth Annual Festival
Sells Out For Third Consecutive Year
The sixth annual Monster Energy Aftershock brought 50,000 rock and metal fans to a sold out Discovery Park in Sacramento, CA on Saturday, October 21 & Sunday, October 22 for a massive weekend of music that included performances from legends Nine Inch Nails and Ozzy Osbourne (recently reunited with guitarist Zakk Wylde for the first time in over a decade), plus A Perfect Circle (who premiered their new song "The Doomed," the first new track in four years), Five Finger Death Punch, Run The Jewels, Stone Sour, Mastodon, and more than two dozen others.
In addition to music, California's biggest rock festival featured artist signings and meet & greets at the Monster Energy Experience and The Music Experience, charities Take Me Home animal rescue (which featured a special appearance by guitarist Gary Holt of thrash legends Slayer and Exodus) and Dyin 2 Live / Fxck Cancer, plus the Caduceus Wine Garden, nearly two dozen food vendors from the capital region and beyond, the interactive Juxtapoz Make Your Mark Art Zone, activations from Coors Light and Heavy Grass, and more.
Sacramento's KXTV ABC 10 joined The Student Experience for a backstage tour hosted by The Music Experience on Sunday. Watch highlights from that tour here: http://bit.ly/2i5yAb9
Here's a sample of what the press had to say about Monster Energy Aftershock:
"They came by the thousands to Discovery Park, from as close as Modesto and as far away as Moscow…The crowds have doubled since that [first] 2012 event. Millions of dollars went into the local economy this weekend, and perhaps most importantly, everyone had a safe experience at a big outdoor concert."

—CBS Sacramento, 10/23/17

"The sixth installment of the Aftershock Festival took place at Sacramento's Discovery Park this past weekend, and proved to be the biggest (and loudest) one yet…a spectacular Day 1…Day Two of Aftershock wasted no time in picking up right where Nine Inch Nails had left off…one of California's premier festivals."

—Loudwire, 10/23/17

"The annual Aftershock Festival in Sacramento was a great reminder that we're all in this world together and we all have to look out for each other. Roughly 50,000 people came out to Discovery Park this weekend to enjoy some amazing performances, unbelievable weather, and good times."

—Juxtapoz, 10/22/17
Monster Energy Aftershock concluded the Fall For All festival series, which kicked off with Louder Than Life (Sept. 30 & Oct. 1 in Louisville, KY) and also included Monster Energy Rock Allegiance (Oct. 7 in Camden, NJ). For more on Fall For All, visit: www.TheFallForAll.com.
Monster Energy Aftershock is produced by Danny Wimmer Presents, a producer of some of the biggest rock festivals in America, including Rock On The Range, Louder Than Life, Monster Energy Welcome To Rockville, Monster Energy Carolina Rebellion, Bourbon & Beyond, Chicago Open Air, Monster Energy Rock Allegiance, Monster Energy Fort Rock, Northern Invasion, and more.
Sponsors for Monster Energy Aftershock include: Monster Energy, Coors Light, The Music Experience, Thunder Valley, Take Me Home, Fxck Cancer / Dyin 2 Live, Heavy Grass, BlackCraft Cult, Ace of Spades, Roadrunner Records, Century Media, Razor & Tie, Fearless Records, Caduceus Cellars and Merkin Vineyards, Zippo, CHRGR, California's Finest and Juxtapoz.
For more on Monster Energy Aftershock, visit: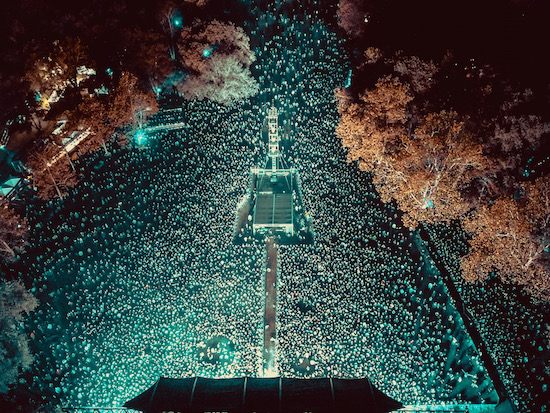 Monster Energy Aftershock crowd
[photo by Sam Shapiro]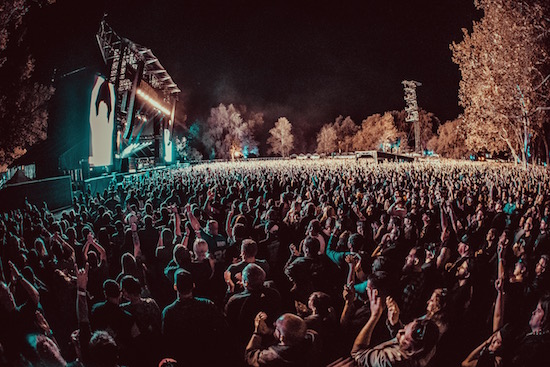 Monster Energy Aftershock crowd
[photo by Steve Thrasher]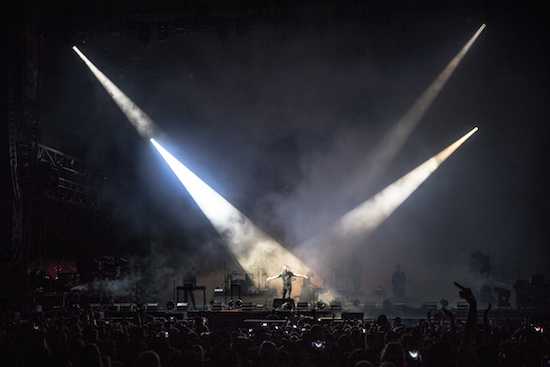 Nine Inch Nails
[photo by Steve Thrasher]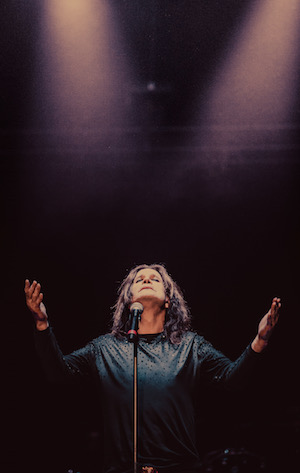 Ozzy Osbourne
[photo by Steve Thrasher]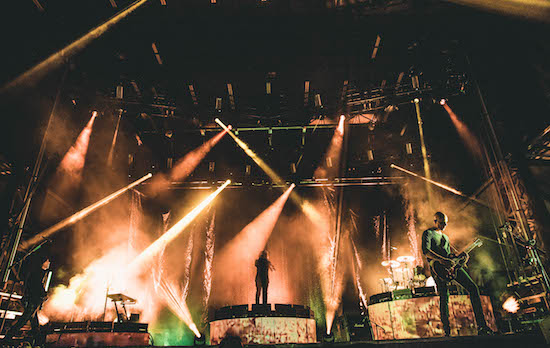 A Perfect Circle
[photo by Steve Thrasher]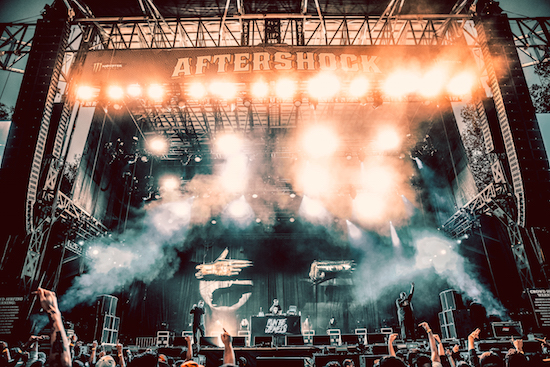 Run The Jewels
[photo by Steve Thrasher]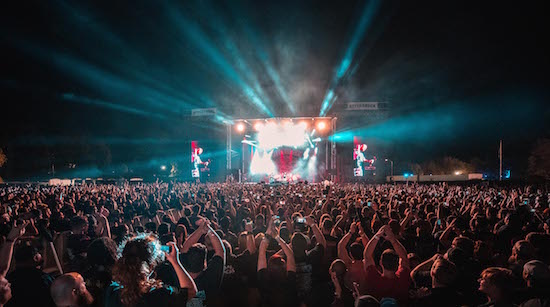 Five Finger Death Punch
[photo by Steve Thrasher]
---
About Danny Wimmer Presents:
Since 1993, music industry veteran Danny Wimmer has been producing concerts and festivals, both large and small. In 2011, he formed Danny Wimmer Presents, which now produces several of the largest rock and alternative festivals in the U.S. By combining A-list talent with local cuisine and culture, DWP has become recognized within the industry for delivering the highest-quality entertainment experiences to fans, artists, sponsors, partners and host cities. DWP creates memorable and all-encompassing festival experiences, leaving both consumers and partners with lasting and meaningful impressions. DWP will continue to add new music festivals to its already stellar portfolio, which includes Rock On The Range, Monster Energy Aftershock, Monster Energy Welcome To Rockville, Monster Energy Carolina Rebellion, Louder Than Life, Chicago Open Air and Monster Energy Rock Allegiance, Bourbon & Beyond, among others.
www.DannyWimmerPresents.com
About Monster Energy:
Most companies spend their money on ad agencies, TV commercials, radio spots and billboards to tell you how good their products are. At Monster Energy, we chose none of the above. Instead we support the scene, our bands, our athletes and our fans. We back athletes so they can make a career out of their passion. We promote concert tours, so our favorite bands can visit your hometown. We celebrate with our fans and riders by throwing parties and making the coolest events we can think of a reality.
www.monsterenergy.com | www.facebook.com/monsterenergy
Monster Energy Aftershock Publicity Contacts
Ashton-Magnuson Media
Kristine Ashton-Magnuson, kristine@am-media.net, (818) 996-2496
Selena Fragassi, selena@fr-pr.net, (847) 942-3093
Monster Energy Aftershock Marketing & Sponsorship Contacts
Clay Busch/Danny Wimmer Presents, clay@dwpresents.com
Lindsey Medina/Danny Wimmer Presents, lindsey@dwpresents.com