Date: November 3, 2017
From: Kristine Ashton-Magnuson / Ashley Di Buduo
Fat Mike Presents
Punk In Drublic Craft Beer & Music Festival
Wraps With Nearly 50,000 Fans In Attendance During Six City Run
October 28 Punk 'N Brew Date In Huntington Beach, CA
Sells Out With 10,000 On Hand At SeaLegs Live At Bolsa Chica State Beach
Fat Mike Presents Punk In Drublic Craft Beer & Music Festival, featuring the best in punk rock music and regional craft beer, wrapped a 6-city Western U.S. run of festival dates last weekend, hosting nearly 50,000 punk rock and craft beer fans in total over its 6 dates. The Saturday, October 28 KLOS, Fat Mike & P.I.D. Present Punk 'N Brew show at SeaLegs Live at Bolsa Chica State Beach in Huntington Beach, CA was SOLD OUT, with 10,000 in attendance. NOFX, Bad Religion, Goldfinger, Strung Out, The Dickies, D.I., Ignite and more performed on a state-of-the-art stage on the beach, just a few feet from the Pacific Ocean.
Check out a video of Punk 'N Brew at SeaLegs Live here: https://www.facebook.com/realorangecounty/videos/814841645362709/
Created from the mind and liver of NOFX's frontman Fat Mike, the Punk In Drublic Craft Beer & Music Festival included 3 hours of craft beer tastings with over 100 craft beers, including some of the West Coast's best, plus performances from some of the best punk rock bands. Fat Mike joined forces with premier music event producer/promoter Synergy Global Entertainment and respected craft beer event production powerhouse Brew Ha Ha Productions to produce this new festival.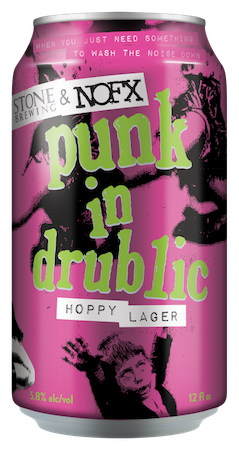 Cameron Collins, Co-Founder & Director of Events at Brew Ha Ha Productions said, "When Fat Mike, [John] Reese and I decided to do this tour, we knew we were on to something special and we knew it was going to be the first of its kind. Last weekend was one of the coolest events to ever take place in Southern California. We had over 200 craft beers and half a dozen legendary bands like NOFX, Bad Religion and The Dickies perform live all just a few feet away from the Pacific Ocean…It literally doesn't get better than that!"
Producer John Reese of Synergy Global Entertainment added, "This went so well, we want to take it around the world! Details to come!! Fat Mike's liver lives on."
Named for NOFX's classic Punk In Drublic album, which has sold over one million copies, Punk In Drublic Craft Beer & Music Festival also included stops in Tacoma, WA, Boise, ID, Sacramento, CA, Phoenix, AZ, and Concord, CA. NOFX co-headlined each date of Punk In Drublic, with music lineups varying slightly by market.
To celebrate the Punk In Drublic Festival, Fat Mike teamed up with craft beer pioneers Stone Brewing to brew their very own Stone & NOFX Punk in Drublic Hoppy Lager, which was available in cans in the festival markets. This collaboration was a huge show of support by Stone, marking the first time ever that Stone worked with a musician for a can release.
Here's a sample of what the media had to say about Fat Mike Presents Punk In Drublic Craft Beer & Music Festival:
"Brewers and punk rock fans turned out in droves for a day at the beach filled with beer, live music and good times at Punk 'N Brew at SeaLegs Live at Bolsa Chica State Beach in Huntington Beach…"

—Kelli Fadroski, Orange County Register, 10/29/17

"The environment was laid back, people were having a great time, and the music was energetic and lively from start to finish. As a skate kid growing up in Pennsylvania, seeing bands like Less Than Jake, Goldfinger, Flogging Molly, and NOFX when they were in town, or when they played a Warped Tour stop within driving distance, was my first real exposure to the counterculture scene. Having them all on one bill in 2017, along with the discovery opportunities to see Get Dead and Bad Cop, Bad Cop, was something I wouldn't have missed for anything."

—Mike Stalter, Juxtapoz, 10/17/17

"A punk rock-centric bill featuring four hugely seminal bands, AND a craft beer fest? This is something that doesn't come our way every year…one of the most enjoyable of the season, and will likely be talked about for a long time to come."

—Christopher Banyas, The Boise Beat, 8/4/17
The Punk In Drublic Craft Beer & Music Festival dates were as follows:
Saturday, September 16 — Tacoma, WA — America's Car Museum
Sunday, September 17 — Boise, ID — Ford Idaho Center Amphitheater
Sunday, October 15 — Sacramento, CA — Papa Murphy's Park at Cal Expo
Saturday, October 21 — Phoenix, AZ — Fear Farm Festival Grounds
Saturday, October 28 — Huntington Beach, CA — Punk 'N Brew at SeaLegs Live at Bolsa Chica State Beach
Sunday, October 29 — Concord, CA — Concord Pavilion (rescheduled date due to air quality on October 14)
Punk In Drublic Craft Beer & Music Festival was pleased to welcome Rockstar Energy Drink, Wienerschnitzel, Stone Brewing and Cosmic Fog as sponsors and supporters in its inaugural year. Sponsor activations varied by market.
---
About Fat Mike:
Fat Mike is a musician, songwriter, producer, record label president, political activist, and champion bowler! Best known as the lead vocalist, bassist and songwriter for long-running punk rock band NOFX, Fat Mike is also bassist and arranger for supergroup cover band Me First and the Gimme Gimmes. Additionally, Fat Mike is the co-owner of the Fat Wreck Chords record label in San Francisco. NOFX formed in Los Angeles in 1983, signed to Epitaph Records in 1989, and went on to sell over 6 million records worldwide including two records that went gold in the US and Canada. In 2004, Fat Mike founded Punkvoter.com in an effort to mobilize the punk community to vote, and in turn raised over a million dollars for the Kerry Campaign with the Rock Against Bush compilations. In 2016, NOFX released both a New York Times best-selling book (The Hepatitis Bathtub and Other Stories) and their critically acclaimed 13th album (First Ditch Effort).
About Synergy Global Entertainment, Inc.:
Synergy Global Entertainment, Inc. (SGE) specializes in producing music events and music marketing programs benefitting brands, artists, consumers, partners and attendees alike. SGE has produced thousands of branded music festivals, concerts, tours and events throughout the world playing to millions of applauding fans.
www.sgeworldwide.com
About Brew Ha Ha Productions:
Brew Ha Ha Productions (BHHP) is California's most successful craft beer event producer and creates award winning, often sold out, events. Fueled by a desire to promote craft beer, along with a vision of creating legacy beer fests and events, BHHP was conceived 10 years ago. BHHP produces multiple celebrated festivals with rave reviews annually and is best known for their signature events like the flagship Brew Ha Ha Craft Beer Festival (9/23/17), Brew Ho Ho Holiday Ale Festival (12/9/17), Sabroso Craft Beer, Taco and Music Festival (4/7/18), and the award winning Brew Hee Haw at the OC Fair Craft Beer Roundup (July 2018). Their 'pairing' of Craft Beer Tastings along with top name music including Punk In Drublic (6 events in 4 states including Huntington Beach 10/28/17), Driftwood at Doheny State Beach (Doheny 11/11-12/17), and more are experiencing unprecedented popularity and growth.
Punk In Drublic Craft Beer & Music Festival Publicity Contacts
Kristine Ashton-Magnuson / Ashton-Magnuson Media: kristine@am-media.net, (818) 996-2496
Ashley Di Buduo / Ashton-Magnuson Media: ashley@a12entertainment.com, (323) 379-9684
NOFX Publicity Contact
Vanessa Burt / Fat Wreck Chords: Vanessa@fatwreck.com
Brew Ha Ha Productions Publicity Contact
Tori Elder / The ACE Agency: tori@theaceagency.com, (702) 413-8625
Stone Brewing Publicity Contact
Lizzie Younkin / Stone Brewing: Lizzie.younkin@stonebrewing.com