Date: November 8, 2017
From: Kristine Ashton-Magnuson / Ashley Di Buduo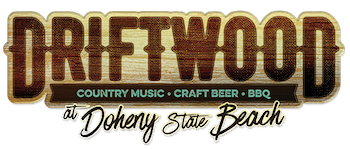 Driftwood At Doheny State Beach:
Set Times & BBQ Vendors Announced
For Country Music, Craft Beer & BBQ Festival
Saturday, November 11 & Sunday, November 12
In Scenic Dana Point, CA
Veterans Day Weekend Festival Features Headliners
Chase Rice & Kip Moore
Plus Frankie Ballard,
CMA Nominees Dan + Shay, Maddie & Tae, And More
Along With Over 100 Craft Beers From Top California Breweries And Others
Country Music • Craft Beer • BBQ
Performance times and the initial list of BBQ and other food vendors have been announced for this weekend's Driftwood at Doheny State Beach in Dana Point, CA on Saturday, November 11 and Sunday, November 12.
The Veterans Day Weekend celebration of country music, California-focused craft beer and top-notch BBQ features headliners Chase Rice and Kip Moore, plus Frankie Ballard, CMA "Country Duo Of The Year" nominees Dan + Shay and Maddie & Tae, RaeLynn (whose WildHorse album debuted at #1 on Billboard's Country Albums chart earlier this year), and more. In addition, Driftwood at Doheny State Beach features 3 hours of craft beer sampling each day for fans 21+, including the festival's exclusive Artifex Brewing Driftwood Blonde.
Driftwood collaborated with the brewmasters at south Orange County brewery Artifex Brewing to create Driftwood Blonde, which is a 5.5% Honey Blonde Ale that goes down smooth and crisp with hints of honey.
The music performance times for Driftwood at Doheny State Beach are as follows:
Saturday, November 11
| | |
| --- | --- |
| 8:15 PM | Chase Rice |
| 6:55 PM | Frankie Ballard |
| 5:40 PM | Cassadee Pope |
| 4:25 PM | A Thousand Horses |
| 3:15 PM | Lit |
| 2:10 PM | Caroline Jones |
| 1:10 PM | Mark Mackay |
Sunday, November 12
| | |
| --- | --- |
| 7:45 PM | Kip Moore |
| 6:15 PM | Dan + Shay |
| 4:45 PM | Maddie & Tae |
| 3:25 PM | Canaan Smith |
| 2:05 PM | RaeLynn |
| 1:00 PM | Gethen Jenkins |
Driftwood at Doheny State Beach attendees will also enjoy BBQ and other food offerings from Back Yard BBQ, Barrett's Sausage King, Corn Dogs Gone Wild, Hero's BBQ, Meat Up BBQ Truck, Spicy Pie, and TLC's Sidewalk Café.
General Admission and VIP tickets, as well as discount Family 4-Packs Of Single Day GA tickets are available for purchase at www.DriftwoodFest.com. All tickets include craft beer tasting and access to view the music stage.
In honor of Veterans Day weekend, the festival is offering a discounted $89 2-day ticket and $45 single-day ticket for active and retired military, as well as their family members. The military ticket includes Early Entry Admission and a complimentary roundtrip shuttle between Doheny State Beach and the Outlets at San Clemente.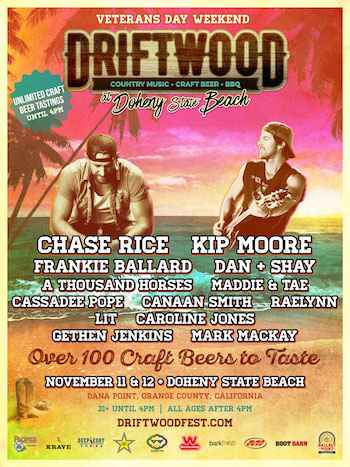 Driftwood at Doheny State Beach kicks off at 1:00 PM each day, with VIP early entry beginning at Noon. Festival attendees will choose from over 100 craft beers to taste until 4:00 PM (for those 21 and up), and will have the chance to enjoy the best of California's BBQ. Three hours of unlimited craft beer tastings are included with admission. After 4:00 PM, fans under 21 years old are welcome. Music lasts until 9:30 PM on Saturday and 9:00 PM on Sunday. Craft beer, wine and cocktails will be available for those 21 and up to purchase throughout both days.
The list of participating breweries includes: Abnormal Beer Co., AleSmith, Artifex, Avery, Backstreet Brewery, Barley Forge, Belching Beaver, Bootlegger's Brewery, Bottle Logic Brewing, Chapman Crafted Beer, Docent Brewing, Founders Brewing Co., Hangar 24, Left Coast, Lost Winds Brewing Company, Modern Times, Offshoot Beer Co., Ritual Brewing Co., Telegraph Brewing Company, Three Weavers and Two Towns Ciderhouse.
Parking at Driftwood at Doheny State Beach will be extremely limited, so attendees are strongly encouraged to carpool and rideshare.
Shuttle passes are available for only $10 per person, roundtrip. Parking is available (first come, first served) at the shuttle pick up at the Outlets at San Clemente (101 W. Avenida Vista Hermosa, San Clemente, CA 92672). Shuttles will run every thirty minutes from 11:30 AM-10:00 PM between Outlets at San Clemente and Doheny State Beach. The shuttle will be free for active and retired military with ID. Visit www.DriftwoodFest.com for details. Free bike parking will also be available at Doheny State Beach.
A portion of the proceeds from Driftwood at Doheny State Beach will be donated to the San Onofre Parks Foundation—a California non-profit that cooperatively works with the California State Parks to develop, preserve and enhance the recreation and experience of California's unique and beautiful coastal parks—and the Doheny State Beach Interpretive Association (DSBIA), the non-profit cooperating association of Doheny State Beach, dedicated to the protection of the park's beaches, facilities, marine refuge and its historical, cultural and social stories.
Doheny State Beach is easily accessible by car from Los Angeles County, San Diego County, the Inland Empire, San Francisco, Las Vegas, Phoenix, Tucson, the San Joaquin Valley, and via flights to Orange County's John Wayne Airport.
Driftwood at Doheny State Beach is produced by Synergy Global Entertainment (SGE) and Brew Ha Ha Productions. The festival producers encourage attendees to drink responsibly.
Sponsors for Driftwood at Doheny State Beach include Pacifico, Ballast Point, Deep Eddy, Rockstar Energy Drink, Musicians Institute, Cosmic Fog, Weinerschnitzel, Krave, Bark Thins, Boot Barn, George Dickel Whisky, and more.
For the most up-to-date information on Driftwood at Doheny State Beach, please visit: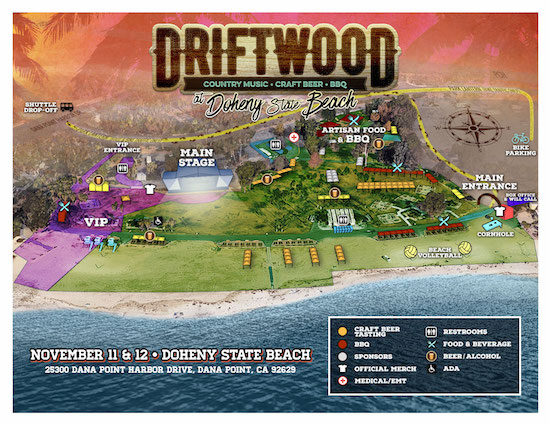 Full-sized map ↗
---
About Synergy Global Entertainment, Inc.:
Synergy Global Entertainment, Inc. (SGE) specializes in producing music events and music marketing programs benefitting brands, artists, consumers, partners and attendees alike. SGE has produced thousands of branded music festivals, concerts, tours and events throughout the world playing to millions of applauding fans.
www.sgeworldwide.com
About Brew Ha Ha Productions:
Brew Ha Ha Productions (BHHP) is California's most successful craft beer event producer and creates award winning, often sold out, events. Fueled by a desire to promote craft beer, along with a vision of creating legacy beer fests and events, BHHP was conceived 10 years ago. BHHP produces multiple celebrated festivals with rave reviews annually and is best known for their signature events like the flagship Brew Ha Ha Craft Beer Festival (9/23/17), Brew Ho Ho Holiday Ale Festival (12/9/17), Sabroso Craft Beer, Taco and Music Festival (4/7/18), and the award winning Brew Hee Haw at the OC Fair Craft Beer Roundup (July 2018). Their 'pairing' of Craft Beer Tastings along with top name music including Punk In Drublic (6 events in 4 states including Huntington Beach 10/28/17), Driftwood at Doheny State Beach (Doheny 11/11-11/12/17), and more are experiencing unprecedented popularity and growth.
Driftwood at Doheny State Beach Publicity Contacts:
Ashton-Magnuson Media
Kristine Ashton-Magnuson: kristine@am-media.net; (818) 996-2496
Ashley Di Buduo: ashley@a12entertainment.com; (323) 379-9684