Date: December 11, 2107
From: Kristine Ashton-Magnuson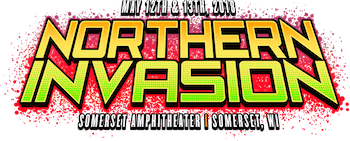 Band Lineup Announced For
Fourth Annual Northern Invasion
Saturday, May 12 & Sunday, May 13, 2018
In Somerset, WI
Tool, Avenged Sevenfold, A Perfect Circle, Alice In Chains,
Breaking Benjamin, Stone Temple Pilots, The Used,
I Prevail & Parkway Drive To Perform

All Tickets & Packages On Sale Now
Tool, Avenged Sevenfold, A Perfect Circle and Alice In Chains lead the incredible lineup for the fourth annual Northern Invasion, Saturday, May 12 and Sunday, May 13 at Somerset Amphitheater in Somerset, Wisconsin, just outside the Twin Cities.
Northern Invasion 2018 will be bigger and better than ever with over 12 hours of music per day from the biggest and best rock bands on three stages, as well as a top tier camping experience. The Northern Invasion Good Eats area includes food offerings from top regional and national restaurants and vendors.
The music lineup for Northern Invasion 2018 is as follows (subject to change): Tool, Avenged Sevenfold, A Perfect Circle, Alice In Chains, Breaking Benjamin, Stone Temple Pilots, The Used, Black Veil Brides, Asking Alexandria, I Prevail, Parkway Drive, Black Stone Cherry, Red Sun Rising, Andrew W.K., Atreyu, Anti-Flag, 10 Years, We Came As Romans, The Bronx, Dance Gavin Dance, Butcher Babies, Hawthorne Heights, New Years Day, Senses Fail, Stick To Your Guns, Miss May I, Like A Storm, The Fever 333, I See Stars, Wilson, Mutoid Man, Cane Hill, Black Foxxes, Counterfeit., The Blue Stones, Joyous Wolf, Spirit Animal, Stitched Up Heart, and Big Story.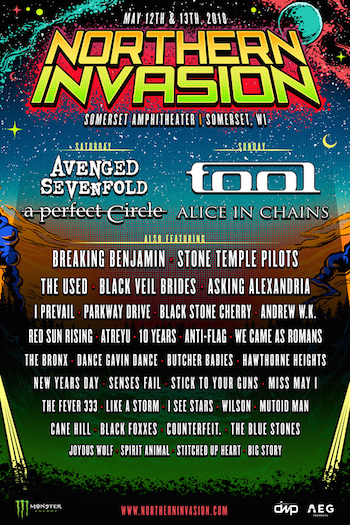 Maynard James Keenan of Tool and A Perfect Circle said, "Looking forward to playing material from the new A Perfect Circle release at Northern Invasion. Bringing new songs to life in a live setting is always exciting."
Dean DeLeo of Stone Temple Pilots commented, "Stone Temple Pilots are beyond thrilled to be playing Northern Invasion 2018. We are back! It's going to be a killer weekend of great music—great fun."
"We spent a lot of time listening to our loyal Invasion fan base over these last several months to create a lineup that celebrates some of the rock legends along with delivering on our reputation for inviting the hottest up-and-comers in the genre," said Joe Litvag, Executive Producer of Northern Invasion. "Having heroes like Tool, Avenged Sevenfold, Alice In Chains, and Stone Temple Pilots matched with new sensations like Parkway Drive, Black Veil Brides, and Red Sun Rising, I think the fans will respond well. It's going to be an unforgettable weekend!"
Northern Invasion General Admission and VIP tickets (including layaway options), as well as Hotel Packages and All-Inclusive Camping options, and Tent or RV Camping add-ons are on sale now at http://northerninvasion.com/tickets.html. Fans are encouraged to buy early and save. New for Northern Invasion 2018: Each ticket price level has a limited number of tickets available, so attendees can save more by buying earlier. Ticket prices will automatically move to the next price level once a price allotment sells out. The layaway purchase option also allows fans to split the ticket cost into four monthly payments.
Current ticket pricing levels are as follows while supplies last:
Weekend VIP: $199.50 plus fees
Weekend General Admission: $99.50 plus fees
Monster Energy Weekend General Admission 4-Pack: $319.00 plus fees
Specially priced tickets for Northern Invasion will be available for active military through partner GovX (www.govx.com) while supplies last.
The Northern Invasion campgrounds will be open from Friday, May 11 through Monday, May 14. Festival doors open at 11:00 AM on Saturday and Sunday.
Northern Invasion is produced by AEG Presents and Danny Wimmer Presents and is part of the World's Loudest Month concert series, which features the biggest names in rock music performing in six U.S. events in distinct atmospheres during five consecutive weekends in April and May of 2018.
Northern Invasion is brought to you in part by Monster Energy.
Somerset Amphitheater has been a favorite Midwest music venue since the late '80s. Located on the Apple River and less than 40 minutes from the Twin Cities, for years it has served as a summer hub for music and camping for those from Minnesota, Wisconsin and beyond.
For more information on Northern Invasion, visit:
---
About AEG Presents:
AEG Presents is one of the largest live music companies in the world. The company is dedicated to all aspects of live contemporary music performances, including producing and promoting global and regional concert tours, music events and world-renowned festivals. AEG Presents operates in North America, Europe and Asia through 16 regional offices that support its tours, which include such artists as Taylor Swift, Paul McCartney, The Rolling Stones, Justin Bieber, Katy Perry and Kenny Chesney; produces or supports over 25 music festivals, including the iconic Coachella Valley Music & Arts Festival; and owns, manages or books more than 60 clubs and theaters. AEG Presents produces more than 8,000 shows annually worldwide and conducts business under such globally renowned brands as AEG Presents, Goldenvoice, Concerts West, Messina Touring Group, Marshall Arts LTD, and Madison House Presents.
www.aegpresents.com
About Danny Wimmer Presents:
Since 1993, music industry veteran Danny Wimmer has been producing concerts and festivals, both large and small. In 2011, he formed Danny Wimmer Presents, which now produces several of the largest rock and alternative festivals in the U.S. By combining A-list talent with local cuisine and culture, DWP has become recognized within the industry for delivering the highest-quality entertainment experiences to fans, artists, sponsors, partners and host cities. DWP creates memorable and all-encompassing festival experiences, leaving both consumers and partners with lasting and meaningful impressions. DWP will continue to add new music festivals to its already stellar portfolio, which includes Rock On The Range, Monster Energy Aftershock, Monster Energy Welcome To Rockville, Monster Energy Carolina Rebellion, Louder Than Life, Bourbon & Beyond, Monster Energy Rock Allegiance, Chicago Open Air, and Northern Invasion, among others.
www.DannyWimmerPresents.com
For more information about Northern Invasion, please contact:
PR: Kristine Ashton-Magnuson, Ashton-Magnuson Media; kristine@am-media.net; (818) 996-2496
SPONSORSHIP: Chris Thomas, AEG Presents; cthomas@aegpresents.com & Clay Busch, DWP; clay@dwpresents.com