Date: December 15, 2017
From: Kristine Ashton-Magnuson

Louder Than Life 2018
Early Bird Ticket Sale Underway
Limited Number Of General Admission Weekend Tickets Available For $94.50
An Early Bird ticket sale is now underway for the 5th annual Louder Than Life, to be held Saturday, September 29 and Sunday, September 30, 2018 at Champions Park in Louisville, KY.
During the Early Bird sale, a limited number of General Admission weekend tickets are available for only $94.50 (the same as the 2017 price). Layaway will be available during the Early Bird sale, with the second payment not due until June 2018. To purchase tickets, visit: https://goo.gl/Q2ZWMb.
Camping options can also be purchased now at www.LouderThanLife.com.
In 2017, the fourth annual Louder Than Life marked the festival's biggest year yet, solidifying its standing as one of America's premier destination music festivals. Louder Than Life 2017 drew 60,000 fans to Champions Park to witness headlining performances from Ozzy Osbourne featuring Zakk Wylde on Saturday and Prophets Of Rage on Sunday, plus Five Finger Death Punch, Incubus — returning to Louisville for the first time in over a decade — Rob Zombie, Stone Sour, Rise Against, and nearly 30 other bands on three stages.
To see the 2017 Louder Than Life video recap, go to: www.facebook.com/louderthanlifefestival/videos/1325054730955468/
The 2018 Louder Than Life music lineup and other details will be announced in late spring 2018. Visit www.LouderThanLifeFestival.com for details.
Danny Wimmer Presents is a producer of some of the biggest rock festivals in America, including Rock On The Range, Monster Energy Aftershock, Monster Energy Welcome To Rockville, Monster Energy Fort Rock, Monster Energy Carolina Rebellion, Chicago Open Air, Bourbon & Beyond, Louder Than Life, Monster Energy Rock Allegiance, Northern Invasion and more.
For more information, visit: www.LouderThanLifeFestival.com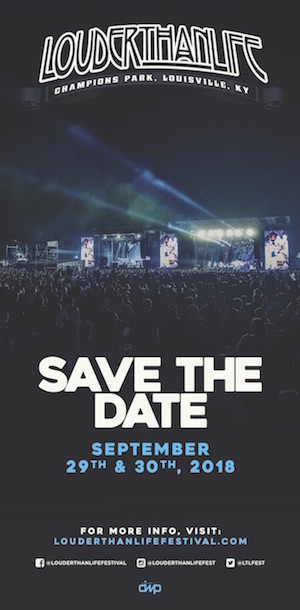 ---
About Danny Wimmer Presents:
Since 1993, music industry veteran Danny Wimmer has been producing concerts and festivals, both large and small. In 2011, he formed Danny Wimmer Presents, which now produces several of the largest rock and alternative festivals in the U.S. By combining A-list talent with local cuisine and culture, DWP has become recognized within the industry for delivering the highest-quality entertainment experiences to fans, artists, sponsors, partners and host cities. DWP creates memorable and all-encompassing festival experiences, leaving both consumers and partners with lasting and meaningful impressions. DWP will continue to add new music festivals to its already stellar portfolio, which includes Rock On The Range, Monster Energy Aftershock Festival, Monster Energy Welcome To Rockville, Monster Energy Carolina Rebellion, Louder Than Life, Bourbon & Beyond, Monster Energy Rock Allegiance, and Chicago Open Air, among others.
www.DannyWimmerPresents.com
Louder Than Life Publicity Contacts
Ashton-Magnuson Media
Kristine Ashton-Magnuson, kristine@am-media.net, (818) 996-2496
Selena Fragassi, Selena@fr-pr.net, (847) 942-3093
Louder Than Life Marketing & Sponsorship Contacts
Danny Wimmer Presents
Clay Busch, clay@dwpresents.com
Lindsey Medina, Lindsey@dwpresents.com