Date: February 6, 2018
From: Kristine Ashton-Magnuson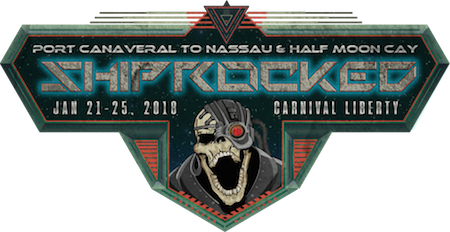 ShipRocked 2019 Grows To 5 Days
Celebrating 10 Years Of Mayhem On The High Seas
January 26-31, 2019 Onboard Carnival Valor
Online Presale Begins Today (February 6)
SOLD OUT ShipRocked 2018
"A ShipRocked Odyssey"
Returns To Earth
After 4 Days & Nights Of Otherworldly Performances
Led By Stone Sour
Plus Seether, In This Moment, Black Label Society,
All-Star Band The Stowaways & More
After blasting off from Port Canaveral, Florida onboard Carnival Liberty on January 21, ShipRocked 2018—"A ShipRocked Odyssey"—completed its sold out mission on January 25, led by Stone Sour, Seether, In This Moment, and Black Label Society, and joined by over 3,000 guests. Check out the ShipRocked Aftermovie Teaser Trailer here: https://youtu.be/ZaRbsZVks5k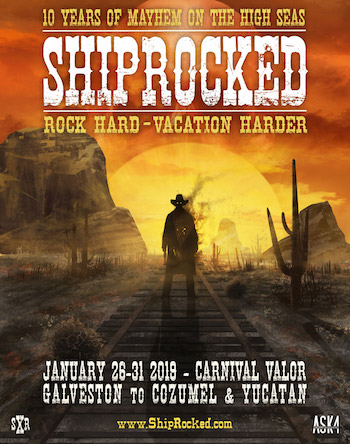 Long before returning, ShipRockers were already buzzing about the onboard announcement of ShipRocked 2019. The 10th edition of the greatest vacation ever expands to 5 days & nights, January 26-31, 2019 onboard Carnival Valor. Departing from Galveston, TX, ShipRocked 2019—celebrating 10 years of mayhem on the high seas—will include stops in Cozumel and the Yucatán in Mexico. The ShipRocked 2019 online presale begins today—Tuesday, February 6—at Noon ET at www.ShipRocked.com/SR19presale. The ShipRocked 2019 lineup and additional details will be announced in the coming months.
Seether got ShipRocked 2018 started with a rousing Sunday sail away set on the Carnival Liberty deck stage. Donning a captain's uniform and an armful of silicone bracelets collected from his new ShipRocked family, Corey Taylor and Stone Sour closed the festivities (officially, at least) on Wednesday night under a moonlit sky. In between, ShipRocked 2018 made stops in Nassau and at the private island of Half Moon Cay in The Bahamas; fans—including R2-D2—enjoyed meet and greets with ShipRocked artists; and nearly two dozen bands performed, mingled with fans, and participated in a variety of artist-hosted activities and events.
In addition to Stone Sour, Seether, In This Moment, and Black Label Society, the otherworldly lineup for ShipRocked 2018 included P.O.D., 2018 Grammy nominees Nothing More, Starset, Beartooth, Red Sun Rising, Otherwise, Shaman's Harvest, Like A Storm, Adelitas Way, Aranda, the live debut of Stereo Satellite (featuring members of Disturbed, Adrenaline Mob and Rockstar Supernova), DED, He Is Legend, Joyous Wolf, Palisades, Doll Skin, and Kaleido, plus comedians Big Jay Oakerson, Rob Mailloux, and Zac Amico.
ShipRocked's own all-star band The Stowaways featured regulars Ron "Bumblefoot" Thal (Art Of Anarchy), Chris Adler (Lamb Of God), Corey Glover (Living Colour), Lajon Witherspoon & Morgan Rose (Sevendust), Norwegian YouTube sensation Leo Moracchioli, CJ Pierce & Stevie Benton (Drowning Pool), Chad Nicefield (Wilson), and more, plus a steady supply of special guests from various ShipRocked bands. ShipRocked was hosted by Ralph Sutton of The S.D.R. Show.
At Half Moon Cay, P.O.D. and Otherwise boarded the pirate ship-themed beach stage for a pair of energetic performances while fans lounged in the white sands and splashed in the tropical Atlantic waters, and Red Sun Rising led a spirited Beach Wars competition.
Onboard the Carnival Liberty, the ShipRocked Cancer Sucks! charity auction featuring rare rock 'n' roll memorabilia—including exclusive custom ShipRocked guitars hand-painted by Ronz World—raised $81,000 for cancer research, adding to the more than $500,000 raised to date by the annual auction. After an '80s-themed Monday night performance, The Stowaways honored fallen musical legends with a moving in memoriam set on the cruise's final night, paying homage to Tom Petty, Chris Cornell, Dolores O'Riordan, Chester Bennington, Lemmy Kilmister, Malcolm Young, Prince and others.
Other highlights of ShipRocked 2018 included:
Artist Q&A

featuring

Shaun Morgan

(

Seether

),

Chris Howorth

(

In This Moment

),

Zakk Wylde

(

Black Label Society

),

Sonny Sandoval

(

P.O.D.

),

Dustin Bates

(

Starset

),

Corey Glover

(

Living Colour

)

Beartooth

leading a joyfully chaotic

Deck Wars

An epic

Beer Pong

tournament hosted by

DED

and

Big Jay Oakerson

Members of

Nothing More

,

Kaleido

and

Like A Storm

squaring off in the live game show

The NewlyBand Game

Live band karaoke with

Karaokings

Nightly live tapings of

The S.D.R. Show

podcast with

Ralph Sutton

,

Big Jay Oakerson

, and a rotating cast of guests
Pre-party at Milliken's Reef in Port Canaveral with acoustic performances from

P.O.D.

,

Adelitas Way

and

Joyous Wolf
ShipRocked creator and producer Alan Koenig of ASK4 Entertainment says, "ShipRocked is simply the best vacation and the most incredible live music experience in the universe. Each sailing gets bigger and better, and SR18 was no exception. With our 10th year anniversary on the horizon, we've decided our amazing community of guests deserves even more. So we're taking the cruise to the biggest state in the Union, and adding an extra day to the fun! We can't wait to rock hard and vacation harder in 2019, y'all!"
Here's a sample of what the press had to say about the ShipRocked 2018 experience:
"The recent ShipRocked 2018 cruise gave hard rock fans an out of this world experience, and not just because of its outer space theme."

—Liz Ramanand, Billboard.com, January 26, 2018

"Fans get a unique opportunity to meet and hang out with their favorite musicians year after year whether it is in the casino, the bar or the buffet line where there is a 'family-like vibe' that you only see on ShipRocked."

—Amy Harris, AXS.com, January 28, 2018
Produced by ASK4 Entertainment, ShipRocked is a once-in-a-lifetime experience that provides guests with the opportunity to vacation with their favorite bands, meet new friends, and reunite with old ones year after year. In addition to unique performances and musical collaborations, ShipRocked onboard and beach activities include photo meet and greets with band members, artist hosted events and activities, crazy theme nights, after hours parties and more. Loudwire calls ShipRocked "…a staple of the hard rock and metal event calendar [March 1, 2017]."
Check out the ShipRocked 2019 teaser video here: http://www.shiprocked.com/sr19presale/
Rock Hard. Vacation Harder.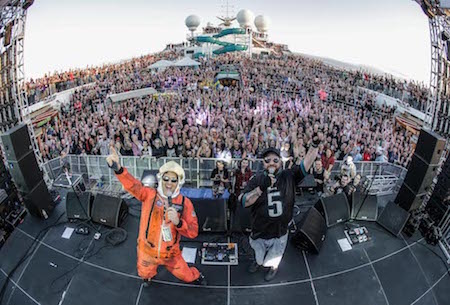 (ShipRocked family photo)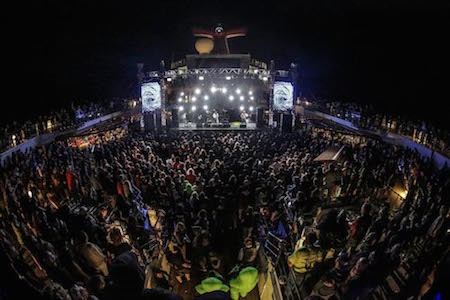 (Stone Sour, Carnival Liberty deck stage)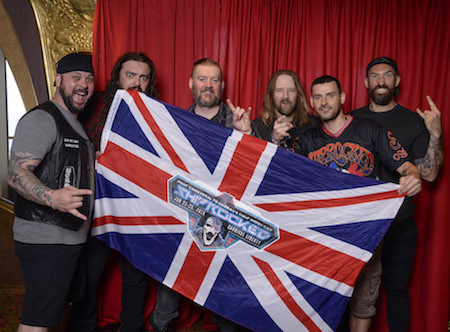 (Seether Meet & Greet)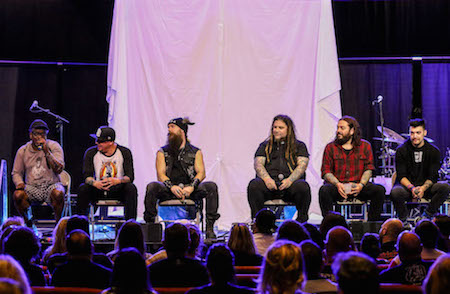 (Artist Q&A: Corey Glover, Sonny Sandoval, Zakk Wylde, Chris Howorth, Shaun Morgan, Dustin Bates)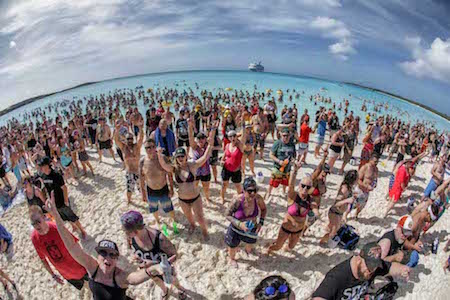 (Half Moon Cay, The Bahamas)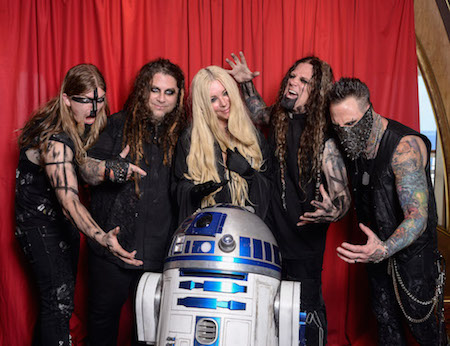 (In This Moment meet R2-D2)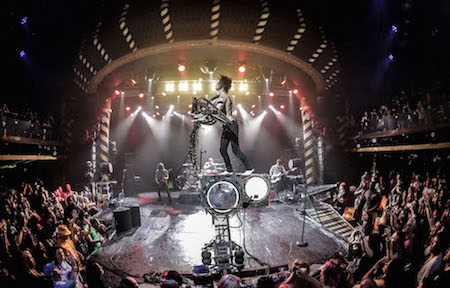 (Nothing More, Carnival Liberty Venetian Palace)
(Visuals courtesy of ShipRocked)
---
About ShipRocked:
Produced by ASK4 Entertainment—a premier rock music theme cruise and destination event producer—ShipRocked is the ultimate rock music cruise vacation with unique performances and musical collaborations, providing guests with the opportunity to vacation with their favorite bands, meet new friends, and reunite with old ones year after year. The full-ship charter provides a one-of-a-kind experience for guests to have the time of their lives with thousands of like-minded friends. ShipRocked activities include photo meet and greets with band members, poolside games, artist Q&A sessions, trivia challenges, game shows, parties, contests and more. The ShipRocked Cancer Sucks! onboard charity auction has raised over $500,000 to date for innovative medical research and finding a cure for cancer.
www.facebook.com/ASK4Entertainment