Date: February 26, 2018
From: Kristine Ashton-Magnuson / Ashley Di Buduo

Fat Mike Presents
Punk In Drublic Craft Beer & Music Festival
Expands In 2018
First Leg Of Touring Festival Launches May 5
With Weekend Tour Dates Through May 20

Festival Features Craft Beer Tasting & Performances From
NOFX, Bad Religion, The Interrupters, Mad Caddies & More

Stone Brewing To Brew Limited Release
Stone & NOFX Punk in Drublic Hoppy Lager
Available In California, Festival Markets & Select Surrounding Areas
Fat Mike, Synergy Global Entertainment (SGE) and Brew Ha Ha Productions are pleased to announce the expansion of Punk In Drublic Craft Beer & Music Festival for its second year.
The first leg of the 2018 Punk In Drublic Craft Beer & Music Festival tour launches Saturday, May 5 in Austin, TX and wraps May 20 in Pittsburgh, PA.
These outdoor festival dates will feature performances from NOFX, Bad Religion, The Interrupters and Mad Caddies, with Bad Cop / Bad Cop or The Last Gang opening the show.
Tickets for these shows go on sale Friday, March 2 at 10:00 AM local time at www.PunkInDrublicFest.com.
Look for details on additional Punk In Drublic Craft Beer & Music Festival shows in the coming months. Visit www.PunkInDrublicFest.com for more information.
Created from the mind and liver of NOFX's frontman Fat Mike—and named for NOFX's classic Punk In Drublic album—the Punk In Drublic Craft Beer & Music Festival features the best in punk rock music and regional craft beer. In 2017, the touring festival hosted nearly 50,000 punk rock and craft beer fans in total over its six dates in the Western U.S.
Fat Mike said, "I don't get excited about a lot of things…but when I get a chance to do a Central Southern Mid Eastern West Northern Tour…I just get confused. Sometimes confusion can be exciting though."
Fat Mike has again joined forces with premier music event producer/promoter Synergy Global Entertainment and respected craft beer event production powerhouse Brew Ha Ha Productions for the festival. In addition, Fat Mike teamed up with craft beer pioneers Stone Brewing to brew their very own limited release Stone & NOFX Punk in Drublic Hoppy Lager, which sold out quickly in 2017 and will be available again in California, concert states, and select surrounding areas starting in late March. Use the Stone Brewing beer finder to search specific locations: https://find.stonebrewing.com.
Festival co-producer Cameron Collins of Brew Ha Ha Productions explains, "What makes Punk In Drublic so special is the authenticity of it. Craft beer, true craft beer, from local and regional breweries who are running their businesses with the same mentality as punk rock music: independent, often times controversial, and without a care in the world about how it's 'been done in the past.' I say it all the time, punk rock is the music much of the craft beer we drink is brewed to…it's appropriate to have an epic event that celebrates the two!"
"After the riotous success of last year's ruckus, we were all-in for the 2018 Punk In Drublic Craft Beer & Music Festival," said Greg Koch, Stone Brewing executive chairman & co-founder. "Before we started with this nonsense more than a year ago, Fat Mike initially claimed not to care what we showed up with, so long as the beer we showed up with was wet. That's not our style, as we're as hard core about beer as he is about punk music. Committed to get on the ride and see what it was all about, he arrived at our brewery in pink boots and seriously got in on the action. In the end, we brewed a hoppy lager that's core, punk and perfect for post-slamdance. All in all we were all pretty damn happy with what we created. No doubt, the guy has some of the most serious cred that exists when it comes to independent punk rock, and now he's got that crossing over to independent craft beer."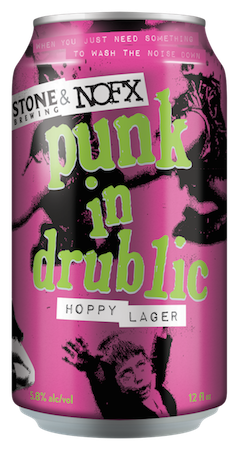 Tour dates for the first leg of the 2018 Punk In Drublic Craft Beer & Music Festival "stumbling through a town near you" are as follows:
Saturday, May 5 — Austin, TX — Austin American Statesman
Sunday, May 6 — Fort Worth, TX — Panther Island Pavilion
Saturday, May 12 — Richmond, VA — Bon Secours Redskins Training Center
Sunday, May 13 — Philadelphia, PA — Festival Pier (at Penn's Landing)
Saturday, May 19 — Brockton, MA — Campanelli Stadium
Sunday, May 20 — Pittsburgh, PA — Highmark Stadium
During VIP early entry tastings (from Noon-4:00 PM), and general admission tastings (from 1:00 PM-4:00 PM), craft beer lovers that are 21+ can choose from over 100 craft beers from dozens of top breweries. In addition to Stone Brewing, some of the participating breweries include national breweries such as: Bell's, Deschutes, Odell's, Oskar Blues, and Sierra Nevada, as well as local breweries, such as Alewerks in Richmond, Yards in Philadelphia, Adelbert's in Austin, Down the Road in Brockton plus many more local and national breweries. Breweries vary by market.
Punk In Drublic Craft Beer & Music Festival General Admission and VIP ticket options will be available for purchase. All tickets include craft beer tasting and access to view the music stage for attendees 21 years or older.
General Admission tickets start at $39.50 (plus fees). VIP Tickets are $99.50 (plus fees) and include: one VIP admission ticket to Punk In Drublic, a dedicated VIP entry lane into venue, and one hour early entry for craft beer tastings (for those 21+), starting at 12:00 PM. VIP ticketholders also receive access to the Very. Unimportant. Person. Lounge, with:
—Exclusive craft beer tastings
—VIP cash bar
—Private restrooms
—Comfortable areas to sit, relax, and chill
—Additional food available for purchase
Punk In Drublic Craft Beer & Music Festival is pleased to welcome Stone Brewing and Rockstar Energy Drink as sponsors and supporters. Sponsor activations vary by market.
---
About Fat Mike
Fat Mike is a musician, songwriter, producer, record label president, political activist, and champion bowler! Best known as the lead vocalist, bassist and songwriter for long-running punk rock band NOFX, Fat Mike is also bassist and arranger for supergroup cover band Me First and the Gimme Gimmes. Additionally, Fat Mike is the co-owner of the Fat Wreck Chords record label in San Francisco. NOFX formed in Los Angeles in 1983, signed to Epitaph Records in 1989, and went on to sell over 6 million records worldwide including two records that went gold in the US and Canada. In 2004, Fat Mike founded Punkvoter.com in an effort to mobilize the punk community to vote, and in turn raised over a million dollars for the Kerry Campaign with the Rock Against Bush compilations. In 2016, NOFX released both a New York Times best-selling book (The Hepatitis Bathtub and Other Stories) and their critically acclaimed 13th album (First Ditch Effort).
About Synergy Global Entertainment, Inc.
Synergy Global Entertainment, Inc. (SGE) specializes in producing music events and music marketing programs benefiting brands, artists, consumers, partners and attendees alike. SGE has produced thousands of branded music festivals, concerts, tours and events throughout the world playing to millions of applauding fans.
www.sgeworldwide.com
About Brew Ha Ha Productions
Brew Ha Ha Productions (BHPP) is one of the largest craft beer centric event producers in the United States. Fueled by a desire to promote craft beer, along with visions of creating unique annual events, Orange County based BHHP has enjoyed an unprecedented 180% growth in 2017. Established in 2010, BHHP's Award Winning and diverse events now reach beyond OC and California including festivals in Arizona, Washington, Oregon, Nevada, and Colorado. A 'For-Profit' organization whose missions includes giving back, BHHP has helped many non-profits raise awareness and money to further their worthy causes.
www.brewhahaproductions.com
Punk In Drublic Craft Beer & Music Festival Publicity Contacts
Kristine Ashton-Magnuson / Ashton-Magnuson Media: kristine@am-media.net, (818) 996-2496
Ashley Di Buduo / Ashton-Magnuson Media: ashley@a12entertainment.com, (323) 379-9684
NOFX Publicity Contact
Vanessa Burt / Fat Wreck Chords: Vanessa@fatwreck.com
Brew Ha Ha Productions Publicity Contact
Tori Elder / The ACE Agency: tori@theaceagency.com, (702) 413-8625
Stone Brewing Publicity Contact
Lizzie Younkin / Stone Brewing: Lizzie.younkin@stonebrewing.com