Date: March 6, 2018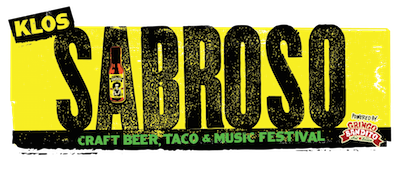 Raise A Glass To 150+ Of Socal's Top Craft Beers At
KLOS Sabroso Craft Beer, Taco & Music Festival
Powered By Gringo Bandito

Doheny State Beach
Saturday, April 7
Craft Beer, Mouthwatering Tacos, Lucha Libre Style Wrestling
Headlined By The Offspring
2017 KLOS Sabroso Craft Beer, Taco & Music Festival.
Photo courtesy of Albert Lam of Westcoaster.net
[DANA POINT, CA] — KLOS Sabroso Craft Beer, Taco & Music Festival powered by Gringo Bandito returns to Doheny State Beach in Dana Point on Saturday, April 7 bringing craft beer, mouthwatering tacos, and live entertainment oceanfront. As the first stop of the festival series — now in its fifth year in Southern California — KLOS Sabroso Craft Beer, Taco & Music Festival gives craft beer connoisseurs and taco aficionados the opportunity to sample over 150 brews and a variety of delectable tacos while watching lucha libre style wrestling, playing games, and enjoying live performances by The Offspring, Pennywise, The Vandals, Me First and The Gimme Gimmes, Unwritten Law, and Los Kung Fu Monkeys.
Produced by California's most successful and respected craft beer festival producer Brew Ha Ha Productions and premier music festival production company Synergy Global Entertainment (SGE), KLOS Sabroso Craft Beer, Taco & Music Festival brings together a diverse array of stellar breweries and the region's top chefs and restaurants to spotlight the West Coast's growing craft beer community and fascination with the popular Mexican dish. For four hours, attendees 21+ will taste unlimited samples of craft beer from well-known SoCal breweries and beyond, including Abnormal Beer Company, Artifex Brewing, Avery Brewing, Belching Beaver, Modern Times, Pizza Port, Stone Brewing, and Three Weavers.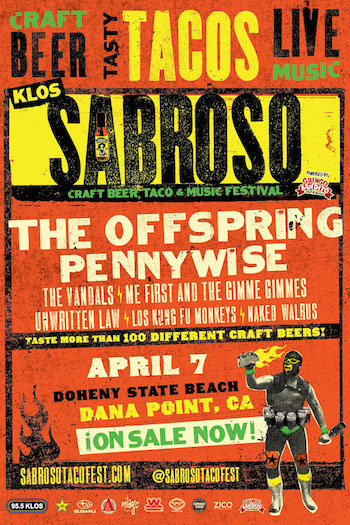 Foodies will savor the scrumptious tacos provided by Fiesta Gourmet (VIP only), Chicana Vegana, Panchos Tacos, Good Fellas Taco Catering, and more. The West Coast's popular Mexican grill, Chronic Tacos, will also serve their fan-favorite tacos, filled with choice of veggies or meat. Competing for the coveted 'Best in Show' award, many participating restaurants are serving new and exciting taco creations like Romega's alligator stuffed taco and Chef TLC's Sidewalk Café's Korean street tacos with kimchi. To top off the array of flavors, those with a sweet tooth will be satisfied with Coned Ice Cream's beer-infused ice creams.
Amongst the eating and sipping of the region's finest craft beers and tacos, event-goers will also savor in spirited games, engaging attractions, and the crowd favorite lucha libre style wrestling matches. Attendees are invited to sample all flavors of The Offspring lead singer Dexter Holland's top rated hot sauce — Gringo Bandito!
Complimentary craft beer tastings last until 4 p.m. and tacos will be available for purchase while supplies last. Festival General Admission Tickets start at $65.50 and VIP Lounge + Early Entry Tickets are sold out. Day-of Festival General Admission Tickets (if available) will be $75.50 per person.
In 2018, the Sabroso Craft Beer, Taco & Music Festival brand expands to include dates in Sacramento, Denver, Albuquerque, Tucson, Auburn, and Portland during April and May.
Sponsors for KLOS Sabroso Craft Beer, Taco & Music Festival powered by Gringo Bandito include SUBARU, Sweet James Bergener, Gringo Bandito, Avery Brewing, Rockstar Energy Drink, Chronic Tacos, Milagro Tequila, Cosmic Fog and many more.
The festival producers encourage attendees to drink responsibly.
For the most up-to-date information on KLOS Sabroso Craft Beer, Taco & Music Festival, please visit:
---
About Synergy Global Entertainment, Inc.
About Synergy Global Entertainment, Inc.: Synergy Global Entertainment, Inc. (SGE) specializes in producing music events and music marketing programs benefiting brands, artists, consumers, partners and attendees alike. SGE has produced thousands of branded music festivals, concerts, tours and events throughout the world playing to millions of applauding fans.
www.sgeworldwide.com
About Brew Ha Ha Productions
Brew Ha Ha Productions (BHPP) is one of the largest craft beer centric event producers in the United States. Fueled by a desire to promote craft beer, along with visions of creating unique annual events, Orange County based BHHP has enjoyed an unprecedented 180% growth in 2017. Established in 2010, BHHP's Award Winning and diverse events now reach beyond OC and California including festivals in Arizona, Washington, Oregon, Nevada, and Colorado. A 'For-Profit' organization whose missions includes giving back, BHHP has helped many non-profits raise awareness and money to further their worthy causes.
www.brewhahaproductions.com
About Gringo Bandito
Gringo Bandito was started in 2004 by Dexter Holland, singer for the multi-platinum punk rock band The Offspring, more as a hobby than a business. "I just thought it would be cool to have a hot sauce," says Holland. "I gave away the first batch as Christmas presents to my friends." The response to this new hot sauce was so overwhelming that Holland decided to put it out commercially. Sales were modest at first, and the hot sauce was distributed only in Holland's native Southern California. "It has always been a DIY operation for sure," Holland says. "It started small but it has just kept on growing." After several years and over a million bottles later, Gringo Bandito hot sauce has garnered a worldwide audience and a loyal following. "We're not the most well-known hot sauce out there," says Holland, "but once people try it, they're hooked." Gringo Bandito is now sold in Australia, Japan, Canada, Finland, Switzerland, UK, Poland, Germany, Belgium, Hungary and coast to coast in the US and can be found in the top 10 on Amazon.com's highest customer rated hot sauces amongst 5000+ other products.
About KLOS
KLOS The Rock of Southern California (95.5 FM) is a commercial Rock music formatted radio station in Southern California broadcasting to Los Angeles, Ventura, Riverside, San Bernardino, and Orange Counties. KLOS features specialty music shows such as Frosty, Heidi & Frank, Jonesy's Jukebox, Full Metal Jackie's Whiplash, Check I…2, and many more. Owned by Cumulus Media, KLOS studios are in Culver City, CA and the station reaches an audience of over 1.5 million listeners each week.
Sabroso Craft Beer, Taco & Music Festival powered by Gringo Bandito Publicity Contacts
Ashton-Magnuson Media:
Kristine Ashton-Magnuson, kristine@am-media.net; (818) 996-2496
Ashley Di Buduo, ashley@a12entertainment.com; (323) 379-9684
Brew Ha Ha Productions Publicity Contact
Tori Elder / The ACE Agency: tori@theaceagency.com, (702) 413-8625
Gringo Bandito Publicity Contact
Bob Bradley, Bob@BobBradley.info; (714) 321-1471