Date: March 19, 2018
From: Kristine Ashton-Magnuson / Ashley Di Buduo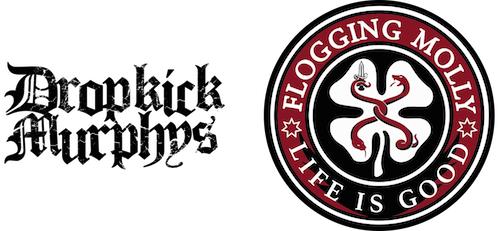 A Tour 20 Years In The Making:
Dropkick Murphys & Flogging Molly
Announce First-Ever U.S. Co-Headlining Tour
Kicking Off June 1 In Cleveland, OH
Dropkick Murphys. Flogging Molly. They share a working class ethos, they share an Irish heritage and Celtic folk influence, and now — for the first time — these two giants of American punk rock will be sharing the stage for a co-headlining U.S. tour. This historic run, celebrating over 20 years of mayhem, kicks off June 1 at Jacobs Pavilion in Cleveland, OH. Tickets for all shows are on sale now at www.dropkickmurphys.com and www.floggingmolly.com.
Dropkick Murphys just completed their 2018 St. Patrick's Day Tour — including their annual sold-out hometown run of Boston shows — with NYC hardcore legends Agnostic Front and Boston ska pioneers Bim Skala Bim. This followed Dropkick Murphys' sold-out European arena/concert hall tour — which included dates with Flogging Molly — in February. Flogging Molly is in the homestretch of their fast-selling Life Is Good Spring 2018 Tour, selling out over half of the dates in advance including their St. Patrick's Day celebration at Hollywood's Palladium, as well as the remaining shows. The band will set sail to the Bahamas on April 20th for their 4th annual Salty Dog Cruise, joined by The Offspring, Buzzcocks, The Vandals, Lagwagon, The Adolescents, and more.
The Dropkick Murphys and Flogging Molly co-headlining U.S. tour dates are as follows:
Date
City
Venue
June 1
Cleveland, OH
Jacobs Pavilion
June 2
Big Flats, NY
Tag's Summer Stage
June 3
Cincinnati, OH
Bunbury Festival*
June 5
Detroit, MI
Masonic Temple Theater
June 7
Bonner Springs, KS (Kansas City)
Providence Medical Center Amphitheater
June 8
Minneapolis, MN
The Armory
June 9
Council Bluffs, IA
Stir Cove at Harrah's Casino
June 10
Denver, CO
Fox Street Compound
June 12
Sauget, IL (St. Louis)
Pop's Nightclub & Concert Venue
June 13
Columbus, OH
Express Live!
June 15
Montebello, QC
Montebello Rockfest**
June 16
East Providence, RI
Bold Point Park
June 17
Asbury Park, NJ
Stone Pony Summerstage
June 18
Pittsburgh, PA
Stage AE
June 19
Raleigh, NC
Red Hat Amphitheater
June 21
Philadelphia, PA
Festival Pier at Penn's Landing
June 22
Forest Hills, NY
Forest Hills Stadium
June 23
Gilford, NH
Bank of New Hampshire Pavilion
*Festival date (

Dropkick Murphys

only)
**Festival date (

Dropkick Murphys

&

Flogging Molly

)
For more on Dropkick Murphys, visit:
For more on Flogging Molly, visit: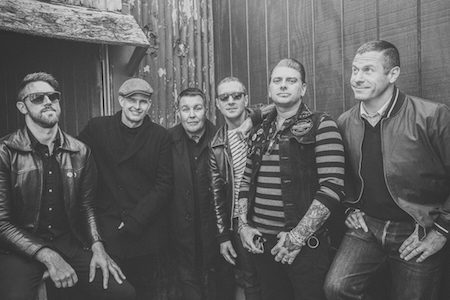 Dropkick Murphys
(photo by Gregory Nolan)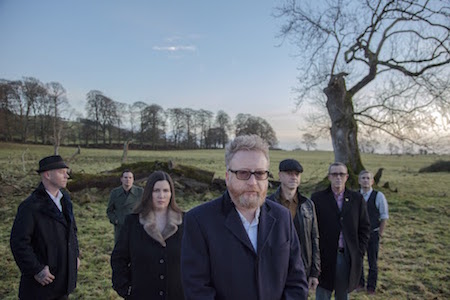 Flogging Molly
(photo by Richie Smyth)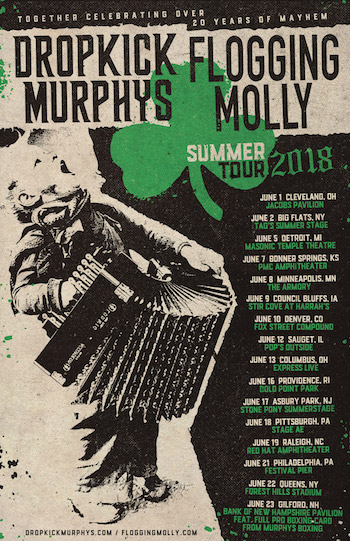 ---
About Dropkick Murphys:
Dropkick Murphys — Al Barr (lead vocals), Tim Brennan (guitars, accordion, mellotron, whistles, vocals), Ken Casey (lead vocals, bass guitar), Jeff DaRosa (banjo, bouzouki, mandolin, harmonica, acoustic guitars, vocals), Matt Kelly (drums, percussion, vocals), James Lynch (guitar, vocals) — are touring in support of their 11 Short Stories Of Pain & Glory album, released through the band's own Born & Bred Records in 2017. The album debuted at #8 on the Billboard Top 200 and was the #1 independently released album. There's a feeling of purpose throughout the album, influenced by the band's work with The Claddagh Fund, a charity the band established in 2009 to help support addiction recovery as well as children's and veterans' organizations. Dropkick Murphys are hands-on in raising funds, mentoring, and lending a helping hand with veterans, youth sports, and drug and alcohol rehabilitation. Many of the songs reflect these experiences, and the band's sadness, anger and dismay at the opiate epidemic ravaging the country — in particular, Boston and New England — and also their feeling of pride and optimism at the sight of those who have turned their lives around. Dropkick Murphys have become ambassadors for their city. In Boston, it seems like everybody knows someone connected to the band whether by blood, friendship, or the time they shared a brew at a Bruins game. They've built a legacy that does Beantown proud.
About Flogging Molly:
Quintessential Irish-American folk punk band Flogging Molly — Dave King (lead vocals, acoustic guitar, electric guitar, bodhran), Bridget Regan (violin, tin whistle), Dennis Casey (acoustic guitar, electric guitar), Bob Schmidt (banjo, mandolin), Matt Hensley (accordion, piano, concertina), Nathen Maxwell (bass guitar, vocals), Mike Alonso (drums, percussion) — are celebrating their 20th Anniversary as a staple in the punk scene and touring in support of Life Is Good, their first new album in over six years. It's filled with rousing songs that are timeless in their sentiment, but directly related to today's most pressing concerns: politics, the economy, unemployment, planned boomtowns gone bust, immigration policies gone awry, and much more. Life Is Good serves as a wake-up call to those who have simply stood by while far-reaching political decisions were made that had serious impact on them. The band started out as the house band at Molly Malone's and built a loyal following. They've built a massive fan base through endless touring, and even have their very own boat cruise which has hosted everyone from Rancid to NOFX to The Offspring to Less Than Jake to The English Beat to The Bouncing Souls to Frank Turner to Gogol Bordello. This year marks the fourth year of their roaring Salty Dog Cruise.
Dropkick Murphys Publicity Contacts:
Ashton-Magnuson Media
Kristine Ashton-Magnuson, kristine@am-media.net, (818) 996-2496
Ashley Di Buduo, ashley@a12entertainment.com, (323) 379-9684
Flogging Molly Publicity Contact:
Night Owl Public Relations
Gary Strack, gary@nightowlpr.com, (610) 928-3348