Date: March 21, 2018
From: Kristine Ashton-Magnuson / Ashley Di Buduo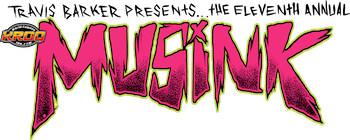 Travis Barker's MUSINK, Presented By KROQ:
America's Largest Tattoo & Music Festival
Wraps Its Biggest Year Ever
March 16, 17 & 18 At OC Fair & Event Center
In Southern California
11th Annual 3-Day Music Festival, Tattoo Convention & Car Show
Tops 23,000 In Attendance For The Weekend
With Performances From blink-182, Descendents, Lil Yachty,
Fear, Good Charlotte, Machine Gun Kelly & More
Travis Barker's MUSINK, presented by KROQ completed its biggest year ever at the OC Fair & Event Center in Costa Mesa, CA on Friday, March 16, Saturday, March 17 and Sunday, March 18, with over 23,000 in attendance over a weekend featuring hundreds of world-renowned tattoo artists, music performances from top rock, punk and hip hop artists, the Low 'N' Slow Car Show presented by Travis Barker's Famous Stars and Straps, and more.
Saturday at MUSINK marked the highest attendance for a North American tattoo and music festival, with over 12,000 on hand to witness Travis Barker's headlining performance with blink-182, plus sets from Good Charlotte, The Interrupters and Lil Aaron, the annual crowning of Miss MUSINK, and more. Travis Barker could be spotted throughout the weekend at the 11th annual event, including guest performances with Strung Out on Friday and The Fever 333 on Sunday, while Barker's son Landon Barker joined Lil Aaron onstage on Saturday. Atreyu's Brandon Saller jumped onstage with Good Charlotte on Saturday for their song "The River," and punk legends Fear reunited for the first time in well over a decade with guitarist Philo Cramer and drummer Spit Stix from the band's classic lineup for much of their blistering Friday night set.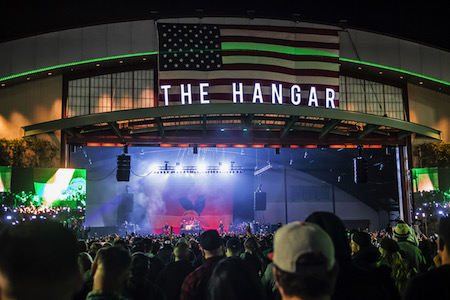 Travis Barker says, "Feels great to be part of the biggest tattoo convention / music event in history. Expect even bigger and better things to come in 2019. Thank you for another wonderful year of MUSINK."
Kelli Fadroski of the Orange County Register noted, "…MUSINK fans came out in droves to completely sell out Day 2. Saturday's festivities included the hundreds of world-renowned tattoo artists in their hangars, hard at work applying fresh ink to dozens of patrons."
The full music lineup for MUSINK 2018 included Descendents, Fear, Strung Out, The Adolescents and Spanish Love Songs on Friday; blink-182, Good Charlotte, The Interrupters and Lil Aaron on Saturday; and Lil Yachty, Machine Gun Kelly, Wifisfuneral and The Fever 333 on Sunday.
For the complete list of participating tattoo artists at Travis Barker's MUSINK 2018 visit www.MUSINKfest.com.
Travis Barker's MUSINK 2018 was produced by Bill Hardie, Travis Barker, John Reese, and Sean Akhavan. MUSINK partners included: Famous Stars and Straps, Rockstar Energy Drink, Tecate, Bulleit Frontier Whiskey, Golden Crown Barber Shop, Dixxon Flannels, Cosmic Fog, Sullen, Lubriderm, Layrite, Bishop Tattoo Supply, and Johnny's Saloon in Huntington Beach.
For more information on MUSINK, please visit: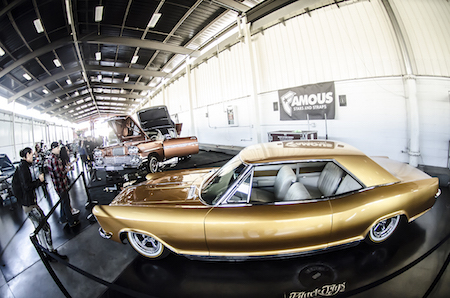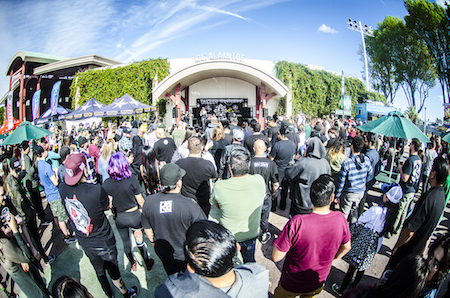 [Note: All MUSINK 2018 photos by Taylor Ward]
---
MUSINK Publicity Contacts:
Ashton-Magnuson Media
Kristine Ashton-Magnuson, kristine@am-media.net, (818) 996-2496
Ashley Di Buduo, ashley@a12entertainment.com, (323) 379-9684
Travis Barker Publicity Contact:
Jenni Weinman-Voake / The Current Co., weinman@thecurrentco.com, (424) 245-4390