Date: April 4, 2018
From: Kristine Ashton-Magnuson / Ashley Di Buduo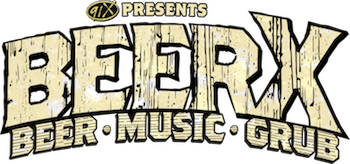 4th Annual
91X Presents BeerX
Saturday, June 23
At Waterfront Park In San Diego, CA
With Performances From Slightly Stoopid,
Stick Figure, Pepper, Fishbone & More

Festival Features Extensive Craft Beer Selection
Highlighting Some Of Southern California's Best Breweries
BEER • MUSIC • GRUB
The fourth annual 91X Presents BeerX (Beer • Music • Grub) is set for Saturday, June 23, once again returning to San Diego, CA's picturesque Waterfront Park. This year's BeerX brings Slightly Stoopid's "School's Out For Summer Tour" to their hometown. The 2018 BeerX music lineup features Slightly Stoopid, Stick Figure, Pepper, Fishbone (original lineup), Ethan Tucker Band and Marujah. BeerX will offer complimentary craft beer tastings for those 21 and up, with an extensive craft beer lineup highlighting some of Southern California's top breweries, as well as local food selections.
Tickets for 91X Presents BeerX go on sale Friday, April 6 at 10:00 AM PT at www.BeerXSanDiego.com
Note: All tickets for those 21+ include craft beer tasting until 4:00 PM and access to live music.
Slightly Stoopid kick off their School's Out For Summer 2018 Tour (with special guests Stick Figure and Pepper) in June and are excited to headline 91X Presents BeerX. Slightly Stoopid's Miles Doughty said, "Stoked to be playing 91X's BeerX this year! School's out for Summer, so bring on the music, good beers and blue skies at Waterfront Park. Hometown hangout, butawatchout!"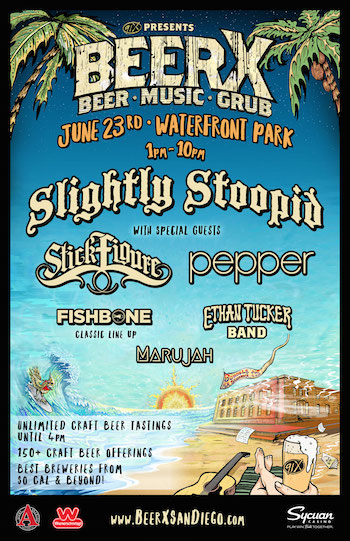 "There's no such thing as a bad beer, just some taste better than others, ha! Can't wait to taste 'em all and rock with our SD Ohana," said Pepper's Yesod Williams.
Norwood Fisher, bass player and founding member of Fishbone, said, "I'm filled with gratitude that life's course has brought us to the reunification of the classic Fishbone lineup! We all recognize that there was a time when it seemed so unlikely that we'd reach this point, and that fuels a personal excitement when we're hitting the stage. It's ultra-appropriate that we're reconnecting with our friends at 91X. 91X was there for us at the earliest stages of our career, and it's bad ass that we can party with them now! Now, add to that the fact that the good homies Slightly Stoopid are topping the bill!?!? Sounds like some hell-raising is in order for sure!"
91X Program Director Garett Michaels said, "Last year's BeerX was so great, I wasn't sure we'd be able to come up with an artist lineup that would compare. But, I think we may have topped it, and I couldn't be more stoked about what we've curated. There's nothing better than a summer day next to San Diego Bay, with great music, tasty food, and an incredible group of participating breweries. I can't wait for June 23rd to arrive. See you at Waterfront Park!"
Festival co-producer Cameron Collins of Brew Ha Ha Productions said, "BeerX took San Diego by storm last year with an amazing lineup of bands and an impressive list of breweries from San Diego and beyond! This year, we have assembled even more incredible breweries who will be showcasing their absolute BEST at BeerX! San Diego is famous around the world for its beer and this festival is a perfect representation of what San Diego and Southern California have to offer!"
The initial list of breweries for 91X Presents BeerX includes: Abnormal Beer Co., Avery Brewing, Artifex Brewing, Faction Brewing, Four Sons Brewing, Novo Brazil Brewing, Pizza Port Brewing, Ska Brewing, Stone Brewing, Three Weavers Brewing, Thr3e Punk Ales, Unsung Brewing, and Wild Barrel Brewing Co., with many more to be announced.
During VIP and early entry tastings (from Noon - 4:00 PM), and general admission tastings (from 1:00 PM - 4:00 PM), 91X Presents BeerX attendees 21+ will have the chance to sample over 100 craft beers from some of Southern California's top breweries. Throughout the day and evening, local food trucks and pop-up restaurants will be onsite selling a variety of delicious and unique food options. Craft beer and other libations will be available for purchase at concession stands as well.
Tickets for BeerX start at the following prices (plus fees):
$35 Concert Ticket (entry @ 4:00 PM)
$49 Craft Beer Tasting + Concert Ticket (21+, entry @1:00 PM)
$129.50 VIP Lounge + Early Entry Pass (Includes Early Entry @ Noon For Craft Beer Tasting + Concert Ticket)
$229.50 Stand On Stage Viewing + VIP Lounge + Early Entry Pass (Includes Early Entry @ Noon For Craft Beer Tasting + Concert Ticket)
Last year's tickets were sold out, with 8,500 in attendance, so patrons are encouraged buy early to save and guarantee a ticket to the show. Also, tune in to 91X for special offers.
91X Presents BeerX is produced by premier music festival production company Synergy Global Entertainment (SGE) and Orange County, California's most successful and respected craft beer festival producer, Brew Ha Ha Productions. BeerX sponsors include Avery, Sycuan, and Wienerschnitzel, with more to be announced.
Waterfront Park is located at 1600 Pacific Highway in San Diego, near North San Diego Bay. 91X Presents BeerX will have a convenient drop off area for ride sharing and taxis, and the Green Line to San Diego's Santa Fe Depot train station is just three blocks from Waterfront Park.
Media partners include San Diego's iconic alternative radio station 91X, Z90.3 (XHTZ-FM) and Magic 92.5 (XHRM-FM).
The festival producers encourage attendees to drink responsibly.
For more information on 91X Presents BeerX, visit: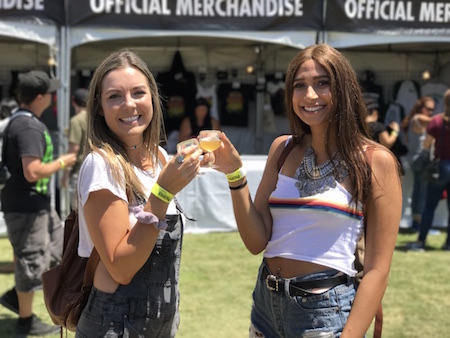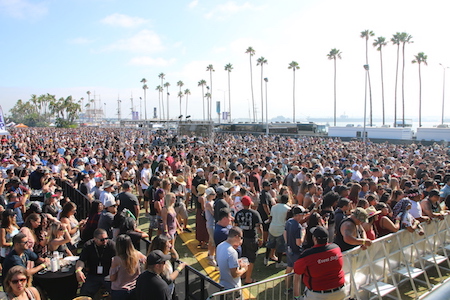 (2017 BeerX Photos courtesy of 91X)
---
About Synergy Global Entertainment, Inc.:
Synergy Global Entertainment, Inc. (SGE) is one of the world's premier music festival production companies. SGE events include music and lifestyle festivals across a variety of genres and interests, with over 60 major festival dates in 2018. SGE produces or co-produces Back To The Beach; Driftwood; ID10T Music Festival + Comic Conival; Knotfest; Lost Lands (named Noiseporn 2017 Festival Of The Year); Moonrise Festival; MUSINK; Oddball Comedy and Curiosity Festival; Ohana Dana Point; Punk In Drublic Craft Beer & Music Festival; Sabroso Taco, Craft Beer & Music Festival; WCOL Country Jam; Ye Scallywag!, and more. In addition, SGE co-produced the Rockstar Energy Drink Mayhem Festival and the worldwide Rockstar Taste of Chaos, and created and produced the Identity Festival and Rockstar Energy UPROAR Festival. This year's SGE-affiliated events are projected to sell nearly 1 million tickets overall. In addition to festival production, SGE's in-house sponsorship agency procures and executes a multitude of partnerships in varying forms for global brands, top-tier artists, international booking agencies and more.
www.sgeworldwide.com
About Brew Ha Ha Productions:
Brew Ha Ha Productions (BHPP) is one of the largest craft beer centric event producers in the United States. Fueled by a desire to promote craft beer, along with visions of creating unique annual events, Orange County based BHHP has enjoyed an unprecedented 180% growth in 2017. Established in 2010, BHHP's Award Winning and diverse events now reach beyond OC and California including festivals in Arizona, Washington, Oregon, Nevada, and Colorado. A 'For-Profit' organization whose missions includes giving back, BHHP has helped many non-profits raise awareness and money to further their worthy causes.
www.brewhahaproductions.com
About 91X:
91X (XTRA-FM 91.1) is owned by Local Media San Diego, LLC; a San Diego-based broadcasting company backed by private equity firm, Thoma Bravo, LLC. LMSD also operates Z90.3 (XHTZ-FM) and Magic 92.5 (XHRM-FM).
About Slightly Stoopid:
An eclectic band when it comes to musical styles as well as collaborations, Slightly Stoopid, now in their second decade of making music, continues to manufacture an energizing and multifaceted sound that has been described as "a spiritual bath of positive party energy." The Ocean Beach, California-based band formed by multi-instrumentalists Kyle McDonald and Miles Doughty has matured into a versatile musical ensemble. Band members consist of drummer Ryan "Rymo" Moran; percussionist Oguer "OG" Ocon; saxophonist Daniel "Dela" Delacruz; keyboardist Paul Wolstencroft; trumpet and trombone player Andy Geib, and an arsenal of guests that frequent the stage, most notably Karl Denson (Rolling Stones/Greyboy Allstars), Don Carlos, Chali 2na (Jurassic 5) and Rashawn Ross (Dave Matthews Band).
slightlystoopid.com
91X Presents BeerX Publicity Contacts
Ashton-Magnuson Media:
Kristine Ashton-Magnuson, kristine@am-media.net; (818) 996-2496
Ashley Di Buduo, ashley@a12entertainment.com; (323) 379-9684