Date: April 16, 2018
From: Kristine Ashton-Magnuson / Selena Fragassi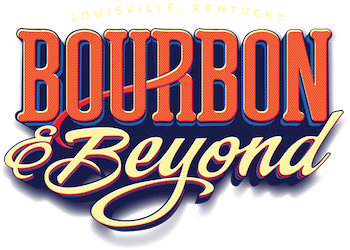 Bourbon & Beyond Announces Extraordinary Music Lineup
For World's Largest Bourbon Festival

Sting, John Mayer, Robert Plant And The Sensational Space Shifters,
Lenny Kravitz, Counting Crows, And David Byrne
Top The Bill For Second Annual Bourbon, Food & Music Festival
At Champions Park In Louisville, KY
Saturday, September 22 And Sunday, September 23
Festival Offers Bourbon And Culinary Experiences
Featuring Master Distillers And Celebrity Chefs During
Bourbon Heritage Month

Tickets Go On Sale Friday, April 20 At 12:00 PM EDT
The second annual Bourbon & Beyond festival makes its much-anticipated return to Champions Park in Louisville, KY, Saturday, September 22 and Sunday, September 23 with the perfect blend of bourbon, food & music not found anywhere else in the world. Festival producers Danny Wimmer Presents, culinary curator Edward Lee (The Mind of A Chef) and bourbon curator Fred Minnick have put together another incredible bourbon, music, and culinary lineup for the weekend. World-renowned musicians including Sting and Robert Plant And The Sensational Space Shifters, as well as superstars John Mayer, Lenny Kravitz, Counting Crows and David Byrne, lead the music lineup of more than 30 artists. Tom Colicchio, Stephanie Izard, Aarón Sánchez and Ray Garcia lead the culinary lineup of more than 20 chefs.
See the official bourbon announcement video here: http://bit.ly/BBBVideo18
The world's largest bourbon festival, Bourbon & Beyond is an annual celebration of the craftsmanship behind award-winning bourbons, master distillers, legendary musicians, world-class chefs, and an unforgettable showcase of the soul and spirit of Louisville, held during Bourbon Heritage Month. In its inaugural year in 2017, the festival attracted 50,000 people from all over the country, offering a series of onsite experiences, including bourbon and culinary workshops.
The festival's centerpiece, the Big Bourbon Bar presented by Louisville Courier Journal, will feature more than two dozen bourbons selected by best-selling author and renowned bourbon authority Fred Minnick, Bourbon & Beyond's official bourbon curator. Acclaimed Louisville whiskey bar The Silver Dollar will operate The Hunter's Club, where attendees can find vintage bourbons dating as far back as the 1930s, as well as contemporary collectibles — which last year included more than 50 rarities. The festival also announces the return of Fred Minnick's Mini Bar presented by The Bourbon Women Association, which will showcase this year's craft bourbon selections: Hartfield & Co., MB Roland, Old Pogue, Wadelyn Ranch and Wilderness Trail.
Bourbon & Beyond exclusive VIP packages, General Admission tickets, camping and hotel packages, as well as special event tickets go on sale Friday, April 20 at 12:00 PM EDT. Visit www.BourbonandBeyond.com for more details.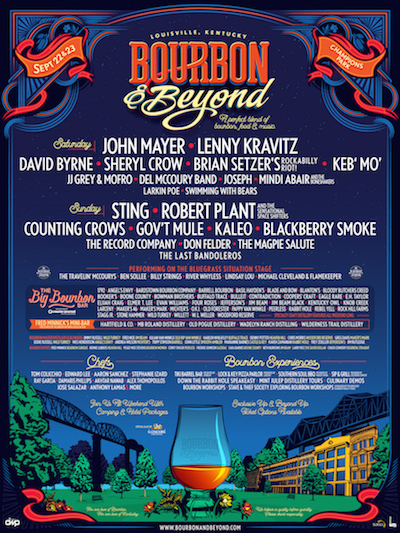 The current music lineup includes: Sting, John Mayer, Robert Plant And The Sensational Space Shifters, Lenny Kravitz, Counting Crows, David Byrne, Sheryl Crow, Brian Setzer's Rockabilly Riot!, Kaleo, Gov't Mule, Keb' Mo', Blackberry Smoke, JJ Grey & Mofro, Don Felder, The Record Company, Del McCoury Band, Joseph, Magpie Salute, Mindi Abair And The Boneshakers, Larkin Poe, The Last Bandoleros and Swimming With Bears.
Along with world-class musical performances happening throughout the weekend on the two main music stages, The Big Bourbon Bar will feature a bluegrass stage curated by the genre's leading authority, The Bluegrass Situation, all weekend long. Artists performing include: The Travelin' McCourys, Billy Strings, Michael Cleveland & Flamekeeper, Ben Sollee, River Whyless, and Lindsay Lou.
Louisville has a thriving food scene, as recognized by Top Chef, which will be filming their upcoming 16th season in the city. Bourbon & Beyond's culinary celebration will highlight top talent including:
Tom Colicchio

(

Top Chef

head judge; Crafted Hospitality founder)

Edward Lee

(Executive Chef for 610 Magnolia, MilkWood, and Whiskey Dry in Louisville, KY; Culinary Director for Succotash in National Harbor, MD and Washington, DC)

Stephanie Izard

(Chef/Partner at Girl & the Goat, Little Goat Diner, and Duck Duck Goat in Chicago, IL;

Iron Chef Gauntlet

winner)

Aarón Sánchez

(Chef/Owner at Johnny Sánchez in New Orleans, LA;

MasterChef

judge)

Ray Garcia

(Chef/Owner at Broken Spanish and BS Taqueria in Los Angeles, CA)

Damaris Phillips

(Louisville, KY native, Food Network host, cookbook author)

Akhtar Nawab

(Louisville, KY native, Chef/Owner at Alta Calidad in New York City, Fero in Birmingham, AL and Prather's on the Alley in Washington, DC)

Alex Thomopoulos

(Chef, blogger, Bravo.com's

Going Off The Menu

)

Jose Salazar

(Chef/Owner at Mita and Salazar in Cincinnati, OH; 2018 James Beard Foundation nominee)

Anthony Lamas

(Chef/Owner at Seviche, a Latin Restaurant in Louisville, KY)

Annie Pettry

(Chef/Owner at Decca in Louisville, KY)

Ryan Rogers

(Owner of Feast BBQ, Royals Hot Chicken and bar Vetti in Louisville, KY)
Look for more food experience details to be announced soon.
"The underlying theme of Bourbon & Beyond is a celebration of craftsmanship. I've asked our team to approach every aspect of this festival with the same handcrafted spirit that is used by all of the participating artisans. Each and every one of these distilleries, master distillers, musicians, and chefs have spent years mastering their craft. I am honored and humbled that they have agreed to participate in our second year," says Danny Wimmer, founder of Danny Wimmer Presents.
Bourbon & Beyond has also announced its first official pre-show activities on Friday, September 21, including a Supper Club hosted by Tom Colicchio and Edward Lee, events at the Muhammad Ali Center, an exclusive behind-the-scenes look at local distilleries from Mint Julep Experiences, and bourbon educational sessions from Stave & Thief. Adds Wimmer, "Our plan is to continue to involve more and more of the community, in both Louisville and greater Kentucky. This state has so many treasures and my goal is to showcase them all. This year's Friday night lineup is just a hint of what is to come."
Bourbon Experiences available onsite include:
Tiki Barrel Bar presented by Jim Beam
Lock & Key Pizza Parlor presented by Larceny
Southern Soul BBQ presented by Maker's Mark
Sip & Grill presented by Southern Comfort
Down The Rabbit Hole Speakeasy presented by Rabbit Hole
Stave & Thief Society: Exploring Bourbon Workshops sponsored by The Kentucky Bourbon Trail® Tours
Boone County Distilling Back Porch
Whiskey Row Cigar Lounge presented by Diesel Cigars
And more culinary demos and bourbon workshops
Bourbon Headliners include: 1792, Angel's Envy, Bardstown Bourbon Company, Barrell Bourbon, Basil Hayden's, Blade and Bow, Blanton's, Bloody Butcher's Creed, Booker's, Boone County, Bowman Brothers, Buffalo Trace, Bulleit, Contradiction, Coopers' Craft, Eagle Rare, E.H. Taylor, Elijah Craig, Elmer T. Lee, Evan Williams, Four Roses, Jefferson's, Jim Beam, Jim Beam Black, Kentucky Owl, Knob Creek, Larceny, Maker's 46, Maker's Mark, Michter's, O.K.I., Old Forester, Pappy Van Winkle, Peerless, Rabbit Hole, Rebel Yell, Rock Hill Farms, Stagg Jr., Stone Hammer, Wild Turkey, Willett, W.L. Weller and Woodford Reserve, with more to be announced soon.
Bourbon Master Distillers, Blenders and Experts include: Fred Minnick, best-selling author and renowned bourbon authority; Andrea Wilson, master of maturation at Michter's; Bernie Lubbers, founder of Heaven Hill; Beth Burrows, Kentucky Bourbon Ambassador for Beam Suntory; Blake Riber, founder of Bourbonr.com; Brian Haara, author of Bourbon Justice; Carla Carlton, founder of TheBourbonBabe.com; Chris Morris, master distiller of Woodford Reserve; Chuck Cowdery, author of Bourbon, Straight; Corky Taylor, founder of Peerless; Denny Potter, master distiller for Heaven Hill; Drew Kulsveen, master distiller of Willett; Eddie Russell, master distiller of Wild Turkey; Fred Noe, master distiller of Jim Beam; Freddie Johnson, Sazerac; Greg Davis, master distiller of Maker's Mark; Harlen Wheatley, master distiller at Buffalo Trace; Jane Bowie, maturation specialist for Maker's Mark; Jim Rutledge, Bourbon Hall of Fame distilling consultant; Jimmy Russell, master distiller of Wild Turkey; John Little, head distiller for Smooth Ambler; Julian Van Winkle, president of Old Rip Van Winkle Distillery; Kaveh Zamanian, founder of Rabbit Hole; Larry Rice, founder of The Silver Dollar; Marianne Barnes, master distiller of Castle & Key; Molly Wellmann, founder of Japp's Since 1879; Peggy Noe Stevens, founder of Bourbon Women; Sara Barnes, marketing and events at Boone County; Trey Zoeller, master blender of Jefferson's; Tripp Stimson, master distiller at Barrell; Wes Henderson, chief innovation officer of Angel's Envy, and many more.
Bourbon & Beyond also offers a unique series of over 30 bourbon and food-focused seminars at the festival, including a first-ever discussion between Jack Daniel's master distiller Jeff Arnett and Jim Beam's master distiller Fred Noe.
"Bourbon & Beyond makes history with our Jack & Jim seminar, which will showcase the world's two best-selling American whiskeys and dissect an often polarizing subject. We want to entertain and educate, but this seminar is taking whiskey discussions to another level and is akin to the Beatles and Rolling Stones sharing the stage," says Fred Minnick. "This is a rare opportunity to witness a live bourbon event that will never be duplicated."
Other bourbon and food-focused onsite seminars at the festival will include:
Family Affair: The Van Winkles

—The Van Winkle family will have a few stories to tell, such as when nobody wanted their bourbon.

My Daddy Was A Moonshiner

—Hear how Thomas Wade Daniels decided to break his family nighttime distilling practices and make legitimate whiskey.

The Audacity Of Sourced Whiskey

—Panelists discuss one of the most controversial whiskey topics of the past decade.

We Don't Need No Stinkin' Master Distiller

—In an industry that covets its master distillers, the truth is, it's a team effort.

Rarest Whiskey In The World

—Hidden in local bars and liquor stores are the rarest bourbons in the world. Learn how to spot them.

The Joy Of Vintage Whiskey

—In basements, at garage sales and even antique shops are old whiskey bottles collecting dust. Hear the story of America's underground whiskey culture.

The Nearest Green Story

—Nearest Green was the distiller the world never knew. Until now. Featuring Fawn Weaver, founder of Uncle Nearest Whiskey.

Food Pairings: Bird And Bourbon

—America's spirit pairs with more birds than the chicken.

Local Grains, Big Fame

—Many distilleries have farmer relationships spanning several generations. In fact, some grow their own grains.

Bourbon Mixology: Slushie Time

—Who knew that bourbon slushies would become all the rage?
Initial ticket prices for Bourbon & Beyond will be as follows:
2-Day Weekend General Admission: starting at $129.50 + fees
2-Day Weekend VIP: starting at $439.50 + fees
2-Day Beyond VIP: $999.50
Single Day General Admission: starting at $80.00 + fees
Single Day VIP: starting at $229.50 + fees
Bourbon & Beyond is part of DWP's previously announced 10-year plan to grow bourbon-related entertainment in Louisville, which includes Louder Than Life, a future country music festival and a spirits conference to be launched in 2020.
Bourbon & Beyond again welcomes The Daily Beast as the festival's official media partner. Noah Rothbaum, the editor of the Daily Beast's "Half Full" section and co-host of its podcast Life Behind Bars, will be onsite at the festival capturing exclusive content throughout the weekend.
Bourbon & Beyond sponsors include: Angry Orchard, Bourbon Barrel Foods, Bourbon Women Association, Black Box Wines, Cooper & Thief, Fxck Cancer, GE Appliances, Glencairn, Jack Daniel's Tennessee Whiskey, Kelvin Cooperage, Kentucky Bourbon Trail®, Kentucky Lottery, Kentucky Straight Ice, Lagunitas, Louisville Convention & Visitors Bureau, Louisville Water Company, MillerCoors, Mint Julep Experiences, Stave & Thief Society, Robert Mondavi Private Selection, Southern Comfort, SWFTCharge, Take Me Home, Tito's Handmade Vodka, The Music Experience, and Uncle Nearest Whiskey, with more to be announced soon.
For more information on Bourbon & Beyond please visit:
We believe in quality before quantity. Please drink responsibly.
---
About Danny Wimmer Presents:
Since 1993, music industry veteran Danny Wimmer has been producing concerts and festivals, both large and small. In 2011, he formed Danny Wimmer Presents, which now produces several of the largest rock and alternative festivals in the U.S. By combining A-list talent with local cuisine and culture, DWP has become recognized within the industry for delivering the highest-quality entertainment experiences to fans, artists, sponsors, partners and host cities. DWP creates memorable and all-encompassing festival experiences, leaving both consumers and partners with lasting and meaningful impressions. DWP will continue to add new music festivals to its already stellar portfolio, which includes Rock On The Range, Monster Energy Aftershock, Monster Energy Welcome To Rockville, Monster Energy Carolina Rebellion, Louder Than Life, Bourbon & Beyond, and Chicago Open Air, among others.
www.DannyWimmerPresents.com
About Fred Minnick:
After serving in Iraq in 2004, Wall Street Journal-bestselling author Fred Minnick found a new home in bourbon. Since 2006, Minnick's covered bourbon for the New York Times, Scientific American, USA Today, Whisky Advocate, Whisky Magazine and many more. He's written seven books, including Whiskey Women, Bourbon Curious and the 2017 Spirited Winner for World's Best Spirits Book, Bourbon: The Rise, Fall & Rebirth of An American Whiskey. He serves as the official bourbon curator for Bourbon & Beyond and is the Bourbon Authority for the Kentucky Derby Museum. Learn more at FredMinnick.com.
Bourbon & Beyond Publicity Contacts
Ashton-Magnuson Media
Kristine Ashton-Magnuson, kristine@am-media.net; (818) 996-2496
Selena Fragassi, selena@fr-pr.net; (847) 942-3093
Estes Public Relations (food and beverage PR)
(502) 614-5991
Jamie Estes, Jamie@estespr.com
Jaimie Schapker, Jaimie.Schapker@estespr.com
Tracy Green, tracy@estespr.com
Bourbon & Beyond Marketing/Sponsorship Contact
Lindsey Medina/Danny Wimmer Presents, lindsey@dwpresents.com