Date: May 2, 2018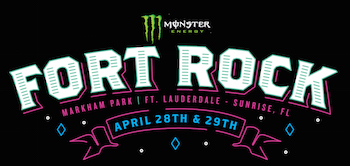 Monster Energy Fort Rock Kicks Off World's Loudest Month
With Record Breaking Weekend At The Festival's New Home
In Greater Fort Lauderdale At Markham Park In Sunrise, Florida
Over 30,000 In Attendance For Performances From
Ozzy Osbourne, Godsmack, Five Finger Death Punch,
Stone Sour, Shinedown, Breaking Benjamin & Dozens More
After reaching maximum capacity during the festival's first five years in Fort Myers, Monster Energy Fort Rock celebrated year six this past weekend at its new home at Markham Park in Sunrise, Florida on Saturday, April 28 and Sunday, April 29, 2018. The move allowed producers AEG Presents and Danny Wimmer Presents to expand the capacity and provide an enhanced festival experience, and the over 30,000 music fans that converged in Markham Park marked the largest attendance in the festival's history.
Festivalgoers enjoyed two days of performances from 23 bands on two stages, led by Ozzy Osbourne, Godsmack, Five Finger Death Punch, Stone Sour, Shinedown and Breaking Benjamin. In association with the Greater Fort Lauderdale Convention and Visitors Bureau's Hello Sunny Underground Music program, Monster Energy Fort Rock featured rock's top artists performing on two stages over two days. Monster Energy Fort Rock, South Florida's Biggest Rock Experience, is part of the World's Loudest Month festival series featuring the biggest names in rock music performing in six U.S. events in distinct concert atmospheres across the country during five consecutive weekends in April and May 2018.
Fans were able to satisfy more than just their hunger for rock, as Monster Energy Fort Rock featured a killer lineup of food and drink vendors including local flavor from the Fort Lauderdale area. Food vendors included Agave Taco Bar, Angry Bird Grill, BC Taco Truck, Boot Scootin Burgers, Captain Nemo's Seafood, Funnel Cake Fantasy, Gouda Boys, Hard Rock Café, Island Noodles, Mac Attack, Mount Olympus, Taste and Tell Gina, Texas Taco Depot, Jammin Concessions, Phat Daddy's Creole, Strawberry Fields, Homeslice Pizza and more. In addition, Monster Energy Fort Rock offered multiple onsite experiences, including the Monster Energy Experience, featuring Monster Energy tastings and signings with select artists; f.y.e. Fan Experience, where fans could purchase albums and get them signed by select artists; Florida Panthers Rock N Jock Experience, featuring a grand prize courtesy of the Florida Panthers and Shinedown; Love Hope Strength — the world's leading Rock n Roll cancer charity — which hosted a free bone marrow donor drive; and Alligator Alley Harley-Davidson, where fans could pick up swag and ride a Harley JumpStart mounted bike.
Here is a sample of what the media had to say about Monster Energy Fort Rock:
"Heavy metal and hard rock fans packed Markham Park in Sunrise this weekend to rock out at [Monster Energy] Fort Rock. Fans were ready to rock…And what better backdrop could you ask for on Sunday night for the Prince of Darkness — a FULL moon for Ozzy's headlining set! Slipknot frontman Corey Taylor's Grammy Award-nominated…Stone Sour played on the final day of the festival, drawing a massive, headbanging crowd…Sevendust, Hollywood Undead and Breaking Benjamin all performed high-energy rocking sets. It was a great 2 days of hard rock in a beautiful park. I can't wait to see what NEXT YEAR'S lineup brings us!"

—Brian Doughty, WPLG Local 10 News (ABC Miami)
Monster Energy Fort Rock is fueled by Monster Energy. Additional 2018 sponsors included: f.y.e., Underground Lauderdale, Hello Sunny, Florida Panthers, Love Hope Strength, Miller Lite, Alligator Alley Harley-Davidson, Roadrunner Records, Rise Records, and the Treatment Partners of America.
For more information on Monster Energy Fort Rock, visit: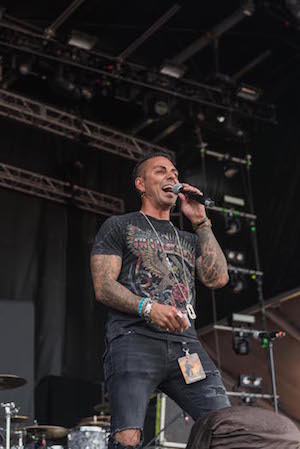 Monster Energy Fort Rock 2018 host Jose Mangin of SiriusXM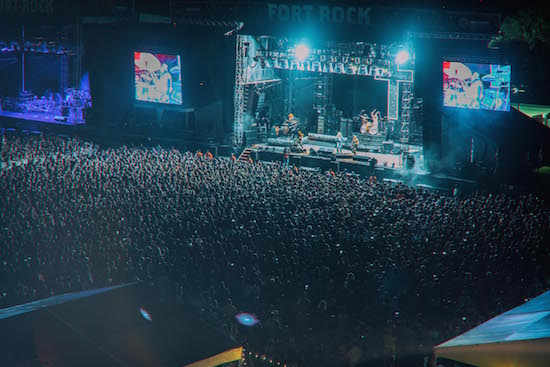 Crowd at Monster Energy Fort Rock 2018
All photos by Chris Shoemaker
---
About Danny Wimmer Presents:
Since 1993, music industry veteran Danny Wimmer has been producing concerts and festivals, both large and small. In 2011, he formed Danny Wimmer Presents, which now produces several of the largest rock and alternative festivals in the U.S. By combining A-list talent with local cuisine and culture, DWP has become recognized within the industry for delivering the highest-quality entertainment experiences to fans, artists, sponsors, partners and host cities. DWP creates memorable and all-encompassing festival experiences, leaving both consumers and partners with lasting and meaningful impressions. DWP will continue to add new music festivals to its already stellar portfolio, which includes Rock On The Range, Monster Energy Aftershock, Monster Energy Welcome To Rockville, Monster Energy Carolina Rebellion, Louder Than Life, Bourbon & Beyond, Monster Energy Rock Allegiance, Chicago Open Air, and Northern Invasion, among others.
www.DannyWimmerPresents.com
About AEG Presents:
AEG Presents is one of the largest live music companies in the world. The company is dedicated to all aspects of live contemporary music performances, including producing and promoting global and regional concert tours, music events and world-renowned festivals. AEG Presents operates in North America, Europe and Asia through 16 regional offices that support its tours, which include such artists as Taylor Swift, Paul McCartney, The Rolling Stones, Justin Bieber, Katy Perry and Kenny Chesney; produces or supports over 25 music festivals, including the iconic Coachella Valley Music & Arts Festival; and owns, manages or books more than 60 clubs and theaters. AEG Presents produces more than 8,000 shows annually worldwide and conducts business under such globally renowned brands as AEG Presents, Goldenvoice, Concerts West, Messina Touring Group, Marshall Arts LTD, and Madison House Presents.
www.aegpresents.com
About Monster Energy:
Most companies spend their money on ad agencies, TV commercials, radio spots and billboards to tell you how good their products are. At Monster Energy, we chose none of the above. Instead we support the scene, our bands, our athletes and our fans. We back athletes so they can make a career out of their passion. We promote concert tours, so our favorite bands can visit your hometown. We celebrate with our fans and riders by throwing parties and making the coolest events we can think of a reality.
www.monsterenergy.com | www.facebook.com/monsterenergy
Monster Energy Fort Rock Marketing and Publicity Contacts:
Kirstyn Schwartz / AEG Presents, kirstyn@aegpresents.com
Kristine Ashton-Magnuson / Ashton-Magnuson Media, kristine@am-media.net
Selena Fragassi / Ashton-Magnuson Media, selena@fr-pr.net