Date: June 20, 2018
From: Kristine Ashton-Magnuson / Ashley Di Buduo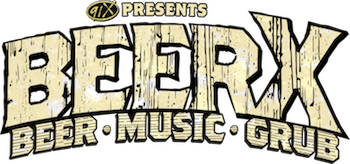 4th Annual
91X Presents BeerX
Music Performance Times & Expanded Brewery Lineup Announced
Festival Features Slightly Stoopid,
Stick Figure, Pepper, Fishbone & More
As Well As An Extensive Craft Beer Selection
Highlighting Some Of Southern California's Best Breweries

Saturday, June 23 At Waterfront Park In San Diego, CA
BEER • MUSIC • GRUB
The music performance times and an expanded brewery lineup have been announced for the fourth annual 91X Presents BeerX (Beer • Music • Grub), Saturday, June 23 at San Diego, CA's picturesque Waterfront Park.
This year's BeerX brings Slightly Stoopid's "School's Out For Summer Tour" to their hometown. The 2018 BeerX music lineup features Slightly Stoopid, Stick Figure, Pepper, Fishbone (original lineup), Ethan Tucker Band, Marujah and Band Of Gringos. In addition to music, BeerX will offer complimentary craft beer tastings for those 21 and up until 4:00 PM, with an extensive craft beer lineup highlighting some of Southern California's top breweries, as well as local food selections.
A portion of the proceeds from 91X Presents BeerX will be donated to Wounded Warrior Homes (www.WoundedWarriorHomes.org).
Performance times for 91X Presents BeerX are as follows (subject to change):
| | |
| --- | --- |
| 7:45 PM | Slightly Stoopid |
| 6:15 PM | Stick Figure |
| 5:15 PM | Pepper |
| 4:10 PM | Fishbone |
| 3:10 PM | Ethan Tucker Band |
| 2:20 PM | Marujah |
| 1:30 PM | Band Of Gringos |
Some of the craft beer highlights at 91X Presents BeerX include:
Abnormal Beer Co.

(San Diego, CA): Hopsalada (IPA), The Regal Collab (hazy IPA)

Avery Brewing Co.

(Boulder, CO): Bug Zapper (sour ale with lime zest, ginger & mint), Raspberry Sour (barrel-aged sour), Vanilla Bean Stout (bourbon barrel-aged stout) — served in VIP lounge

Burgeon Beer Co.

(Carlsbad, CA): Blue Steel (New England pale ale), Treevana (American IPA)

Stone Brewing

(Escondido, CA): Enjoy By 07.04.18 (unfiltered IPA), The Skedaddler (IPA), White Geist Berliner Weisse

Thr3e Punk Ales Brewing Co.

(Chula Vista, CA): Kill the Pour (IPA), Needle in the Hey! (IPA)

Three Weavers Brewing Company

(Inglewood, CA): Expatriate (IPA), Seafarer (Kölsch)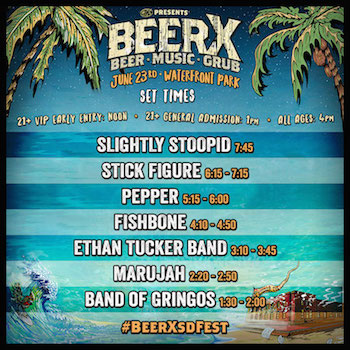 During VIP and early entry tastings (from Noon - 4:00 PM), and general admission tastings (from 1:00 PM - 4:00 PM), 91X Presents BeerX attendees 21+ will have the chance to sample over 150 craft beers from some of Southern California's top breweries. Throughout the day and evening, local food trucks and pop-up restaurants will be onsite selling a variety of delicious and unique food options. Craft beer and other libations will be available for purchase at concession stands as well.
The complete brewery list for 91X Presents BeerX currently includes (subject to change): 21st Amendment / Funkwerks, Abnormal Beer Co., Acoustic Ales, Aftershock Brewing, AleSmith, Amplified Ale Works, Artifex Brewing Co., Avery Brewing Co., Bear Republic, Bootlegger's Brewery, Booze Brothers, Burgeon Beer Co., Chapman Crafted Beer, Faction Brewing, Guinness, Insurgente, Mason Ale Works, Modern Times, New Glory Craft Brewery, Novo Brazil Brewing Co., Pizza Port, Pure Project, Resident Brewing, Ritual Brewing, Sierra Nevada, South Norte, Stone Brewing Co., Thorn Brewing, Thr3e Punk Ales Brewing Co., Three Weavers Brewing Company, Toolbox Brewing Company, 2 Towns Ciderhouse, Unsung Brewing Company, and Wild Barrel.
91X Presents BeerX is produced by premier music festival production company Synergy Global Entertainment (SGE) and Orange County, California's most successful and respected craft beer festival producer, Brew Ha Ha Productions. BeerX sponsors include Avery, Sycuan, and Wienerschnitzel, with more to be announced.
Waterfront Park is located at 1600 Pacific Highway in San Diego, near North San Diego Bay. 91X Presents BeerX will have a convenient drop off area for ride sharing and taxis, and the Green Line to San Diego's Santa Fe Depot train station is just three blocks from Waterfront Park.
Media partners include San Diego's iconic alternative radio station 91X, Z90.3 (XHTZ-FM) and Magic 92.5 (XHRM-FM).
The festival producers encourage attendees to drink responsibly.
For more information on 91X Presents BeerX, visit:
---
About Synergy Global Entertainment, Inc.:
Synergy Global Entertainment, Inc. (SGE) is one of the world's premier music festival production companies. SGE events include music and lifestyle festivals across a variety of genres and interests, with over 60 major festival dates in 2018. SGE produces or co-produces Back To The Beach; Driftwood; ID10T Music Festival + Comic Conival; Knotfest; Lost Lands (named Noiseporn 2017 Festival Of The Year); Moonrise Festival; MUSINK; Oddball Comedy and Curiosity Festival; Ohana Dana Point; Sabroso Taco, Craft Beer & Music Festival; WCOL Country Jam; Ye Scallywag!, and more. In addition, SGE co-produced the Rockstar Energy Drink Mayhem Festival and the worldwide Rockstar Taste of Chaos, and created and produced the Identity Festival and Rockstar Energy UPROAR Festival. This year's SGE-affiliated events are projected to sell nearly 1 million tickets overall. In addition to festival production, SGE's in-house sponsorship agency procures and executes a multitude of partnerships in varying forms for global brands, top-tier artists, international booking agencies and more.
www.sgeworldwide.com
About Brew Ha Ha Productions:
Brew Ha Ha Productions (BHPP) is one of the largest craft beer centric event producers in the United States. Fueled by a desire to promote craft beer, along with visions of creating unique annual events, Orange County based BHHP has enjoyed an unprecedented 180% growth in 2017. Established in 2010, BHHP's Award Winning and diverse events now reach beyond OC and California including festivals in Arizona, Washington, Oregon, Nevada, and Colorado. A 'For-Profit' organization whose missions includes giving back, BHHP has helped many non-profits raise awareness and money to further their worthy causes.
www.brewhahaproductions.com
About 91X:
91X (XTRA-FM 91.1) is owned by Local Media San Diego, LLC; a San Diego-based broadcasting company backed by private equity firm, Thoma Bravo, LLC. LMSD also operates Z90.3 (XHTZ-FM) and Magic 92.5 (XHRM-FM).
91X Presents BeerX Publicity Contacts
Ashton-Magnuson Media:
Kristine Ashton-Magnuson, kristine@am-media.net; (818) 996-2496
Ashley Di Buduo, ashley@a12entertainment.com; (323) 379-9684