Date: August 6, 2018
From: Kristine Ashton-Magnuson / Ashley Di Buduo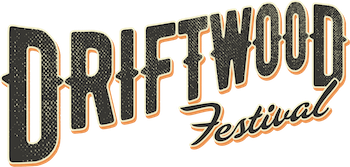 Driftwood
Country Music, Craft Beer & BBQ Festival
Expands To Austin And Denver In September

With Performances From Chase Rice, Michael Ray,
Walker Hayes, Seth Ennis & More

Plus Craft Beers From Some Of The Nation's Top Breweries
& BBQ From Some Of The Regions' Top Eateries

Tickets On Sale Friday, August 10 At 10:00 AM Local Time
Premier music festival production company Synergy Global Entertainment (SGE) and California's most successful and respected craft beer festival producer Brew Ha Ha Productions are pleased to announce the expansion of the acclaimed Driftwood Country Music, Craft Beer & BBQ Festival to include dates in Denver, CO and Austin, TX in September. Both dates will feature performances from country music acts Chase Rice, Michael Ray, Walker Hayes, Seth Ennis, and more, along with over 100 craft beers from some of the best breweries in the nation, and tasty BBQ from some of the regions' top eateries.
Details on Driftwood's flagship 2-day show in Dana Point, CA will be announced in early September.
Each date of Driftwood will include craft beer selections from a ton of local favorites, along with top national breweries. The Denver market will feature craft beer tastings, where craft beer lovers who are 21+ can sample over 100 craft beers from the finest breweries in the nation until 4:00 PM with an initial list of participating breweries including Avery Brewing, Brooklyn Brewery, Celis Brewing, Colorado Cider Company, Firestone Walker, Flying Man Brewing, FunkWerks, Lone Pint Brewing, Meridian Hive, and Two Wheel Brewing. The Austin market will have various craft beers for purchase, with an initial list of participating breweries including 21st Amendment, Avery Brewing, Big Choice Brewing, Moonlight Brewing Co., Oskar Blues, Renegade Brewing Co., Ska Brewing, and Upslope Brewing. Craft beer tasting options will vary by city according to local alcohol laws and restrictions. Note: Brewery list varies by market.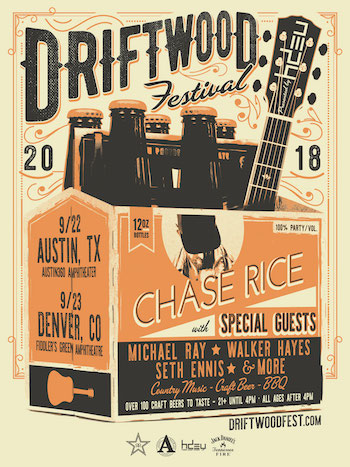 The 2018 Driftwood dates are as follows:
Saturday, September 22 — Austin, TX — Austin360 Amphitheater, presented by KASE 101
Sunday, September 23 — Denver, CO — Fiddler's Green Amphitheatre
Tickets for these Driftwood dates go on sale Friday, August 10 at 10:00 AM local time. General Admission and VIP Ticket packages will be available for purchase, including an "eat and greet" Backyard BBQ With Chase Rice, where attendees can kick back and enjoy complimentary burgers, hot dogs, veggie burgers, and BBQ (during designated hours), plus plenty more perks. Driftwood VIP is presented by Head Down Eyes Up, Chase Rice's apparel brand and personal motto: "A way of life where you succeed not by looking at an end result, but by fighting every step of the way."
The festival producers encourage attendees to drink responsibly.
Sponsors for Driftwood include Rockstar Energy Drink, Avery Brewing, Jack Daniel's, and more. Sponsors vary by market.
For more on Driftwood, visit:
---
About Synergy Global Entertainment, Inc.:
Orange County, California based Synergy Global Entertainment, Inc. (SGE) is one of the world's premier music festival production companies. SGE events include music and lifestyle festivals across a variety of genres and interests, with over 70 major festival dates in 2018. SGE produces or co-produces Back To The Beach; Big Adventure; Driftwood; ID10T Music Festival + Comic Conival; Knotfest; Lost Lands (Your EDM Best Festival of 2017 and Noiseporn 2017 Festival Of The Year); Moonrise Festival; MUSINK; Ohana Dana Point; Sabroso Taco, Craft Beer & Music Festival; 92.3 WCOL Country Jam + Campout; Scallywag!, and more. In addition, SGE co-produced the Rockstar Energy Drink Mayhem Festival and the worldwide Rockstar Taste of Chaos, and created and produced the Identity Festival, Oddball Comedy and Curiosity Festival, and Rockstar Energy UPROAR Festival. This year's SGE-affiliated events are projected to sell nearly 1 million tickets overall. In addition to festival production, SGE's in-house sponsorship agency procures and executes a multitude of partnerships in varying forms for global brands, top-tier artists, international booking agencies and more.
www.sgeworldwide.com
About Brew Ha Ha Productions:
Brew Ha Ha Productions (BHPP) is one of the largest craft beer centric event producers in the United States. Fueled by a desire to promote craft beer, along with visions of creating unique annual events, Orange County based BHHP has enjoyed an unprecedented 180% growth in 2017. Established in 2010, BHHP's Award Winning and diverse events now reach beyond OC and California including festivals in Arizona, Washington, Oregon, Nevada, and Colorado. A 'For-Profit' organization whose missions includes giving back, BHHP has helped many non-profits raise awareness and money to further their worthy causes.
www.brewhahaproductions.com
Driftwood Publicity Contacts:
Kristine Ashton-Magnuson / Ashton-Magnuson Media: kristine@am-media.net, (818) 996-2496
Ashley Di Buduo / Ashton-Magnuson Media: ashley@a12entertainment.com, (323) 379-9684