Date: August 16, 2018
From: Kristine Ashton-Magnuson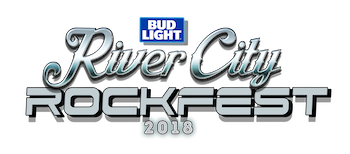 Elevated Experiences Announced For
Bud Light River City Rockfest
Saturday, September 22
AT&T Center Grounds In San Antonio, TX
With Nine Inch Nails,
Primus, Stone Temple Pilots, Bush, Chevelle & Many More
Ticket Prices Increase Monday, August 27; Buy Now To Save
An expanded festival with elevated experiences has been announced for Bud Light River City Rockfest, which returns with a massive rock lineup for its sixth year Saturday, September 22 at The AT&T Center Grounds in San Antonio, Texas. South Texas' only rock festival will feature a headlining performance from Nine Inch Nails, and will also feature Primus, Stone Temple Pilots, Bush, Chevelle, Joan Jett & The Blackhearts, Clutch, Yelawolf, Living Colour, Suicidal Tendencies, and many more on three stages.
The Bud Light River City Rockfest full day event will include the following new and enhanced experiences for attendees:
Gold's Gym Hydration Stations:

Stay hydrated! This year you can bring in one empty, refillable water bottle and fill up at our Gold's Gym Hydration Stations free of charge. Keep an eye out for the blue tents located near the Southeast Box Office and Stage 3.

Monster Energy Experience:

Stop by the Monster Energy viewing deck to refuel and meet some of your favorite

River City Rockfest

artists! Monster Energy will keep you fueled up and ready to rock by offering complimentary samples at the viewing deck. Make sure to check back throughout the festival for a schedule of Monster Energy's interactive artist experiences.

Beer Hall:

Cool off in our Slacker's Beer Hall, grab a cold one, play some games courtesy of Slacker's Bar, and watch your favorite football games in between sets! Located near Stage 3.

Gulf Coast Getaway:

Cool off in the shade and take a break at the ultimate island getaway experience with our fruity signature drinks, various food options, shaded seating and more! Located near the main festival entrance.

Alamo City Eats:

The festival's completely new food experience will feature local San Antonio favorites and more, such as:

B Daddy's BBQ

,

Benjie's Munch

,

Big Daddy's Eat and Treats

,

Burgerteca

,

Chela's Tacos

,

Deco Pizzeria

,

Drake's Fun Food

,

Fajita Rita's

,

Grouchy Mama's

,

Happy Grillmore

,

Johnny Joe's Concessions

,

Kona Ice

,

La Gloria

,

Lick

,

Mr. Meximum

,

Philly's Phamous Cheesesteaks

,

Pizza Hut

,

Rockin' Pescado

,

Shake Shack

,

Sharky's Shaved Ice

,

Slider Provider

,

The Mad Puerto Rican Kitchen

,

Two Bros BBQ

, and

Viva La Dough

.

Marine Corps:

The Marines are coming back to

River City Rockfest

and ready to ROCK! Make sure you stop by and see our indoor marksmanship simulator and earn prizes with our chin-up challenge.

Tito's Vodka Rock Lounge:

Don't miss the Tito's Vodka Rock Lounge for signature

RCRF

cocktails made with Texas's own Tito's Handmade Vodka!

Uber:

Catch a ride to and from

River City Rockfest

with Uber this year! New user? Get your first ride free up to $15! Just use code ATTCENTER2.
The full music lineup for the Bud Light River City Rockfest includes: Nine Inch Nails, Primus, Stone Temple Pilots, Bush, Chevelle, Joan Jett & The Blackhearts, Clutch, Yelawolf, Living Colour, Suicidal Tendencies, All That Remains, The Sword, Drowning Pool, The Fever 333, Upon A Burning Body, Tyler Bryant & The Shakedown, I See Stars, From Ashes To New, The Heroine, Blacktop Mojo, The Revival and Covina.
Fans are encouraged to buy Bud Light River City Rockfest tickets now to save since prices increase on Monday, August 27 at Noon CT. At that time, tickets will be priced as follows:
$89.50 General Admission (from $79.50)
$319.00 General Admission 4-pack (from $279.00)
Specially priced General Admission tickets for Bud Light River City Rockfest are also available for active military through partner GovX (www.govx.com), while supplies last.
The AT&T Center is San Antonio's premier live entertainment venue, the home of the San Antonio Spurs and Rampage, and hosts the biggest concerts in South Texas.
Bud Light River City Rockfest is brought to you in part by Bud Light and Monster Energy.
For more information on Bud Light River City Rockfest, visit:
---
Publicity: Kristine Ashton-Magnuson, Kristine@am-media.net, (818) 996-2496 & Meredith Collier, mcollier@attcenter.com
Sponsorship: Chris Thomas, cthomas@aegpresents.com & Cris Carrico, ccarrico@attcenter.com
Marketing: Steven Rohall, srohall@aegpresents.com & Abby Turkington, ATurkington@ATTCenter.com
About AEG Presents:
AEG Presents is one of the largest live music companies in the world. The company is dedicated to all aspects of live contemporary music performances, including producing and promoting global and regional concert tours, music events and world-renowned festivals. AEG Presents operates in North America, Europe and Asia through 16 regional offices that support its tours, which include such artists as Taylor Swift, Paul McCartney, The Rolling Stones, Justin Bieber, Katy Perry and Kenny Chesney; produces or supports over 30 music festivals, including the iconic Coachella Valley Music & Arts Festival; and owns, manages or books more than 70 clubs and theaters. AEG Presents produces more than 8,000 shows annually worldwide and conducts business under such globally renowned brands as AEG Presents, Goldenvoice, Concerts West, Messina Touring Group, Marshall Arts LTD, and Madison House Presents.
www.aegpresents.com
About Spurs Sports & Entertainment:
Spurs Sports & Entertainment is the premier provider of sports and entertainment in South Texas. SS&E owns and operates the San Antonio Spurs (NBA), San Antonio Rampage (AHL), Austin Spurs (NBA G League), San Antonio FC (USL) and also manages the day-to-day operations of the AT&T Center and Toyota Field.