Date: September 4, 2018
From: Kristine Ashton-Magnuson / Ashley Di Buduo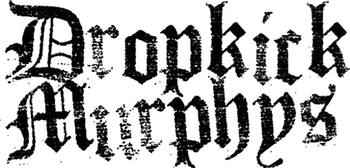 Dropkick Murphys
Head To Vegas
For UFC 229 Fight Weekend
With Performance At
Park Theater At Park MGM Las Vegas
Friday, October 5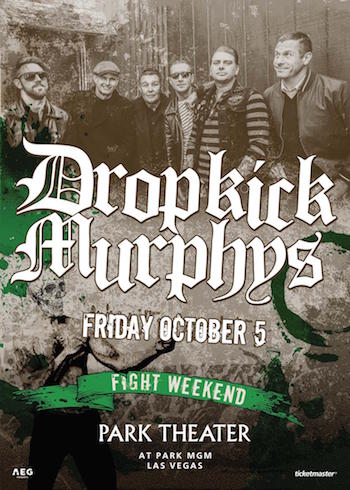 LAS VEGAS (Sept. 4, 2018) — Dropkick Murphys return to Las Vegas for one night only, Friday, Oct. 5 at Park Theater at Park MGM. This exclusive performance marks the unofficial kickoff of UFC 229 fight weekend, which features nearly a dozen MMA battles including the Lightweight title bout between top-ranked Conor McGregor from Ireland and Russian challenger Khabib Nurmagomedov.
Tickets for Dropkick Murphys at Park Theater at Park MGM go on sale Friday, Sept. 7 at 10:00 AM PT at dropkickmurphys.com and via Ticketmaster.
This show comes on the heels of the west coast leg of Dropkick Murphys' first-ever co-headlining tour with Flogging Molly, which wraps September 29 in Mesa, AZ. Sharing a working class ethos, an Irish heritage and Celtic folk influence, these two giants of American punk rock have received widespread praise from fans and the media during this historic run of shows.
For more on Dropkick Murphys, visit:
---
About Dropkick Murphys
Dropkick Murphys — Al Barr (lead vocals), Tim Brennan (guitars, accordion, mellotron, whistles, vocals), Ken Casey (lead vocals, bass guitar), Jeff DaRosa (banjo, bouzouki, mandolin, harmonica, acoustic guitars, vocals), Matt Kelly (drums, percussion, vocals), James Lynch (guitar, vocals) — are touring in support of their 11 Short Stories Of Pain & Glory album, released through the band's own Born & Bred Records in 2017. The album debuted at #8 on the Billboard Top 200 and was the #1 independently released album. There's a feeling of purpose throughout the album, influenced by the band's work with The Claddagh Fund, a charity the band established in 2009 to help support addiction recovery as well as children's and veterans' organizations. Dropkick Murphys are hands-on in raising funds, mentoring, and lending a helping hand with veterans, youth sports, and drug and alcohol rehabilitation. Many of the songs reflect these experiences, and the band's sadness, anger and dismay at the opiate epidemic ravaging the country — in particular, Boston and New England — and also their feeling of pride and optimism at the sight of those who have turned their lives around. Dropkick Murphys have become ambassadors for their city. In Boston, it seems like everybody knows someone connected to the band whether by blood, friendship, or the time they shared a brew at a Bruins game. They've built a legacy that does Beantown proud.
About Park Theater
The 5,200-seat Park Theater, with its cutting-edge audio and visual technology, provides artists of diverse talents with a dynamic space to create one-of-a-kind productions where every seat allows guests to feel up close and personal. From comedy shows and live concerts, to sporting events and award shows, the theater is specially designed to transform seamlessly for any occasion. For more Park Theater show and ticket information, visit ParkTheaterLV.com or follow on Facebook, Twitter and Instagram.
About AEG Presents
AEG Presents is one of the largest live music companies in the world. The company is dedicated to all aspects of live contemporary music performances, including producing and promoting global and regional concert tours, music events and world-renowned festivals. AEG Presents operates in North America, Europe and Asia through 16 regional offices that support its tours which include such artists as Taylor Swift, Paul McCartney, The Rolling Stones, Justin Bieber, Katy Perry and Kenny Chesney; produce or support over 25 music festivals, including the iconic Coachella Valley Music & Arts Festival; and owns, manages or books more than 60 clubs and theaters. AEG Presents offers more than 8,000 shows annually worldwide and conducts business under such globally renowned brands as AEG Presents, Goldenvoice, Concerts West, Messina Touring Group, Marshall Arts LTD, and Madison House Presents. The company operates The Colosseum at Caesars Palace in Las Vegas and produces residency shows there including Celine Dion, Rod Stewart, Reba, Brooks & Dunn and Jerry Seinfeld and is the exclusive promoter at The Joint at Hard Rock Hotel & Casino Las Vegas. For more information visit aegpresents.com.
Dropkick Murphys Publicity Contacts:
Ashton-Magnuson Media
Kristine Ashton-Magnuson, kristine@am-media.net, (818) 996-2496
Ashley Di Buduo, ashley@a12entertainment.com, (323) 379-9684
Park Theater Publicity Contact:
Katharine Sherrer, ksherrer@mgmresorts.com, (702) 692-6724