Date: September 6, 2018
From: Kristine Ashton-Magnuson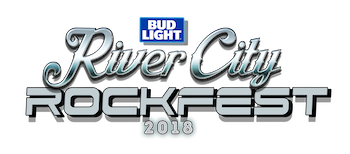 Performance Times Announced For
Bud Light River City Rockfest
Saturday, September 22 At AT&T Center Grounds In San Antonio, TX
First-Ever River City Rockfest Charity Ride
Hosted By Yelawolf Set To Motor Into AT&T Center Grounds
From Cowboy's Alamo City Harley-Davidson
Performance times have been announced for the 6th annual Bud Light River City Rockfest, set for Saturday, September 22 at the AT&T Center Grounds in San Antonio, TX. South Texas' only rock festival will feature a headlining performance from Nine Inch Nails, and will also feature Primus, Stone Temple Pilots, Bush, Chevelle, Joan Jett & The Blackhearts, Clutch, Yelawolf, Living Colour, Suicidal Tendencies, and a dozen others on three stages.
Tickets are still available for Bud Light River City Rockfest at www.RiverCityRockfest.com. VIP and hotel packages are almost sold out. Specially priced General Admission tickets are also available for active military through partner GovX (www.govx.com), while supplies last. Fans are encouraged to buy now and save, as day of show general admission ticket prices increase from $89.50 to $99.50.
Performance times for Bud Light River City Rockfest are as follows:
Bud Light Stage
| | |
| --- | --- |
| 10:15 PM | Nine Inch Nails |
| 8:15 PM | Primus |
| 6:25 PM | Joan Jett & The Blackhearts |
| 4:50 PM | Clutch |
| 3:35 PM | Living Colour |
| 2:30 PM | The Sword |
| 1:30 PM | Upon A Burning Body |
| 12:30 PM | The Heroine |
Monster Energy Stage
| | |
| --- | --- |
| 9:10 PM | Stone Temple Pilots |
| 7:20 PM | Bush |
| 5:35 PM | Chevelle |
| 4:10 PM | All That Remains |
| 3:00 PM | Drowning Pool |
| 2:00 PM | Tyler Bryant & The Shakedown |
| 1:00 PM | From Ashes To New |
| 12:00 PM | Blacktop Mojo |
Renegade Stage
| | |
| --- | --- |
| 5:35 PM | Yelawolf |
| 4:10 PM | Suicidal Tendencies |
| 3:00 PM | The Fever 333 |
| 2:00 PM | I See Stars |
| 1:00 PM | The Revival |
| 12:00 PM | Covina |
Before the music begins, fans are invited to join Yelawolf and Cowboy's Alamo City Harley-Davidson for the ride of their lives. The first-ever River City Rockfest Charity Ride, benefitting Soldier's Angels (www.soldiersangels.org), will take place on Saturday morning (September 22), leading up to the start of RCRF. The ride departs from Cowboy's at 11:00 AM and will have a police escort directly to the AT&T Center, where free motorcycle parking will be available for all charity ride purchasers. Registration starts at 9:00 AM. River City Rockfest Charity Ride tickets and packages (with festival admission included) can be purchased here: http://bit.ly/RCRFCharityRide.
In addition to music, Bud Light River City Rockfest will feature onsite experiences and sponsor activations including the Monster Energy Experience with artist meet & greets and autograph signings, Gold's Gym Hydration Stations, Tito's Vodka Rock Lounge, Gulf Coast Getaway, Slacker's Beer Hall, the Marine Corps and more.
Alamo City Eats, the festival's completely new food experience, will feature local San Antonio favorites and more, such as: B Daddy's BBQ, Benjie's Munch, Big Daddy's Eat and Treats, Burgerteca, Chela's Tacos, Deco Pizzeria, Drake's Fun Food, Fajita Rita's, Grouchy Mama's, Happy Grillmore, Johnny Joe's Concessions, Kona Ice, La Gloria, Lick, Mr. Meximum, Philly's Phamous Cheesesteaks, Pizza Hut, Rockin' Pescado, Shake Shack, Sharky's Shaved Ice, Slider Provider, The Mad Puerto Rican Kitchen, Two Bros BBQ, and Viva La Dough.
The AT&T Center is San Antonio's premier live entertainment venue, the home of the San Antonio Spurs and Rampage, and hosts the biggest concerts in South Texas.
For more information on Bud Light River City Rockfest, visit:
---
Publicity: Kristine Ashton-Magnuson, Kristine@am-media.net, (818) 996-2496 & Meredith Collier, mcollier@attcenter.com
Sponsorship: Chris Thomas, cthomas@aegpresents.com & Cris Carrico, ccarrico@attcenter.com
Marketing: Steven Rohall, srohall@aegpresents.com & Abby Turkington, ATurkington@ATTCenter.com
About AEG Presents:
AEG Presents is one of the largest live music companies in the world. The company is dedicated to all aspects of live contemporary music performances, including producing and promoting global and regional concert tours, music events and world-renowned festivals. AEG Presents operates in North America, Europe and Asia through 16 regional offices that support its tours, which include such artists as Taylor Swift, Paul McCartney, The Rolling Stones, Justin Bieber, Katy Perry and Kenny Chesney; produces or supports over 30 music festivals, including the iconic Coachella Valley Music & Arts Festival; and owns, manages or books more than 70 clubs and theaters. AEG Presents produces more than 8,000 shows annually worldwide and conducts business under such globally renowned brands as AEG Presents, Goldenvoice, Concerts West, Messina Touring Group, Marshall Arts LTD, and Madison House Presents.
www.aegpresents.com
About Spurs Sports & Entertainment:
Spurs Sports & Entertainment is the premier provider of sports and entertainment in South Texas. SS&E owns and operates the San Antonio Spurs (NBA), San Antonio Rampage (AHL), Austin Spurs (NBA G League), San Antonio FC (USL) and also manages the day-to-day operations of the AT&T Center and Toyota Field.