Date: October 10, 2018
From: Kristine Ashton-Magnuson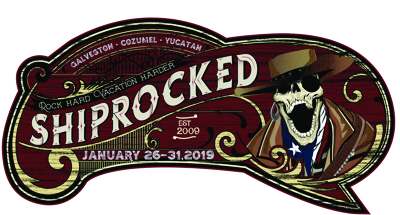 SOLD OUT ShipRocked 2019
Announces Lineup Additions:
Joey Belladonna & Frank Bello Of Anthrax,
Plus Members Of 12 Stones And Blacktop Mojo
Added To All-Star Band The Stowaways,
Presented By Keep The Beat Alive
Royal Thunder & Rivals
Join Band Lineup Led By Papa Roach,
With Bullet For My Valentine, I Prevail, Nothing More, Suicidal Tendencies,
Sevendust, Motionless In White & Many More

ShipRocked Celebrates 10 Years Of Rock 'N' Roll On The High Seas
January 26-31, 2019 Onboard Carnival Valor
Departing From Galveston, Texas, With Stops In
Cozumel And The Yucatán In Mexico
ShipRocked 2019 is sold out, but the music lineup keeps growing for the 10th edition of the ultimate rock music cruise vacation January 26-31, 2019 onboard Carnival Valor, departing from Galveston, Texas, with stops in Cozumel and the Yucatán in Mexico. Royal Thunder and Rivals are the latest additions to a bill that's led by Papa Roach, along with Bullet For My Valentine, I Prevail, Nothing More, Suicidal Tendencies, Sevendust, Motionless In White, comedian Brian Posehn, and many more.
Joey Belladonna and Frank Bello of thrash legends Anthrax, 12 Stones singer/guitarist Paul McCoy and members of Blacktop Mojo join The Stowaways, presented by Keep The Beat Alive (www.keepthebeatalive.org). ShipRocked's own all-star band The Stowaways will also feature Brian "Head" Welch (Korn), Ron "Bumblefoot" Thal, David Ellefson (Megadeth), John Deservio (Black Label Society), John Tempesta (The Cult) and many more.
In addition, the Keep The Beat Alive Stage will feature special performances from Altitudes & Attitude (with David Ellefson and Frank Bello), Joey Belladonna and Scott Davis (Pianotarium) doing an intimate piano/vocal set of Journey classics (and other surprises), and an acoustic set from Blacktop Mojo.
"Keep The Beat Alive is very excited to partner with ASK4 Entertainment for ShipRocked 2019! KTBA is dedicated to cutting the incidence of cardiac death in touring professionals, by installing first aid kits and AEDs in tour buses across America and certifying staff via the American Heart Association's Heartsaver certification program. KTBA is the only organization recognized by the AHA for certification nationally," said Damian Brezinski, Founder, Keep The Beat Alive.
Staterooms for ShipRocked 2019 are sold out, but a wait list is available at www.ShipRocked.com.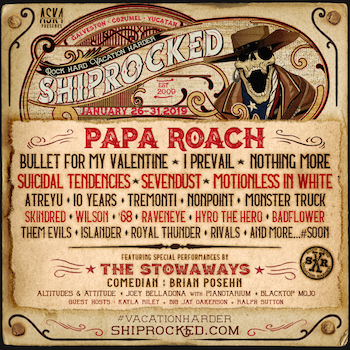 The current music, comedy and special guest lineup for ShipRocked 2019 is as follows: Papa Roach, Bullet For My Valentine, I Prevail, Nothing More, Suicidal Tendencies, Sevendust, Motionless In White, Atreyu, 10 Years, Tremonti, Nonpoint, Monster Truck, Skindred, Wilson, '68, RavenEye, Hyro The Hero, Badflower, Them Evils, Islander, Royal Thunder, Rivals, Brian Posehn (comedy), Altitudes & Attitude (David Ellefson & Frank Bello), Joey Belladonna with Pianotarium, Blacktop Mojo, and more, along with guest hosts Kayla Riley, Big Jay Oakerson and Ralph Sutton.
Produced by ASK4 Entertainment, ShipRocked is a once-in-a-lifetime experience that provides guests with the opportunity to vacation with their favorite bands, meet new friends, and reunite with old ones year after year. In addition to unique performances and musical collaborations, ShipRocked onboard and beach activities include photo meet and greets with band members, artist hosted events and activities, crazy theme nights, after hours parties and more. Loudwire called ShipRocked "…a staple of the hard rock and metal event calendar [March 1, 2017]."
ShipRocked guests will enjoy luxury accommodations onboard the Carnival Valor throughout the vacation. Carnival Valor features multiple gourmet dining options, including Guy Fieri's Guy's Burger Joint, BlueIguana Cantina, Mongolian Wok, Ol' Fashioned BBQ, and more. With 22 bars and lounges, well appointed sleeper accommodations, a tranquil spa, casino, fitness center, mini-golf, wet and wild waterslide, and multiple pools and hot-tubs, guests will have a frontier of options to choose from.
For more information on ShipRocked 2019's Wild West 10th anniversary excursion "SRX: The Good, The Bad and The Skully," visit:
Rock Hard. Vacation Harder.
---
About ShipRocked:
Produced by ASK4 Entertainment—a premier rock music theme cruise and destination event producer—ShipRocked is the ultimate rock music cruise vacation with unique performances and musical collaborations, providing guests with the opportunity to vacation with their favorite bands, meet new friends, and reunite with old ones year after year. The full-ship charter provides a one-of-a-kind experience for guests to have the time of their lives with thousands of like-minded friends. ShipRocked activities include photo meet and greets with band members, poolside games, artist Q&A sessions, trivia challenges, game shows, parties, contests and more. The ShipRocked Cancer Sucks! onboard charity auction has raised over $500,000 to date for innovative medical research and finding a cure for cancer.
www.facebook.com/ASK4Entertainment
ShipRocked Publicity Contact:
Kristine Ashton-Magnuson/Ashton-Magnuson Media; kristine@am-media.net; (818) 996-2496