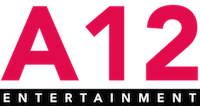 Date: October 15, 2018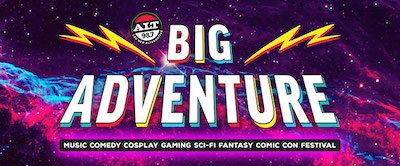 ALT 98.7 PRESENTS BIG ADVENTURE
Music * Comedy * Cosplay * Gaming * Sci-Fi * Fantasy * Comic Con Festival
Onsite Experiences & Activations Announced
Including Panels From IFC's
Stan Against Evil

, TBS's

Wrecked

,
Plus Live Podcast Tapings, Superfight LIVE!, Tabletop Gaming,
Machinima & Super Deluxe Gamer's Lounge, Cosplay Contest & Much More

Music & Comedy Sets From
Empire Of The Sun, Modest Mouse, Phantogram,
Cold War Kids, What So Not, Rusko, Feed Me, Bro Safari,
Patton Oswalt, Jim Jefferies, Kristen Schaal, Rhys Darby,
Natasha Leggero & Many More

Saturday, November 3 & Sunday, November 4
At The OC Fair & Event Center In Orange County, CA
Kids 10 And Under Get In Free With An Adult Paid Admission

In less than a month, Alt 98.7 Presents Big Adventure makes its debut, taking over the OC Fair & Event Center in Costa Mesa, CA on Saturday, November 3 and Sunday, November 4. Celebrating pop culture and fandom of all sorts, this one-of-a-kind entertainment experience is set to immerse attendees in a world where comics, sci-fi, fantasy, and gaming collide with music and comedy.

Adding to the impressive list of already announced music and comedy talent, Alt 98.7 Presents Big Adventure has released details on a variety of experiences and activations that attendees can participate in and observe during the weekend. Attractions include panels featuring the casts and creators of IFC's Stan Against Evil and TBS's Wrecked, live podcast tapings from Alison Rosen Is Your Best Friend and Cool Playlist Featuring Eliza Skinner, the ultimate gamer's lounge and retro arcade from Machinima and Super Deluxe, a Nerdbot Media Compound with photo ops, a zombie shooting range and more, the Stone Blade Tabletop Gaming area with daily tournaments, demos, and cool prizes, Superfight LIVE! where you have the chance to play the hit card game against fandom celebs, the Image Artists Alley, The Geek Gatsby Cosplay Contest, hosted by Bernie Bregman, and much more! There will also be a variety of fan groups exhibiting, including popular Star Wars groups featuring The Saber Guild, The Mandalorian Mercs, and the 501st Legion!

During each day at Alt 98.7 Presents Big Adventure, attendees will have the opportunity to see some of their favorite cast members and special guests during the panels, participate in interactive fan experiences, tabletop and video gaming, tech demos, and visit the artist alley where some of the comic book industry's top artists and creators will be speaking about their craft, selling artwork, meeting fans and signing autographs. In the evening, the focus will shift to live performances, when fans will witness sets from acclaimed comedians including Patton Oswalt and Jim Jefferies, along with some of today's top alternative and dance music artists including Empire Of The Sun, Modest Mouse, Phantogram, Cold War Kids, What So Not, Rusko, and many more, spread across three entertainment stages. This all-ages event is free for kids 10 and under (with an adult paid admission). All tickets grant access to everything happening within the event.

More details on the newly announced experiences and activations at Alt 98.7 Presents Big Adventure can be found below:
Stan Against Evil

, featuring guests John C. McGinley, Janet Varney, Dana Gould, Deborah Baker Jr., and Nate Mooney, moderated by Nerdist Senior Editor Dan Casey

IFC's original horror-comedy series Stan Against Evil stars John C. McGinley (Scrubs) as Stan Miller, the curmudgeonly retired police sheriff of Willard's Mill, and Janet Varney (You're the Worst) as Evie Barrett, the current sheriff determined to wipe out the demons that plague their quaint New England Town. Deborah Baker Jr. (The Greet Indoors) and Nate Mooney (It's Always Sunny in Philadelphia) return to co-star as Denise Miller, Stan's absent-minded, do-good daughter, and Deputy Leon Drinkwater, Evie's right-hand man, respectively. Season 3 premieres Wednesday, October 31 at 10PM on IFC with eight all-new episodes. Stan Against Evil is created, written and executive produced by Dana Gould and produced by RadicalMedia.

Watch the season 3 trailer here: https://www.ifc.com/shows/stan-against-evil/video-extras/season-03/season-3-trailer

Wrecked

, featuring guests Ally Maki, Zach Cregger, Brooke Dillman, Brian Sacca, Asif Ali, Will Greenberg, and Jessica Lowe

Wrecked is TBS's hit survival comedy about a diverse group of airplane passengers stranded on an uninhabited island, a dangerous new world where they must face many threats — mostly brought on by themselves. After surviving a pirate invasion and finally recovering from the loss of wi-fi, the gang most recently found themselves shipwrecked on a mysterious billionaire's private island where they're forced to hunt each other to the death in a basic-cable battle royale.

Watch the season 3 trailer here: https://youtu.be/vFOZP-9kkeI

Podcast:

Alison Rosen Is Your New Best Friend

A twice weekly podcast hosted by veteran interviewer and everyone's new best friend Alison Rosen featuring surprisingly honest conversations that are equal parts silly and serious. Plus an eternal quest to find out if that thing you think or do is normal in a segment called "Just Me or Everyone?" More info at: https://www.alisonrosen.com/

Podcast:

Cool Playlist Featuring Eliza Skinner

On Cool Playlist, host Eliza Skinner and a guest create a playlist for a specific life event, moment, or occasion. From Bar Fights, to Break-ups, to Goth Weddings — we'll soundtrack it all. Not only do you get a great playlist but new insight into some of your favorite comedians, actors, musicians, and more! More info at: https://coolplaylist.libsyn.com/

Superfight LIVE, hosted by Superfight creator Jack Dire

Be a part of Superfight LIVE! Hosted by the game's creator Jack Dire, comedian Monty Franklin, Stone Blade Entertainment founder Justin Gary, a to-be-announced comic book artist and audience member will hash it out in real time, live on stage, for the coveted title of champion. Guests on stage will argue about and joke about absurd fictional fights, and the audience will choose the winners. Fans are encouraged to check in and be ready and waiting for a chance to play onstage as the game's fourth player.

Charge, Chill and Game With Machinima & Super Deluxe at Big Adventure Festival

Machinima is teaming up with Super Deluxe to create the ultimate gamers lounge at this year's Big Adventure festival. Attendees will have the opportunity to visit Machinima's Retro Arcade featuring classics like Mortal Kombat, Street Fighter, NBA Jam, The Simpsons, NFL Blitz, Pac Man and many more. Super Deluxe will also be providing a spot for festival goers to chill and charge in their one of a kind lounge. Be sure to stop by as there will be no shortage of games, contests, giveaways, and good times.

Nerdbot Media & Nerdbot.com Compound

Live streaming and interviews

, where Nerdbot will be conducting interviews with celebrities, artists, and attendees throughout the weekend. Come join our cast and crew as we broadcast live. Do you have an awesome Cosplay? Come say hello and we'll broadcast it LIVE!

The Nerdbot Zombie Shooting Range

: It's time to fight off the zombies before they take over

Big Adventure

! Come up to the shooting range, choose your Nerf weapon and show us what you got! You might want to aim for the head, but it doesn't hurt to take a few extra shots at our zombie targets to make sure they're REALLY dead. This is a free, fun and safe activity for all ages.

The Ultimate Retro Display

: Come to the Nerdbot Compound for an awesome

photo opportunity

with our displayed

Ninja Turtle costumes

and

9 foot Transformers

! Take a selfie with Optimus Prime or pose with Leo, Mikey, Donnie and Raph!

Nerdscape

: Did you want to visit the

Death Star

or time travel in the

Tardis

? Come and take the ultimate photos with our Nerdscape of displays inside the Nerdbot Compound.

Nerdplay Girls

: Come and party with Nerdplay Girls at

Big Adventure

. These awesome girls in Cosplay will be doing live drawings, ticket giveaways, and much more. Come by and say hello.

The Geek Gatsby Cosplay Contest, hosted by Bernie Bregman

Hosted by Bernie Bregman, producer and owner of Nerds Like Us and host and associate producer of Club Cosplay, the all ages contest will feature over fifty of the best cosplay costumes in Southern California, where a panel of expert judges will choose the most outstanding cosplayers in a variety of categories. Space is limited, so enter now at www.bigadventurefest.com. Winners will be announced on the main panel stage on Sunday, November 4th at 4:30 p.m., with prizing to be awarded for the following categories: Best In Show, Best Fabrication (Sculpting & Building), Best Construction (Sewing & Use Of Fabric), Best Hero, Best Villain, Best Sci-Fi, Best Group or Couple, and Best Kid. DJ Chuck None will be spinning tracks during the competition, as well as kicking off the music to follow at the Dance Stage.

Stone Blade Tabletop Gaming Area

Sponsored by Justin Gary and Stone Blade Entertainment, come by the Tabletop Gaming Area to play some games with the Stone Blade team! The area will be running tournaments with cool prizes for novices and experts alike, along with demos all day long. They may even have a preview version of the next Ascension release to show off! Stone Blade is the maker of hit games including Ascension, Shards of Infinity, and You Gotta Be Kitten Me, and Justin Gary has been in the gaming industry for over 20 years, first as a US National Magic: the Gathering Champion, then as designer and CEO of Stone Blade, and now as the author of his newly published book: Think Like a Game Designer.

Image Artists Alley

Image Comics will host Image Artists Alley, a branded section in the artists alley dedicated specifically to Image Comics creators. Some of Image Comics' most well-known works include The Walking Dead, Spawn, Saga, East Of West, Deadly Class, and The Wicked + The Divine.

The Belegarth Medieval Combat Society LARP Battles

The Belegarth Medieval Combat Society is a live-action battle game organization devoted to simulating Dark Age and medieval combat. Belegarth will be at Big Adventure, hosting LARP (live-action role playing) battles throughout both days.

Escape Room

Jack Dire of Superfight is bringing a custom built escape room for attendees to attempt to escape from, built specifically for Big Adventure. Attendees are encouraged to get there early as slots will fill up, and are on a first come, first serve basis.
Produced by Synergy Global Entertainment (SGE), Alt 98.7 Presents Big Adventure will also boast a massive comic con exhibitor village, a marketplace with a variety of handmade and exclusive items, carnival rides and games, and wandering cosplay performers.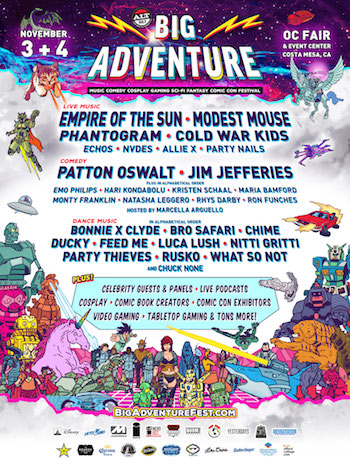 The performance lineup for Alt 98.7 Presents Big Adventure is as follows (subject to change):
Live Stage:

Empire Of The Sun

,

Modest Mouse

,

Phantogram

,

Cold War Kids

,

Echos

,

Nvdes

,

Allie X

, and

Party Nails

Comedy Stage:

Patton Oswalt

,

Jim Jefferies

,

Emo Philips

,

Hari Kondabolu

,

Kristen Schaal

,

Maria Bamford

,

Monty Franklin

,

Natasha Leggero

,

Rhys Darby

, and

Ron Funches

, hosted by

Marcella Arguello

Dance Stage:

What So Not

,

Rusko

,

Bro Safari

,

Feed Me

,

Bonnie X Clyde

,

Luca Lush

,

Party Thieves

,

Ducky

,

Nitti Gritti

,

Chime

, and

Chuck None
Participating comic companies include Skybound, Image Comics, Kodansha Comics, Boom! Studios, and Top Cow Productions. Comic artists will include Andrew Robinson, Andy Belanger, Becky Cloonan, Chris Burnham, Ivan Brandon, Matt Hawkins, Nick Dragotta, Andy Kuhn, Robert Wilson IV, Ande Parks, Brent Schoonover, Farel Dalrymple, Jai Nitz, Justin Greenwood, Matt Horak, Matt Wilson, Matthew Southworth, Morgan Beem, Ramon Villalobos, Brian Level, Tess Stone, Tim Doyle, and more to be announced.
Alt 98.7 Presents Big Adventure partners include: Machinima, Angel City Brewing, Corona, Kraken Rum, Lime Crime Cosmetics, Rockstar Energy Drink, Deep Eddy Vodka, Cosmic Fog, Musicians Institute, Mike's HARDER, and D-Link.
For more information on Alt 98.7 Presents Big Adventure, visit:
Hashtag: #BigAdventureFest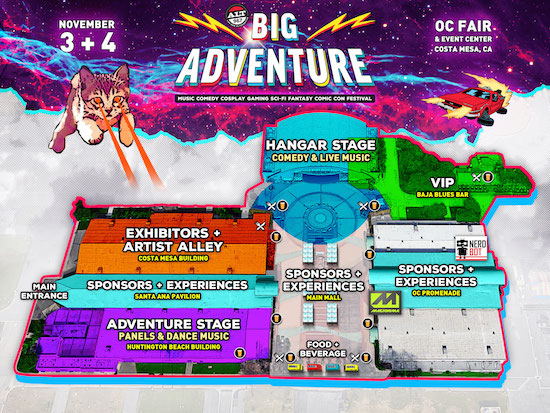 ---
About Synergy Global Entertainment, Inc.:
Synergy Global Entertainment, Inc. (SGE) is one of the world's premier music festival production companies. SGE events include music and lifestyle festivals across a variety of genres and interests, with over 60 major festival dates in 2018. SGE produces or co-produces Back To The Beach; Driftwood; Knotfest; Lost Lands (Your EDM Best Festival of 2017 and Noiseporn 2017 Festival Of The Year); Moonrise Festival; MUSINK; Oddball Comedy and Curiosity Festival; Ohana Dana Point; Punk In Drublic Craft Beer & Music Festival; Sabroso Taco, Craft Beer & Music Festival; 92.3 WCOL Country Jam + Campout; Ye Scallywag!, and more. In addition, SGE co-produced the Rockstar Energy Drink Mayhem Festival and the worldwide Rockstar Taste of Chaos, and created and produced the Identity Festival and Rockstar Energy UPROAR Festival. This year's SGE-affiliated events are projected to sell nearly 1 million tickets overall. In addition to festival production, SGE's in-house sponsorship agency procures and executes a multitude of partnerships in varying forms for global brands, top-tier artists, international booking agencies and more.
www.sgeworldwide.com
About ALT 98.7/iHeartMedia Los Angeles:
ALT 98.7 is owned and operated by iHeartMedia Los Angeles. iHeartMedia Los Angeles owns and operates KRRL-FM, KYSR-FM, KIIS-FM, KOST-FM, KBIG-FM, KLAC-AM, KFI-AM, KEIB-AM and is part of iHeartMedia. With over a quarter of a billion monthly listeners in the U.S. and over 129 million social followers, iHeartMedia has the largest national reach of any radio or television outlet in America. As the leading media company in the U.S., iHeartMedia serves over 150 local markets through 849 owned radio stations, and the company's radio stations and content can be heard on AM/FM, on satellite, at iHeartRadio.com, on the company's station websites and on iHeartRadio, iHeartMedia's digital music, podcast, on demand and live streaming radio service, available on over 250 platforms and 2000 devices, including on digital auto dashes, tablets, wearables and smartphones, on virtual assistants, smart speakers, TVs and gaming consoles.
iHeartRadio offers users thousands of live radio stations, personalized custom artist stations created by just one song or seed artist, on demand features and the top podcasts and personalities. The all-in-one digital service has more than 1.7 billion downloads, 110 million registered users and is the No. 1 commercial radio podcaster in the U.S.
iHeartMedia's platforms include radio broadcasting, online, mobile, digital, social, podcasts, personalities and influencers, live concerts and events, syndication, music research services and independent media representation. iHeartMedia is a division of iHeartMedia, Inc. (PINK: IHRQ). Visit iHeartMedia.com for more company information.
Big Adventure Publicity Contacts:
Ashley Di Buduo, ashley@a12entertainment.com, (323) 379-9684
Kelly Walsh, kellyohnopr@gmail.com, (585) 765-5162