Date: October 18, 2018
From: Kristine Ashton-Magnuson / Selena Fragassi

Sold Out 7th Annual Monster Energy Aftershock
Wraps Biggest Year Ever
With 60,000 In Attendance
October 13 & 14 At Discovery Park
In Sacramento, CA
With System Of A Down, Deftones & More
Monster Energy Aftershock wrapped its biggest year ever, with 60,000 in attendance over a sold-out weekend October 13 & 14 at Discovery Park in Sacramento, CA. System Of A Down and Sacramento natives Deftones headlined the 7th annual festival, joined by Alice In Chains, Incubus, Godsmack, Shinedown, 311, Slash featuring Myles Kennedy And The Conspirators, At The Drive In, Seether and many more. Even with expanded capacity for this year's festival, weekend passes for Monster Energy Aftershock were sold out months in advance.
The festival wrapped up with an unforgettable performance from System Of A Down, who made their Monster Energy Aftershock debut with one of their first appearances in the States in three years, as the band celebrates the 20th anniversary of their landmark self-titled first album. Saturday night was capped off by local favorites Deftones, who headlined the festival for the first time (after appearing previously in 2012 and 2015), nearly seven years since their last headlining hometown performance.
On Saturday afternoon, Monster Energy Aftershock performers and special guests also came together to pay tribute to the late Vinnie Paul, who had been scheduled to play Aftershock with his band Hellyeah before his unexpected passing in June. Hosted and curated by SiriusXM's Jose Mangin, and anchored by Hellyeah's Kyle Sanders on bass and KYNG's Pepe Clarke playing Vinnie Paul's own Hellyeah drum kit, the tribute featured a revolving cast of guitarists and vocalists playing songs from Damageplan and Pantera.
Jonathan Davis, Godsmack's Sully Erna and Tony Rombola, and Shinedown's Zach Myers collaborated on an epic version of Pantera's "Walk." Other performers included Sevendust's Clint Lowery and John Connolly on Damageplan's "Save Me"; Jose Mangin, Chris Broderick (Act Of Defiance) and Eddie Veliz (KYNG) on Pantera's "A New Level," Frankie Palmeri of Emmure and Stephen Carpenter of Saturday headliners Deftones on Pantera's "Becoming"; and GWAR's Blothar and Pustulus Maximus reimagining a Pantera classic, "Mouth For War."
In addition to top tier headliners, Monster Energy Aftershock was also the place to see notable up-and-coming bands including The Fever 333, who continue to bring their politically-charged "demonstrations" across the country, as well as Long Beach rock band LAW featuring Jakob Nowell, the son of late Sublime singer Bradley Nowell, and the eclectic rock band Viza, currently signed to Serj Tankian's label. Performers Hyro the Hero and Amigo The Devil also treated fans to a pre-party and after-party with near capacity crowds.
Consequence Of Sound praised the festival, noting: "Now in its seventh year, the Monster Energy Aftershock festival took place at Discovery Park in Sacramento this past weekend (October 13th and 14th), once again proving itself to be California's biggest hard rock and metal festival. With two sold out days, the festival was jam-packed with major rock acts." [October 15, 2018]
Monster Energy Aftershock also featured artist meet & greets and autograph signings at the Monster Energy Experience, f.y.e. Fan Experience, and The Music Experience — an interactive exhibit featuring guitars, basses, drums and other gear, exclusive acoustic performances, contests throughout the weekend, and The Student Experience behind-the-scenes tour with local music students from Scott Graham School of Music and Girls Rock Sacramento. In addition, fans could browse the street art installation curated by Juxtapoz magazine; enjoy drafts including Deftones collaboration Phantom Bride IPA at the Belching Beaver Bar (for those 21+); hang out in the Caduceus Cellars & Merkin Vineyards Wine Garden (owned by Arizona resident Maynard James Keenan); and enjoy a range of Sacramento's local favorite restaurants, cuisine and food trucks.
With Monster Energy Aftershock sold out in 2018, nearly all the city's hotels were also sold out. "We are seeing people coming in a day or two earlier, staying a day or two late," Visit Sacramento CEO Mike Testa told KCRA Channel 3 News. "Folks that have been to Sacramento for Aftershock in previous years are seeing that the city is a draw, so they're coming in and spending time here."
Monster Energy Aftershock is fueled by Monster Energy. Additional 2018 sponsors included f.y.e., Coors Light, Zippo, The Music Experience, Fxck Cancer, Take Me Home, Thunder Valley Casino Resort, Belching Beaver, Caduceus Wine, Heavy Grass, The Stash, Blackcraft Cult, Fearless Records, Roadrunner Records, Ace of Spades, Kolas, Cyco Flower Nutrients, Warner Bros. Records, Captain Morgan, Don Julio, Smirnoff and Bulleit Bourbon.
Monster Energy Aftershock is produced by Danny Wimmer Presents, a producer of some of the biggest rock festivals in America, including Rock On The Range, Bourbon & Beyond, Welcome To Rockville, Monster Energy Aftershock, Carolina Rebellion, Chicago Open Air, Monster Energy Rock Allegiance, Northern Invasion, the recently announced Sonic Temple Art + Music Festival and more.
For more information on Monster Energy Aftershock, visit: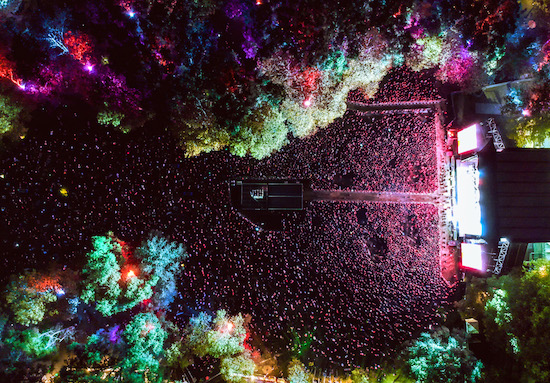 The sold-out crowd at Monster Energy Aftershock
(Credit: Sam Shapiro)
Deftones headlining Saturday night
(Credit: Steve Thrasher)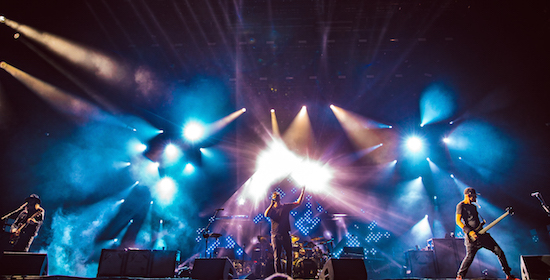 System Of A Down headlining Sunday night
(Credit: Steve Thrasher)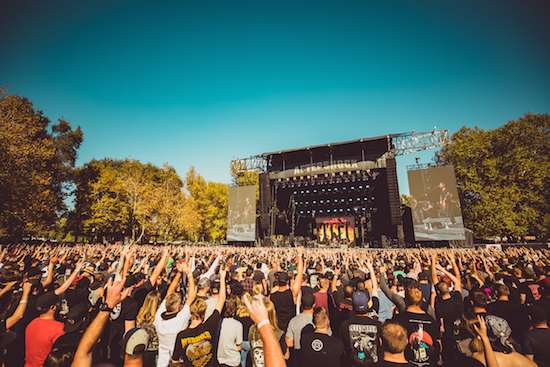 Fans enjoying the performances during the day
(Credit: Steve Thrasher)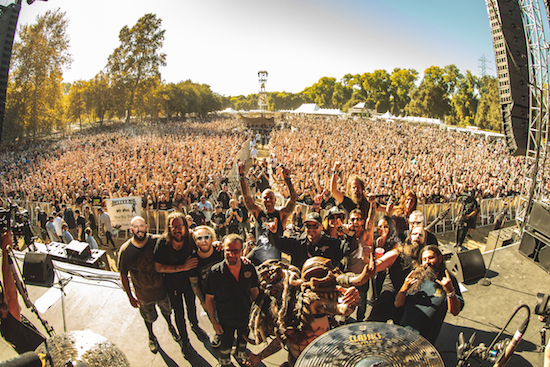 The all-star band and guests for the Vinnie Paul tribute
(Credit: Steve Thrasher)
---
About Danny Wimmer Presents:
Since 1993, music industry veteran Danny Wimmer has been producing concerts and festivals, both large and small. In 2011, he formed Danny Wimmer Presents, which now produces several of the largest rock and alternative festivals in the U.S. By combining A-list talent with local cuisine and culture, DWP has become recognized within the industry for delivering the highest-quality entertainment experiences to fans, artists, sponsors, partners and host cities. DWP creates memorable and all-encompassing festival experiences, leaving both consumers and partners with lasting and meaningful impressions. DWP will continue to add new music festivals to its already stellar portfolio, which includes Rock On The Range, Monster Energy Aftershock, Welcome To Rockville, Carolina Rebellion, Louder Than Life, Bourbon & Beyond, Rock Allegiance, Chicago Open Air, and the recently announced Sonic Temple Art + Music Festival, among others.
www.DannyWimmerPresents.com
About Monster Energy:
Most companies spend their money on ad agencies, TV commercials, radio spots and billboards to tell you how good their products are. At Monster Energy, we chose none of the above. Instead we support the scene, our bands, our athletes and our fans. We back athletes so they can make a career out of their passion. We promote concert tours, so our favorite bands can visit your hometown. We celebrate with our fans and riders by throwing parties and making the coolest events we can think of a reality.
www.monsterenergy.com | www.facebook.com/monsterenergy
Monster Energy Aftershock Publicity Contacts:
Kristine Ashton-Magnuson / Ashton-Magnuson Media, kristine@am-media.net, (818) 996-2496
Selena Fragassi / Ashton-Magnuson Media, selena@fr-pr.net, (847) 942-3093
Monster Energy Aftershock Marketing Contact:
Lindsey Medina / Danny Wimmer Presents, lindsey@dwpresents.com